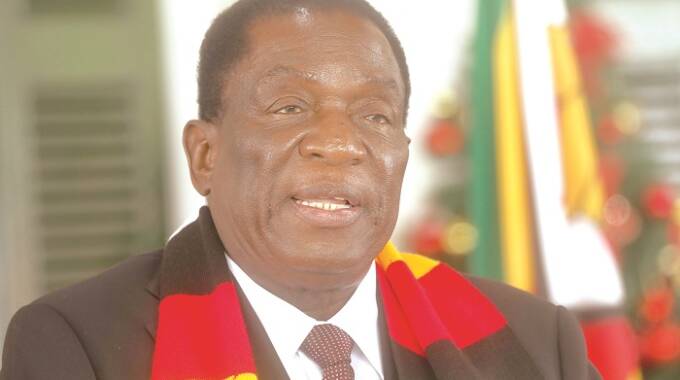 The Sunday Mail
Sunday Mail Reporter
The Private Voluntary Organisation Bill (PVO), which has been passed by Parliament, will be signed into law as soon as it is tidied up, with the new law expected to usher in a new era of genuine philanthropic and advocacy work, President Mnangagwa has said.
Ever since the proposed amendments passed through both houses of the National Assembly, there has been increased advocacy from some civic bodies and non-governmental organisations (NGOs) for the President to ignore the Bill.
However, writing in his weekly column in The Sunday Mail, President Mnangagwa said he will "sign it into law once it reaches my desk".
"The Private Voluntary Organisation Bill, PVO Bill, has now passed the various stages of the legislative process. It is now being cleaned up for my assent. I will sign it into law once it reaches my desk," he said.
"Thereafter, Zimbabwe will enter a new era of genuine philanthropic and advocacy work, unsullied by ulterior political or financial motives. This has been our goal as Government in drafting such a law. To protect our society, specifically the needy and the vulnerable against the greed, wiles and subterfuges of the crooked, found both here at home and abroad."
He said bona fide organisations "have nothing to fear", as they could continue their work and vocation by serving the needy and poor.
Several meetings between Government and church organisations were held to allay their fears and misgivings.
"Our churches have been in the forefront of doing humanitarian work. This Godly role must be nurtured, furthered and protected. To that end, governance structures envisaged by the new law for the sector will incorporate churches so they bring their honest, beneficent influence to bear on all actors," he said.
One of the reasons for crafting the law, President Mnangagwa added, was "to protect and defend our sovereignty from foreign interests", who were increasingly using NGOs "to infiltrate and destabilise us" under the guise of helping the less privileged.
"It is regrettable that a sector meant to do good for the weak and vulnerable has over the years got infiltrated and weaponised against our nation and our people, including the very poor in whose name and for whose benefit the sector arose to serve in the first place," he said.
"Any responsible Government would not stand idly by as this happened. Corrective action had to be taken to cure such mischief. It has since been taken through this enabling legislation, which now empowers Government to protect the weak and vulnerable, while fortifying our sovereignty against insidious encroachment by these hostile forces."
Some NGOs were also reportedly wilfully departing from their founding mandates, while others were abusing resources donated to assist the poor for self-enrichment.
There were equally serious concerns that there were organisations that were being used for money laundering, thus presenting both a threat to national security and breaching international law.
The new law, therefore, is expected to cure such delinquencies through ensuring transparency and accountability.
"Our dollarised economy did not help matters. Because this sector had become veritable refuge for the deviant and wayward, and for actors with sinister motives, our country which is relatively small both by territorial size and by population, acquired and assumed the dubious honour of having one of the largest number of NGOs. Yet little showed on the ground by way of real humanitarian work," said the President.
Increased presence and activities of foreign funded NGOs, especially during times when some Western countries were hostile with Zimbabwe, President Mnangagwa also said, betrayed their ulterior motive to work against the Government.
"Bilaterally and multilaterally, the concerned nations would shun normal channels of government-to-government relations and interaction, preferring instead to work with and through particularly selected NGOs, which tried to become substitutes for the Zimbabwe Government. Why would foreign sovereigns seek to relate to another sovereign State through NGOs?"
Foreigners, he added, should not interfere is the country's domestic affairs.
"Foreigners must keep out, as we realise and fulfil our sovereignty through the laws we make for ourselves. On that score, no amount of foreign noises will stop the passing of the PVO law which, in any case, has gone through our Parliament comprising all the elected parties and representatives of our country," said the President.
"We do not enjoy democratic space or any of our freedoms through foreign NGOs; we enjoy them every day in the very society we have founded and built through our own blood and struggles. This must sink in the minds of all those who solicitously involve themselves unduly in our legislative processes. Let me repeat: once the Bill is cleaned and send to my Office, I will sign it into law. Speedily, too!"