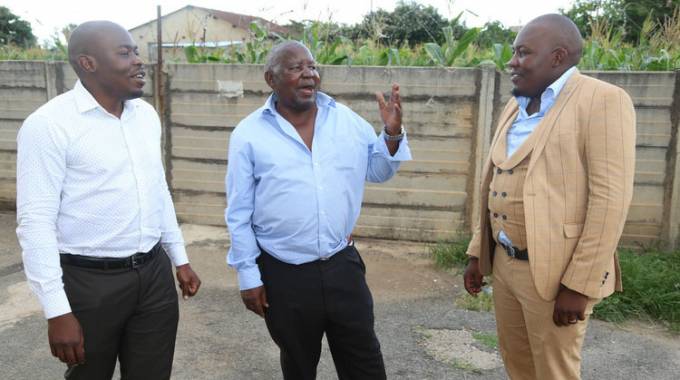 The Sunday Mail
Tendai Chara
Wealthy people are often associated with living in the lap of luxury and pleasure.
Although many well-to-do people often live a life which some of us can only envy, there are some who live very modest lives.
Alex Mashamhanda, a prominent Harare businessman and philanthropist who owns the diversified and well-established Mashwede Holdings, does not partake in the luxuries that come with money.
Simplicity, generosity, humility and maintaining a low profile are some of the hallmarks that define Mashamhanda's personality.
Mashamhanda has vast business interests in property, fuel, commodity broking and liquefied petroleum gas, among others.
With its headquarters at the imposing two-storey Mashwede Towers in Arcadia, Mashwede Holdings is a multi-million dollar enterprise that incorporates industrial parks, service stations, food courts and the hiring of earthmoving equipment.
Among some of the services offered by Mashamhanda's companies is diesel pump re-conditioning and the supply of school textbooks, office stationery and hospital furniture.
One of the companies supply industrial switchgear, mining equipment, technical instruments, cables, hardware and contracting.
Mashamhanda also owns residential properties in Harare and Norton.
Only some few years ago, one of the companies under Mashwede Holdings supplied water treatment chemicals to the City of Harare.
Through his various companies, "Dr Mash" as Mashamhanda is fondly known, employs more than 100 workers.
The completion of the Mashwede Village, which is under construction, will create employment opportunities for an additional 60 workers.
Despite the fact that he is well-to-do, the 69 year-old, Chivi-born businessman is very humble and leads a surprisingly low-key lifestyle.
Too frugal to splash out on designer clothes and luxurious cars, the self-made businessman dresses like an ordinary person, lives in a modest house and drives around in a Honda Fit, the only personal car he owns.
For lunch, Mashamhanda  drives to a restaurant in Mbare where he shares mostly traditional food with some of his workers.
The shrewd businessman explained why he drives around in a cheap car.
"A car is a mode of transport and not a tool for showing off. My car is a fuel saver. Some people buy expensive cars to impress girlfriends. At my age, can I honestly do that?," Mashamhanda rhetorically asked before bursting into a mischievous chuckle.
He said he would rather invest in properties than cars.
"If I get $10 000, for example, I would rather invest it in property and create employment as opposed to buying a vehicle for showing off. In business, every dollar counts," he added.
A sociable character, Mashamhanda mixes and mingles with people from diverse economic and social backgrounds.
Every Saturday, the business mogul plays golf at the modest Falcon Golf Club in Hatfield where he is a trustee.
For Mashamhanda, success is not measured by such status symbols as cars and personal belongings.
Apart from not drawing attention to himself, the businessman often puts the needs of other people before his.
A generous giver, he has championed a number of developmental and charitable causes, pumping out substantial amounts of money in the process.
Apart from helping cancer patients, Mashamhanda also bankrolled the M&H National Under-17 soccer tournament for 17 years.
He also sunk boreholes, constructed a dip tank and electrified homes, schools and business centres in the Sese area of Chivi.
Dr Mash's rise in the world of business is a typical rags-to-riches tale.
Growing up in rural Chivi, Mashamhanda attended local schools before studying local governance at Domboshava Training Centre.
He later on joined the banking sector, rising to become a branch manager.
In 1990, he left formal employment to start M&H Educational Supplies.
Opening a shop at Suswe Business Centre in Mutoko with only two workers, the business rapidly grew and spread throughout the country.
This marked the birth of the multi-million enterprise that Mashwede Holdings is today.
Mashamhanda attributed his success in the business world to honesty.
"In business, one has to be honest. You have to be honest with yourself first, honest with your finances, your clients and with whoever you do business with."
He advised those in business to acquire immovable properties.
"It is wise to invest in fixed properties like land and buildings. It is easy to get a business loan when one has properties. Efforts must also be made to make workers happy. You won't go anywhere with an unhappy workforce," he added.
Business has, however, not been all been rosy. "In 2008, inflation literally drove me out of business. I was fortunate in that I had invested in properties and I got loans using the properties as surety. We were getting goods on credit. It was tough, we were crawling along," Mashamhanda said.
With age catching up on him, the father of seven children says he will retire after two years.
Two of his children, Tapiwa and Tendai, are already actively involved in the day-to-day running of the business.
To prove that he will soon retire, he has since surrendered his spacious office to one of his sons. He is now working from an open space in the corridor.
"I am gradually surrendering this business to my children. I am surrendering to the future. This is a gradual process and I am mentally preparing my children for a time that I will take a backseat."
He also further touched on the business arrangement that he has with his children.
"My children are my business partners. Like in any other businesses, some of them are working for this company and are actually performing better than me. I hope to retire permanently and leave everything to them."
Dr Mash is married to Loveness, a successful businesswoman who also runs her own businesses.
Upon retirement, Mashamhanda said he will take a back seat.
"Retirement doesn't mean that one stops working or functioning. I will take an advisory role. I won't be idle, I will work till the day I die. Like most men my age, I will be spending more time at my rural home," concluded Dr Mash.
When long gone, Dr Mash will surely be remembered more for his determination to help others than for the success of his business empire.