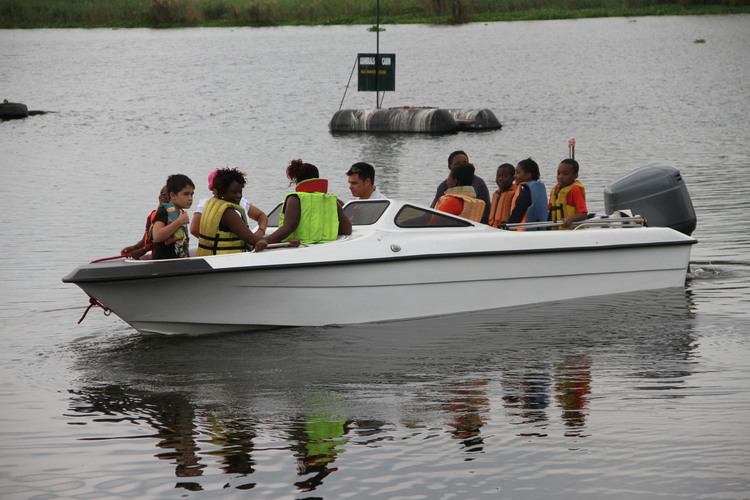 The Sunday Mail
Mtandazo Dube Leisure Editor —
THIS year, avoid bickering relatives, rice and chicken or that boring village Christmas where all your distant kin converge at your rural home for a free feast and some drinks.
Go somewhere
Celebrate in style at a lake house, a game park, some fancy exotic lodge near wherever you are or enjoy a unique camping experience at your farm or a camp site.
The farm might even belong to a friend or relative — it does not matter — you and your loved ones need to escape the concrete jungle for a few days. Go and get some fresh air and return to the city rejuvenated.
With the Minister of Tourism and Hospitality Industry Walter Mzembi in the trenches trying to convince the world that it is Africa's time to lead when it comes to tourism — surely Zimbabweans should embrace domestic tourism. It is the way to go.
Once we get this right, there is no doubt we can host anyone from anywhere in the world.
This country is beautiful, why its citizens are not keen on exploring it, especially during holiday times like these, boggles the mind. Break with tradition and enjoy.
Below are a few places that you and your family can go to this holiday if you live in or around the capital.
Kuimba Shiri Bird Park
Kuimba Shiri is situated on the shores of Lake Chivero, in a National Park boasting over 460 species of indigenous birds in the wild.
Established over 20 years ago, Kuimba Shiri Bird Park is the only bird park in Zimbabwe and is also home to orphaned, injured and abandoned birds.
Top recognised international Falconers have visited to enjoy flights with Peregrine and Lanner Falcons, not to mention their African Goshawk, Ovambo Sparrow Hawk and African Hawk Eagles. Visitors can enjoy waterfront chalets or the camp site and fish for carp, bream and bass to name a few.
Guests can enjoy game viewing by boat and a tasty meal at the Admiral's Cabin Restaurant, whilst enjoying the spectacular view of the vast Lake.
Sunday afternoons can be spent relaxing under the Msasa trees listening to live music and this Christmas falls on a Sunday, which makes it very special.
Operating hours are 8am to 4pm and entrance fee for adults is $5 while kids below 12 years pay just $3.
Domboshava
Domboshava is a village in the province of Mashonaland East. It is located in an area of granite hills about 27km north of Harare. The place is named after a large granite hill near the village. The name is derived from dombo meaning hill and shava (pronounced shawa) meaning red. There are several rock formations at the top of the hill, which have been formed by natural erosion.
The hills and rocks are covered with lichen. There are three colours of lichen at Domboshava — red, green and grey. The granite hill is a National Monument of Zimbabwe and has some examples of cave paintings, which date back almost 6000 years.
The majority of these paintings can be found in a cave, which is some walk from the rock formations at the top of the hill. There is also a hole in the cave that leads to the top hill. Entrance fee is $4.
Lion and Cheetah Park
This is a sanctuary for lions and cheetahs situated 23 km from central Harare. The park is designed to allow visitors to safely view the majestic beasts up close.
Other animal species found at the park include zebras, elands, blesboks, nyalas and duikers.
At the centre of attraction is a 250-year-old tortoise named Tommy, who weighs approximately half-a-tonne. The entrance fee for adults is $7 and $5 for children.
Mukuvisi Woodlands
Comprising of 263 hectares of indigenous Msasa and Miombo woodland, Mukuvisi Woodlands is situated in the Harare suburb of Hillside.
The woodland has over 140 indigenous tree species and 300 bird species, which enable one to enjoy the beauty of nature without leaving the city limits. The park has lovely scenery where one can enjoy a healthy walk, run or mountain bike ride without a guide.
The Park also hosts a wide array of wild animals, which include zebras, wildebeests and bushbucks among others.
Mukuvisi Woodlands offers regular bush camps for children, and hold many other educational events. There is a full time education officer, plus several university students on attachment doing research and teaching on an on-going basis. Entrance fee is between $3,50 and $5.
Lake Chivero Recreational Park
Situated 40km from Harare and sitting on 6 100 hectares of land, Lake Chivero Recreational Park has different spots and activities to choose from.
The park is a paradise with a good selection of animals including rhinos, zebras, waterbucks, tsesebbes, monkeys and also a large variety of nocturnal species. There are also over 400 wild bird species.
The 16km lake is habitat to several common fish species including tiger fish, barbell, etcetera. Several popular fishing tournaments are done at the park.
Facilities include lodges, chalets, caravan and picnic sites. Other activities include horse riding, crocodile viewing, game drives, fishing and game walks. Entrance fee is $3.
Epworth Balancing Rocks
Situated 13km South East of Harare, this geological formation is perfectly balanced without any support and is probably the most famous rocks in Zimbabwe. They are extraordinarily shaped.
On site, there are some enigmatic San rock art sites worth visiting. The Balancing Rocks, just as those in Matopos, have been used as a metaphorical theme to explain the importance of development coupled with preserving the fragile environment of Zimbabwe.
A family can spend a day there picnicking or pass through on their way to several other places in that area.
Bushman Rock Lodges
Situated along Mutare road about 42 km from Harare, lying in an indigenous forest overlooking vineyards and polo fields are the unique Bushman Rock Lodges.
This beautiful place is surrounded by a wildlife reserve stocked with antelope species, buffalo, zebra and giraffe. The fully catered lodges provide an ideal location to unwind and relax while enjoying a range of activities including tasting the beautiful estate wines and vehicle or horse riding safaris.
Day excursions cost just $20 per person, excluding activities while an overnight stay attracts $90 (bed and breakfast).
Mbizi Game Lodge
Located just 22km from the city centre, Mbizi Game Lodge is submerged in the harmony of the legendary Zimbabwean bush. The main lodge and self-contained cottages are on 1000 acres of privately owned land.
Mbizi also offers game drives and other outdoor activities including boat cruises, fishing and team building courses.
There are several other family-friendly places that people can go to and enjoy a day or more, depending on their budget. Some of these include Imire Game Park in Wedza, just one-and-a-half hours' drive from Harare. Imire is a world away from the hustle and bustle of the city.
Sable Lodge at Imire is an ideal place to enjoy unsurpassed game viewing, great food, friendly staff and a relaxed atmosphere, whilst also contributing to an important conservation cause.
Mwanga Lodge (40 km along Shamva Road), Chengeta and Pamuzinda Safari Lodges, which provide good game drives, horse riding, canoeing and fishing; Daisy Executive Lodge at Mazvikadeyi Resort, Haka Game Park as well as Umfurudzi Park in Shamva are some of Zimbabwe's finest places for a weekend or holiday getaway.
The Sunday Mail Leisure spoke to Praise Mazhandu, the Zimbabwe Tourism Authority's Head Domestic, Africa and Middle East destination marketing, who emphasised the importance of domestic tourism.
"We want to remove the perception that tourism is for those who have money. There is an African perception that money should be spent on other 'important' things. However, domestic tourism is for everyone, a day at the lake does not require a lot of money," said Mazhandu.
She said the ZTA is working closely with the tourism industry to make sure that there are affordable packages for the domestic tourist.
"We encourage Zimbabweans to travel in their world of wonders and enjoy the beauty of this nation. We want people to know the tourism sites close to them such as museums, monuments, and national parks so that they can enjoy," she said.
Tour operator and incentive travel organiser Charles Cheuka of Wamambo Wilderness Safaris said most tourism players are now working on ensuring that they offer affordable packaged tours for people to come with family and friends. He said the most popular places and packages are those that are within a day's excursion as they are friendly to the pocket and usually filled with activities.
"We provide transport to and from in comfortable luxury coaches, picnic lunch and other refreshments. These are the most popular packages," he said.
However, Cheuka decried the lack of accessibility to some places due to bad roads, which require off road vehicles, which most people do not have."