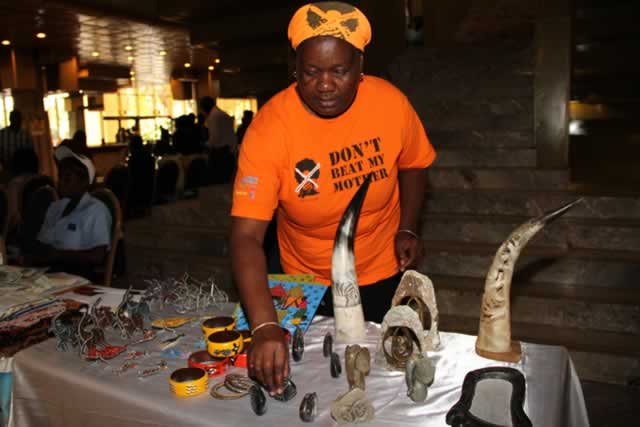 The Sunday Mail
The Mighty Women of Hope Support Organisation does not only economically empower former convicts, it also helps the HIV-positive ex-convicts to live positively with the virus.
While the projects that the 200-plus members are engaged in are giving them a means of survival, the hope that they derive from supporting each other is evidently giving them new leases of life, both materially and psychologically.
One can be forgiven for thinking that the organisation is catering for female ex-convicts only, considering the name of the organisation. However, that is not the case.
The organisation was the initiative of a female ex-convict, Ms Gumisai Bonzo, who initially targeted female inmates before realising the need to rope in their male counterparts as well.
"Initially, we were only focusing on women alone, but we soon realised that men also needed that assistance since they have to provide for their families," said Mrs Bonzo, the founder and director of the organisation.
Recently, a total of 3 129 inmates drawn from the country's 42 prisons were released under the 2014 Presidential Amnesty and Mrs Bonzo, who served her sentence for fraud at Chikurubi Female prison and was released in March 2012, boastfully testifies that not a single member of their organisation has gone back behind bars.
"This organisation gives the much-needed support to convicts and prepares them for life after imprisonment such that even if they face rejection the moment they go out, they have a starting point," she explained.
The organisation has close to 200 members derived from five support groups that were working with inmates before their release.
Usually when convicts are released from prison, they face unbearable rejections from society. That, coupled with the fact that they will be economically dependent on others, usually forces them back into crimes to sustain their lives.
Women are probably the hardest hit by this since they usually go back home to find that their spouses would have moved on in their absence. If a woman finds herself in that position, homeless and without any money to her name, she will be easily lured into relapsing into whatever would have gotten her jailed in the first place.
The undeniable truth is that ex-convicts are vulnerable and they need stepping stones on their way back to a normal life.
Zimbabwe Prisons and Correctional Services spokesperson Chief Superintendent Elizabeth Banda is on record as encouraging society to accept ex-convicts so that they do not relapse.
Mrs Bonzo said that the organisation has gone full circle, evolving over the years, moving from supporting people living with HIV and AIDS to its current state.
"Before I was arrested it was the Zimbabwe National Network of People Living with HIV and AIDS. At that time it was just a support group to help people live positively.
"However, when I was released from prison in 2012 that is when I realised the need to support inmates living with HIV. That is how the organisation evolved into Mighty Women of Hope Support Organisation," she explained.
Under Mrs Banda's leadership, the organisation spread its wings to Chikurubi female, Harare Central and the farm prisons, initially to empower the incarcerated women.
They would visit the inmates behind the walls and, together with the Arts Association of Zimbabwe, they would train the inmates in arts and craft skills.
Their artefacts range from jewellery, stone sculpture and paintings, among others.
The ex-convits-cum-businesspersons have found lucrative markets for their unique products in Tanzania, Malawi, Botswana and Zambia, thanks to the Zimbabwe Tourism Authority that has assisted in helping obtain marketing opportunities.
They have been recently invited to exhibit their wares in South Africa this July and they anticipate huge returns from the trip.
"Some inmates initially took up the projects as a pastime behind the walls, but once they made a few sales out here they have realised there is money in this," said Mrs Bonzo.
What is really unfortunate though is that the organisation is currently catering for Harare-based ex-convicts only. It is their dream to go countrywide, especially considering the fact that after the Presidential pardon, ex-convicts are scattered across the whole country and they need as much support as possible.
Recently, the organisation has diversified its products to include immune-boosting supplementary herbs and traditional teas.
Pharmacies and Zimbabweans at large have provided a ready market for these and the ex-convicts are eagerly cashing in on that.
Feedback to [email protected] <mailto:[email protected]>. Share women's success stories and challenges on the same e-mail address