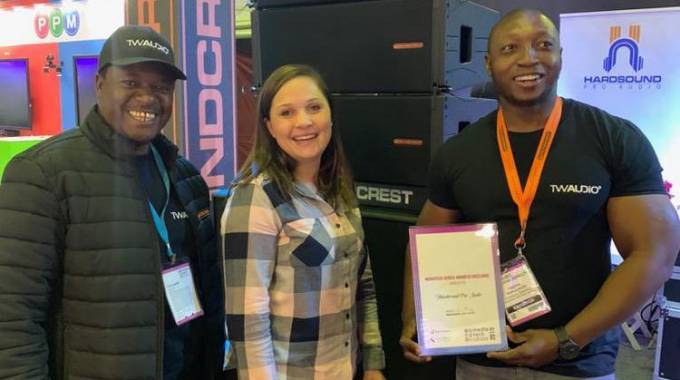 The Sunday Mail
Takemore Mazuruse
LEADING sound provider, Hardsound Pro-Audio, whose customers include top entertainers Alick Macheso and Suluman Chimbetu, recently scooped the Top Sound Quality Presentation award at the 2019 edition of the Media Tech Africa in Johannesburg, South Africa.
Speaking after the highly rated annual event, which ran from July 17 to 19, founder and CEO Ephraim Rateyiwa said they were encouraged by their exploits at the grand event.
"We competed against the best sound companies from Europe, Asia and other parts of the world. We were the only black- owned company and the first ever from Zimbabwe to take part in this event. We had to circumvent various limitations that were working against our quest but we are happy that our quality products and workmanship saw us winning the award," he said.
Rateyiwa revealed that the exhibition, which brought together the best audio and visual companies from across the world was no stroll in the park as they had to pay thousands of dollars to present their two brands.
"We were competing against global brands like Nexo from France, Audio Centre which is from Germany but is manufactured in China, DB technology from Italy, Next Pro-Audio from Portugal, N9 Audio from China, EPL from China, IMIS from China, Nexus from South Africa and TW Audio from Germany, which we presented together with our own Zimbabwean made Soundcrest, manufactured at our Ruwa plant.
"We had two slots for the demonstration, the first being TW Audio. Our Germany partners presented that. After that we then presented the locally assembled Soundcrest audio. As soon as we showcased the Soundcrest audio, the entire audience was taken aback by the output and we knew that winning was guaranteed," he said.
The well-travelled Rateyiwa said he is happy to have demonstrated that Zimbabwean products can stand their ground against global brands.
"I have been all over the world gathering knowledge on sound. lt was through such exploration that I learnt that it's not so much about the Eurocentric badges on products, its about the workmanship that one puts in assembling their product.
"When we started manufacturing the sound products in 2011, we were very clear about our intentions. We use wood from Russia. lt is one of the best woods in the world given the conditions under which it is produced. ln our production, we also use some of the best components from Italy. That has made us the best in the world," he said.
Rateyiwa believes that the opportunities opened up by their participation at Media Tech 2019, the biggest audio-visual exhibition in Africa, are numerous.
"Having our own locally produced brand speaks to what we can do as Zimbabweans and we are happy that the strides made with the award helps grow our export business while demonstrating to Zimbabweans and the world that we can produce the best products and should not rely on exports."
Rateyiwa also said it is important for authorities to put in place measures that will allow local players to do their business without hassles at the country's borders, including relaxing some of the hefty                                                                                     taxes.
"Because of the challenges encountered in moving the equipment from Zimbabwe to South Africa, when we got there most of the exhibitors had already taken up some space. What we ended up getting did not allow a stereo set up, we did a mono-set up. We could not even fly some of our equipment. What carried the day for us was the experience and quality of equipment.
"We were only given three hours to set up but still came out tops against the world's best brands that had managed to bring voluminous equipment for the exhibition.
"It is our hope that beyond international exhibitions, we will get the space and legal instruments to help us grow our work while contributing to the growth of the local economy," he said.
Soundcrest is a wholly Zimbabwean company whose team of engineers and workmen are redefining sound production across the world.
Hardsound Pro-Audio is a licenced distributor for leading sound products such as Presonus, ISK, Shure, JBL, Soundcrest, Craft Audio, among others.