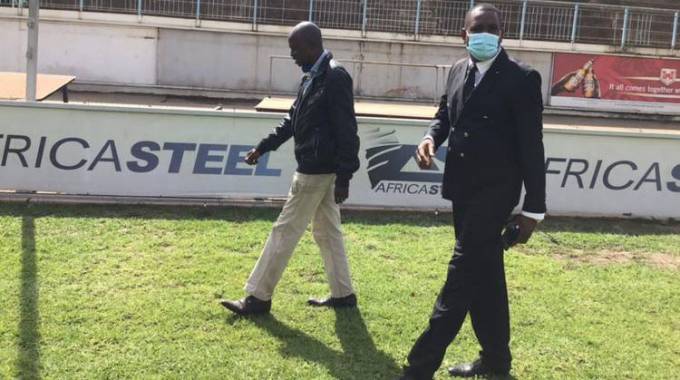 The Sunday Mail
Sports Reporter
FORMER Premier Soccer League fixtures secretary Musa Gwasira believes Rufaro is such an iconic stadium with a rich history that it should not be left to rot.
Gwasira, who is also a former director at the now-defunct Premiership side Lengthens, has been fronting a crusade to refurbish Rufaro, in partnership with the City of Harare.
The Harare businessman also previously served as councillor for Avondale.
Last week, he redoubled efforts to help make Rufaro ready to meet the Confederation of African Football (CAF) standards for staging international matches.
Gwasira provided building materials for the construction of modern dressing rooms.
The Western end, which houses the VIP parking area, will also be redesigned.
The businessman is in the process of acquiring fertilisers and sprinklers for the playing surface, which, over the years, had degenerated into an eyesore for the venue that is widely regarded as the home of domestic football.
At some stage, the turf was turned into an artificial surface in a grossly ill-advised move by Wellington Nyatanga's ZIFA board in 2008.
The artificial surface was later removed.
However, the switch to a grass surface has not been smooth as the pitch has often been bumpy and patchy.
City of Harare has taken advantage of the Covid-19-induced lockdown to work on the pitch at Rufaro, which Gwasira also believes can be kept in good shape through regular watering and use of fertilisers.
But what inspired Gwasira's intervention on Rufaro?
"I think what really touched me was just the sight and the thought of how underdeveloped our stadiums have remained.
"We are not moving with the times. In 2006 I was a director at Lengthens and now we are in 2020, but the stadiums we used back then have not developed any bit, and that is a huge worry," he said.
Gwasira, whose Lengthens outfit won the 2009 BancABC Cup and took the top-flight game to such venues as Dzivaresekwa, said he had also been saddened by news of the ban on Zimbabwe's stadiums by CAF.
CAF have not only banned Zimbabwe's stadia, but also set guidelines on the standards the venues need to meet before being certified fit to host international matches again.
In fact, Zimbabwe's Warriors were only saved the ignominy of playing their home matches in South Africa, by the suspension of all football activities due to the outbreak of the Covid-19 pandemic.
Governments across the globe imposed lockdowns and suspended sport as part of efforts to contain the spread of the coronavirus.
Zimbabwe's lockdown began on March 30.
This was shortly before the Warriors had been scheduled to play Algeria in back-to-back Africa Cup of Nations qualifiers in which Zdravko Logarusic's men were to travel to Blida on March 26, before hosting the Desert Foxes three days later.
CAF, however, shelved those matches, along with the 2020 African Nations Championships (CHAN) tournament, which had been set for Cameroon from April 4 to April 25.
Gwasira, who also revealed that he has been rallying friends and the corporate sector to join him on the mission to save Rufaro from further decay, indicated that he could not stomach the prospect of the national team playing its home fixtures on foreign soil.
He recently donated 100 bags of cement for the refurbishment of Barbourfields in March.
"When I heard about the CAF ban, it touched me . . . I could not understand why our supporters, who have always been the 12th man that passionately backs our team, should be forced to travel to South Africa for matches.
"I know that as Zimbabweans we can build the facilities to international standards.
"As for Rufaro, this is a stadium with a rich history. It is the venue of our first Independence celebrations, it is part of our heritage that we must always look after, and we must ensure it also moves with the times and not remain the venue that it was in 1980 when Bob Marley performed there at Independence."
The refurbishment involves constructing new dressing rooms and turning the old ones into medical rooms.
Sprinklers and fertilisers will also be acquired to improve the quality of the turf.
City of Harare already has the manpower.
Harare City Council spokesperson Michael Chideme said the local authority would continue to bank on partnerships in their bid to turn the capital into a "world-class city''.
"It's a welcome gesture. Council is open to partnerships and encourages individuals and corporates to be on board while we spruce up our sporting infrastructure. Together we can achieve our dream sporting facilities and national branding," Chideme said.
Gwasira's Rufaro mission comes as the Parliamentary Portfolio Committee on Sport, Arts and Recreation ratcheted up pressure on local authorities by conducting a nationwide tour of facilities, the majority of which have suffered from years of neglect.
The National Sports Stadium is also undergoing refurbishment.
National Soccer Supporters Association executive committee member Gladman "Dallas'' Sekawawana also rallied its members to chip in.
"We were privileged to have been in Egypt for the 2019 Nations Cup as supporters and we all saw the top-class stadia that were used for the matches and even for the teams' training venues, and we can have such facilities here if we unite behind such projects as a nation,'' Sekawawana said.