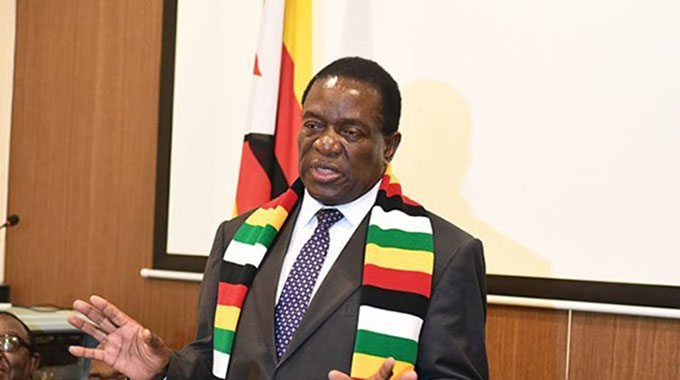 The Sunday Mail
Writing Back Ranga Mataire
Writing in our sister paper The Herald, Acting Editor Tichaona Zindonga made an interesting observation following President Mnangagwa's interview with scribes at State House ahead of Independence Day.
Zindoga observed that for a long time, "it seemed Zimbabwe would not be able to open up and address the issue of Gukurahundi, the code-word for disturbances that took place during the early years of Zimbabwe's independence that resulted in deaths and tribal and regional tensions."
Indeed, like Zindoga said, the closest that the issue came to be addressed in the First Republic was when the then President Mugabe said the period of disturbances "was a moment of madness".
But in less than two years as the leader of the Second Republic, President Mnangagwa has begun confronting that ugly past head-on. One of the first major steps he took, early in his Presidency, was to sign into law the National Peace and Reconciliation Commission (NPRC) Bill.
The NPRC had been established in 2016, but there had been delays in making it operational.
The signing meant the NPRC could now start doing its work.
Speaking in Davos, Switzerland, in January 2018, the President said: "Wherever any community has suffered any injury, if it is that injury that has to be repaired, we do it."
He is keeping to his word to repair injury.
Recently, President Mnangagwa met the Matabeleland Collective, a grouping of 65 non-governmental organisations (NGOs).
This no-holds-barred meeting alone showed a clear break from the past.
Why?
A perusal of the members shows the grouping is packed with the President's strongest critics.
Few leaders would have sat down with groups such as Ibhetshu Likazulu, who have made personal attacks on him. However, President Mnangagwa sat with them, and listened.
Soon after meeting the group, the President took their advice and immediately initiated a process leading to the implementation matrix to address that ignoble past.
President Mnangagwa made his intentions clear, telling ZBC's Robson Mhandu: "The question of Gukurahundi, personally, I don't see anything wrong in debating it on television and in newspapers."
Where debate was criminalised in the past, it is now opened, as per the Constitution.
President Mnangagwa expressed concern that some of the issues raised at the Matabeleland Collective meeting could have been resolved a long time back.
He believes that there are no issues that cannot be discussed.
Predictably, those that had profited, built houses and fattened their wallets from Gukuruhundi are panicking and throwing tantrums.
The late national hero Cde Callistus Ndlovu had a name for them: the "Gukurahundi Enterprise".
They gained personally from the lack of action on confronting the issue.
The latest steps threaten their livelihoods.
Dialogue scares them.
Seeing Zimbabwe finally moving to speak openly on Gukurahundi, careerists have gone on a crescendo of stoking tribal tensions in the vain hope of scuttling President Mnangagwa's initiatives.
Leading the pack is self-exiled former Cabinet Minister Jonathan Moyo, who went on a tirade on twitter.
Of course, in any democratic society, anyone has the freedom to express their mind. But this is disingenuous coming from an idle politician who was part of the previous Government, and who at one time crafted a bill specifically on the issue. Maybe he thinks all of us are unaware of how he profusely thanked then Clerk of Parliament Ian Zvoma for keeping the Bill under wraps.
Had it found its way to Parliament, Moyo reasoned to Zvoma, he would not have been admitted back to Zanu-PF by former President Mugabe.
We will not labour our readers in cataloguing Moyo's duplicitous political life. It's well documented.
Zimbabweans, in all their shades, want a future devoid of ethnic and tribal animosity.
In essence, most Zimbabweans are aware of our oneness bound together by our shared history and geographical boundary.
They want the past to be addressed fully. They don't want to be haunted by it, let alone profit from it.
The good thing is that it's only the minority fringe that seems obsessed with stoking ethnic tensions.
Most Zimbabweans are conscious of history and how frequent historical movements and migrations have today attracted considerable historiographical work.
Everyone is conscious that intra- and inter-state conflicts have littered the African landscape, particularly in the post-colonial period.
Most of these conflicts have been sparked by ethnic or religious intolerance.
It is not a scenario anyone wants for Zimbabwe.
As the country celebrated its 39th Independence last week, it was befitting for President Mnangagwa to speak about the country's dark past.
Genuine sentiment of marginalisation, both politically and economically, that over the years sowed seeds of intolerance is to be addressed.
Remedial action must be implemented.
However, attempts by some greedy elements to exploit these grievances and stoke tribal tensions must be challenged. The late Father Zimbabwe, Dr Joshua Nkomo, remains an inspirational figure and an enduring symbol of selflessness and a unique breed of nationalists.
The challenge confronting Zimbabwe today is exactly what the Government of President Mnangagwa is addressing.
It is the creation of a political framework that can accommodate the existence of multiple layers of identities, the ethnic and national, the local and the general. Neither the tribe nor the 'nation' has to die. What must surely die is the concept of a 'monolithic nation', which is an anti-thesis of multiculturalism and building of a formidable nation-state.
 For Feedback contact