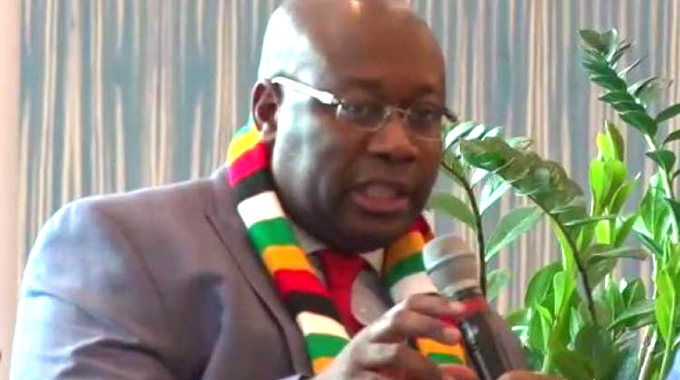 The Sunday Mail
Ishemunyoro Chingwere
Business Reporter
Government is engaging the financial services sector in an effort to unlock funding for the mining industry, Mines and Mining Development Minister, Winston Chitando, has said.
Members are failing to mobilise working capital locally and offshore.
This comes as the financial services sector insists on miners having the internationally recognised Joint Ore Reserves Committee (JORC) compliant resource base to qualify for loans.
JORC, which is managed by Australian authorities, is the mining industry's official code for reporting exploration results, mineral resources and ore reserves.
Local and international financial services rely on its certified results to consider funding for mining ventures and guarding against operations that do not have commercially viable resources.
However, in the case of Zimbabwe, this has effectively closed funding options particularly for those in the small and medium scale mining industry as they don't have JORC certified ore bodies. The geology of the country makes some resources more amenable to small-scale operations as opposed to conglomerate mining.
It is against this background that Minister Chitando, said Government is in talks with banks to see how they can come up with tailor-made products for the benefit of small players in the industry. If the gap is not closed, Minister Chitando said it can threaten the viability of the industry, which thrives on three key ingredients.
The three, he said, are the resource itself — which is available in abundance in Zimbabwe, funding commensurate with mineralisation and the required human technical knowledge to exploit the resource.
Minister Chitando said this when he officiated at a miners' training programme which was organised by the Minerals Marketing Corporation of Zimbabwe (MMCZ) in conjunction with the School of Mines of Zimbabwe.
The training is part of the state minerals marketer's strategy to consolidate on the gains it has been registering in its export basket.
MMCZ has been credited for its innovations that have seen mineral exports continuing to increase despite challenges brought about by Covid-19.
"We have extended a challenge to the financial services, especially after the opening of the Victoria Falls Stock Exchange, to say come up with tailor-made products that will benefit the mining industry," said Minister Chitando.
"What has happened traditionally in the banking sector the world over, is, for anyone to get funding they want a bankable feasibility study.  They want you to produce a JORC compliant resource (and) that's the worldwide trend.
"But the challenge that I gave to the financial sector is to ensure they come up with products which are friendly or which suit our local environment.
"Because we have people who have been mining for the past six (or) seven years consistently producing gold but without a JORC compliant resource, surely there has to be a way in which that miner has to be assisted," he said.
In the meantime, Minister Chitando said Government was coming up with a guarantee scheme which it hopes will cover the security that banks need.
MMCZ general manager Tongai Muzenda, said while the state marketer is primarily concerned with maximising returns on exports, it is available to assist miners wherever they encounter challenges. It is against this backdrop that the marketer is organising trainings like the ones held in different parts of the country last week.
Mr Muzenda said the state marketer is considering taking marketing to ports, a situation that he said could see prices jumping by 30 percent due to country risks on Zimbabwe as a result of sanctions.
"Come let's talk," Mr Muzenda told the miners. It's not a favour we are extending, that is our job.
"We are conducting these training workshops so that we can help you scale up productivity. What we are trying to do is to reduce the cost of moving our minerals. What we have done is we want to make sure that we sell in Beira, Durban or Cape Town so that our competitiveness increase. Because when we sell here, our prices are 30 percent lower . . .
"All this we are doing to maximise on returns," he said.