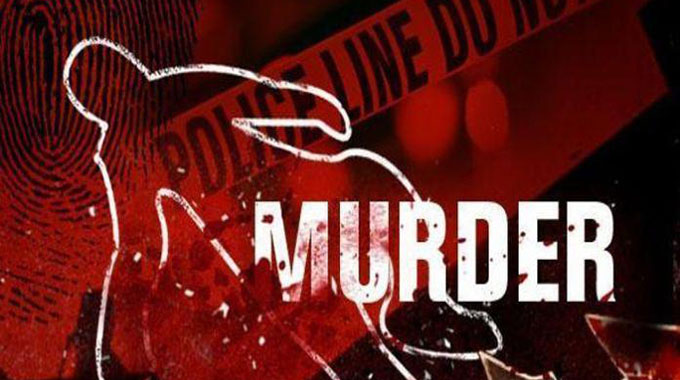 The Sunday Mail
Veronica Gwaze
Human life has seemingly become cheap, as evil now lurks and stalks most communities around the country.
Stories of grisly murders are making headlines in newspapers.
In fact, murder cases have more than doubled in the past eight years, according to the Zimbabwe National Statistics Agency (Zimstat).
In 2018, 386 more people were murdered than the 1 067 victims that lost their lives a year earlier.
The trend continued last year, when 1 733 people needlessly lost their lives.
It represented a 280 jump in cases from 2018.
Worryingly, the trend is showing no signs of abating.
"There was a (police) meeting involving heads of provinces some weeks back and part of the agenda was to discuss escalating murder cases. According to records, 2020 is the worst. We passed the 2019 total in October. Official figures are yet to be availed, but there are now above 1 800," said a police source privy of the developments.
Most killings are associated with infidelity, alcohol abuse and rituals.
It seems the scourge is spreading to all provinces.
Zimbabwe Republic Police (ZRP) spokesperson Assistant Commissioner Paul Nyathi said: "Murder cases are reported almost every week . . .  and there has been a sharp increase from last year and the years before.
"The trend is growing in all provinces and we have not been taking any chances but to act hastily on the culprits because they are a danger to society."
Violence, he added, was an ill-advised method of resolving conflict.
Official statistics on the exact number of murder cases so far this year could not be obtained by the time of going to print.
Egregious
It is the egregious and inhumane way in which some of the murderers are taking away precious lives that has left the nation stunned and shell-shocked.
The unconscionably gory details of how seven-year-old Tapiwa Makore (Jnr) of Murehwa was killed — allegedly to harvest his body parts for rituals – still haunts the country to this day.
The minor was reportedly decapitated and dismembered.
His head is still missing to this day.
Villagers actually got the shock of their lives when they discovered body parts that being eaten by dogs.
Just when the nation was slowly coming to terms with such an unimaginable incident, on November 11 a furious Emelda Mazarani (29) reportedly slit the throat of her four children before setting the house on fire after a dispute with her husband.
How innocent minors — Amanda (9), Yolander (5), Ayender (3) and Galender (1) — had to pay for their parents' marital dispute with their lives still boggles the mind.
But it is one of the many cases that police are inundated with this year.
A fortnight ago, villagers in Kanyangira (Rusape) shockingly discovered that 38-year-old Daniel Sarapo had murdered his epileptic son — Devine — in September by bashing him with a plank.
He subsequently secretly buried him in a forest in the hope of escaping the consequences that come with the dastard act.
Frame of Mind
Psychologist and Africa University lecturer, Dr David Bishau, believes there is need for a psycho-analytic approach to understand these trends.
"Usually people commit murder for many reasons depending on their background. But, mostly it comes out of failure either to achieve a goal or accomplish something. That failure mentally affects them. Some become obsessed; in the end, taking action," he said.
There are some people who are pushed by their circumstances and vaulting ambitions to try superstitious methods such as rituals to make it in life.
 "Whether or not that really works is a matter of belief. There are strong beliefs among adherents of African traditional religion and even among some Christians that those rituals work. The understanding among ritual believers though is that they need continuous involvement, meaning more killings," said Dr Bishau.
Some experts opine that in some instances murder can be caused by permanent or temporary insanity.
Blessed Chinyangare, a psychologist, says it takes a lot of mental resolve to murder another human being.
"Anyone who commits murder will not be in their right state of mind. Even after the crime, one is left mentally unwell, hence the need for serious psychological rehabilitation, even after incarceration. This is the only way for the person to be stable again," he said.
"Every human being has a conscience that tells them what to do or not. Likewise, every person knows right from wrong. The law may play its part but more needs to be done. A jail term cannot do much; these people need serious psychological healing."
Apostle Partson Machengete of the House of Refuge International Ministries, who is also a prisons ministry official, said psychiatric evaluation was crucial in solving the crisis.
"It is crucial to look at the circumstances surrounding the incident when dealing with such cases. Sometimes murder happens as a mistake, say in an act of self-defence, but at times it is premeditated; therefore, each case has to be looked at separately," he said.
"Some murders start as assault and then the unexpected happens and often when we talk to some of them in prison, they will be regretting the fights because the intention was never to kill.
"Understanding this helps us in reintegration of convicts. The different circumstances mean those people then need to be rehabilitated in different classes. This explains the role of chaplains within the correctional facilities."
Drug abuse, hardships and ritual killings, he added, were contributing to the current trends.
"Many people are desperate to become rich or have power in the community or workplaces. As a result, they end up tangled in getting in rituals that involve killings."
Traditionalists, however, believe that human life is so sacred to the extent that one who takes an innocent life, or lives, would never be at peace as he is bound to be haunted by avenging spirits. 
We call it "ngozi" in Shona and "ingozi" in Ndebele. It is when the spirit of the one who was murdered seeks to avenge usually by also taking a life or lives.
"Traditionally, the wronged family conducts rituals to stir the spirit of the deceased to go and revenge so that the murderer can pay for damages," said Sekuru Peter Muponda.
Whatever the case might be, the alarming spike in murder cases is forcing policymakers to try and respond by reversing the growing disturbing trend.