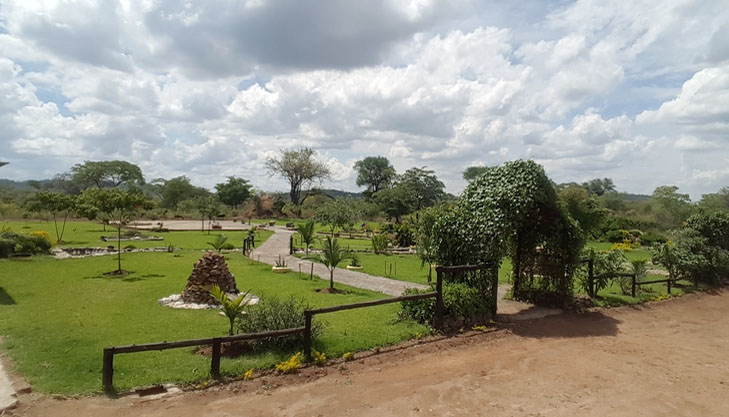 The Sunday Mail
A warm welcome awaits you at Golden Conifer Events Venue, a safe haven perfectly and conveniently tucked away in the quiet suburb of Strathaven just 6km away from the hustle and bustle of Harare city Centre. This venue ushers you into a peaceful, serene yet contemporary garden with conifers at every turn offering an ideal setting where tranquillity, romance and luxury meet to make any celebration truly special and memorable.
Although this award-winning venue is open to an array of events including corporate functions, conferences, parties and expos, weddings are the forte for Golden Conifer (GC). With its distinct quality, it is no wonder that great experiences, hilarious moments are made all the time in style and grace of Golden Conifer. Every day is Friday at GC!
The facility
The venue is a 10-acre manicured spacious garden with lush evergreen lawns lovingly tendered all year round thereby creating gorgeous photo opportunities. The GC gardens spring to life every morning with bird cages, glass orbs and flower baskets hanging from tree branches giving a natural and beautiful scenic view.
Worry not about one of your most valued possessions as there is loads of safe secure parking within the venue's gates. Your heels will survive because the fine walkways were made for those that want to step out in both comfort and elegance, hence you won't have to take a single step in the lawn. The ever-fresh looking paint work and the quirky banners with meaningful words were made to inspire the soul itself.
GC Ceremony enclosure presents the perfect ambiance for the exchange of vows with one's true love. With star bursts being blown by the wind up and down, one can see how true love can take root and flourish in such a delightful venue. GC guests can be spoilt with a cocktail and an array of mouthwatering canapés after the wedding ceremony in the cocktail enclosure before being ushered into a marvelous reception glass auditorium to finish off the celebrations. The glass house is beautifully draped in all white and it accommodates 600 guests seated comfortably. Clean elegant restrooms with modern fittings are at the guest's disposal. The bridal changing suites with bar fridges and refreshments will help the bridal team to keep cool and have time to touch up on their makeup and to straighten up so that one begins happily ever after looking and feeling great on their special day. Keeping kids seated on their table during an excitement filled event is usually close to mission impossible so the venue has created space where kids can be kids. GC informative wedding packages are designed to offer a one stop shop facility to ensure a hassle-free wedding day
Decor
Celebrate your perfect day with GC five-star décor. The dynamic décor team creates intricate designs with the finest linen and amazing centre pieces sourced both locally and imported from all over the world.  GC has quality Furniture which includes gold, silver and crystal chiavari chairs, Wimbledon chairs, plastic chairs with different types of covers so one will be spoilt for choice. Fairy lights all over the place will definitely give your décor that wow finish. Your dreams, however wild, are bound to be realised with the team's renowned attention to detail which is complimented by the mock set ups done for every function. All combined this makes GC the obvious choice for high class events that demand top-notch organisation.
Catering services
The best part of the Golden Conifer experience must be the food! Tantalise those taste buds with the food made on site which translates into fresh food at all times courtesy of one of the best catering teams the country has to offer. There is no doubt that food plays a significant role in the overall success of any function, especially weddings. GC has taken time to compile an array of menu options with local meals with original flavours and exotic dishes fit for a king to ease the selection and to suit different taste buds and pockets. The food is beautifully presented with pride using the best cutlery, crockery, glassware and chaffing dishes to go with whatever theme you choose. All catering is done according to client specifications, with advice from the in-house Chef. GC catering services can be enjoyed not just at GC events Venue but anywhere in Zimbabwe. The GC Outcat team can cater for up to 2000 guests and they will be meet all food demands gracefully and completely as a lot of time and dedication is put into the planning of all events
Corporate events and conferencing
The glass auditorium also serves as a conferencing hall for your important meetings or workshops. The auditorium can sit up to 500 delegates in a conference seating on tables or up to 1000 guests seated in rows. Catering for these meetings is also provided, with waiters for every event.
Promotions
As with every business venture promotions are available to valued customers. Enquiries about offers of unbeatable reduced rates for week day events that are tailor-made to fit all the pocket sizes are always welcome. Flexible payment plan is always available. Be the first to receive your complimentary "bottles" for the finishing your payments well before agreed dates. Complimentary bridal cocktail and Special complimentary gifts are also on offer for the birthday girl or boy as well as for your graduation celebrations. Choose GC as your preferred Venue and experience true Zimbabwean Hospitality
Over the past couple of years, the Golden Conifer Events Venue has grown in leaps and bounds, and its intrinsic desire to remain relevant has resulted in GC to be client- focused and innovative. The Golden Conifer Functions Venue is the proud recipient of the Zimbabwe Top Brands awards in Tourism and Hospitality as well as a Top SME in Hospitality and Tourism sector. GC offers the best of everything therefore you are invited to experience the excellent service from one of the most sort after venues offering excellent value for money. Pictures and writings certainly do not tell the whole story, pay GC a visit.