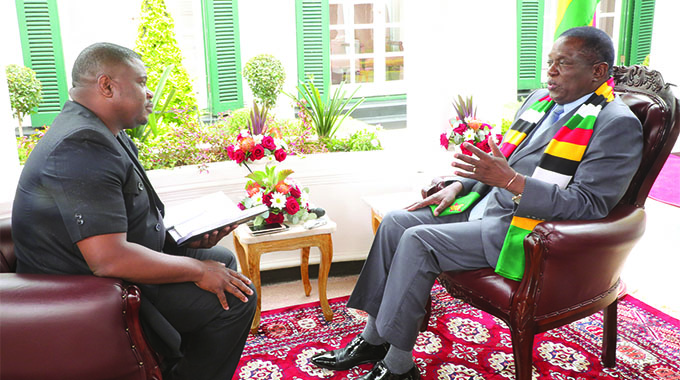 The Sunday Mail
Zimbabwe celebrated its 39th independence from colonial Britain on Thursday last week, with the main event being held at the National Sports Stadium. President Emmerson Mnangagwa addressed a bumper crowd from various social and political backgrounds. His main message was in line with this year's theme centred on devolution as a preferred system of governance.
 A few days before 18 April, The Sunday Mail Deputy Editor Lovemore Ranga Mataire (L.R.M) had an exclusive chat with the Head of State and Government and Commander-in-Chief of the Zimbabwe Defences Forces, Cde E.D Mnangagwa (E.D.M), at State House, where he spoke on several issues, including his fervent belief that gold, as a mineral resource, remains a low-hanging fruit the country needs to spur economic development. Read on. . .
*********
L.R.M: Your Excellency, as we celebrate the country's 39th independence this year, I would like to take you back and reflect on the actual turning point in your political life and the factors that motivated you to join your contemporaries in the fight against colonial rule?
E.D.M: Mozambique was the second phase of my political career. I only went to Mozambique in 1977, but I had joined the armed struggle in 1962 when I went to Tanganyika then (now Tanzania) and then I went to Egypt (which was then) under Abdul Gamal Nasser. Then there was a split between our political parties at the time back home in Rhodesia.
In 1963 I went to Nanking Military Academy in China and graduated in 1964. I came home and operated in this country at that time, recruiting guys to go for military training, (I) was captured and committed to ten years' imprisonment, and I spent ten years at Khami Maximum Prison.
When I was released, I went to the University of Zambia to finish my law degree, which I had begun in prison. When I finished my degree, I spent a year or so at Dumbutshena and Company as a legal assistant. Then I went back to Mozambique in 1977. That's what happened.
L.R.M: So what was the turning point in you deciding that you needed to do this and joining your colleagues in Mozambique?
E.D.M: When I was young, in 1962, after the independence of Northern Rhodesia (Zambia) — no, not independence. In 1962, they attained self-governing status. I felt then that I should also make my contribution to my country; that was my turning point.
L.R.M: In my previous conversations with you as the Vice President in the First Republic, you mentioned that in terms of mining, gold was a long-hanging fruit that the country needed to harness to achieve economic development. Do you still believe that gold is panacea to our economic problems, and what has been the constraints?
E.D.M: I think that fact still stands. You realise that gold production has jumped because we have put thrust and focus; because the investment capital is not huge to that sector of gold mining. It has jumped from as low as 12 tonnes per year to 18 tonnes, and to 23 tonnes and this last year, it went to 33 tonnes, and we believe that again during the course of this year, we are likely to go up to 40 or so tonnes.
So it's rapidly going up. . .if things remain constant, we are likely to reach 100 tonnes within four years, and that would mean a lot to supporting the economy in the country. Yes, of course, there are other things which are low-hanging like in agriculture. Agriculture – it's in summer and winter, which means every six months there is production. So it's also a low hanging fruit if we support our agriculture in the manner we envisaged mechanising that sector of our economy. But besides that, also the other area I believe is tourism. What is required is for us to open up and make sure we advertise ourselves and make Zimbabwe an attractive destination for tourists. Those are low hanging fruits which we can harness.
L.R.M: I know, Your Excellency, that you have spoken about this before but I think there is need for clarification on the issue of compensation of white former farmers on the improvement on land? Don't you think that, maybe, the timing might be wrong for now?
E.D.M: There are two principles here: The first one is that we must be seen respecting our own Constitution, and our Constitution binds us to pay compensation for improvements on land. We do not pay compensation for land because no-one brought land to Zimbabwe, land was found here by those who came here. So there is no compensation with regards to land, but (on) improvements on the land, we agreed as a country.
But. . .we only pay when we are able to pay, so it's understood that we can only pay when we have got resources to do so. Currently, it is estimated that that compensation may run up to US$3 billion. So with our current budget, even during the old dispensation, we put the seed money for compensation.
We are looking at the old white farmers as we make payment – we don't pay compensation to those who are fit, but we pay to those who are elderly at the rate at which we feel we can afford. When we feel we don't have the resources, no-one compels us to do anything. But fortunately, now we are having discussion with the commercial farmers and Government are on one side.
We are now having discussions with the British side also for them to contribute to this compensation and with that regard, l think we are moving in the correct direction, but what is critically important is that land cannot be compensated.
L.R.M: Have you invited your colleagues in the region to celebrate with us on the occasion of our 39th Independence celebrations?
E.D.M: For this independence, we have not invited anyone because we decided that it must be ours alone. We need to consolidate our vision with our people and move forward. It is true that in future we may begin inviting our colleagues within Sadc or outside to come and celebrate with us, but for now, we made a decision that we want to do it on our own.
L.R.M: What about the opposition political parties?
E.D.M: They are most welcome. Opposition political parties are most welcome because they are part of Government. They should be given the dignity and the respect they deserve, but those who choose not to come – we will never in a democracy force them to do what they don't want.
L.R.M: Lastly, Your Excellency, there are reports that the wife of former President Canaan Banana has appealed for assistance from Government. Would you want to comment on that?
E.D.M: She appealed to me last year that she was destitute when she was in London. We then decided that it is important as Government to have a humane face. So we took her on board to give her support. She is a former First Lady of this country and we cannot ignore that fact.