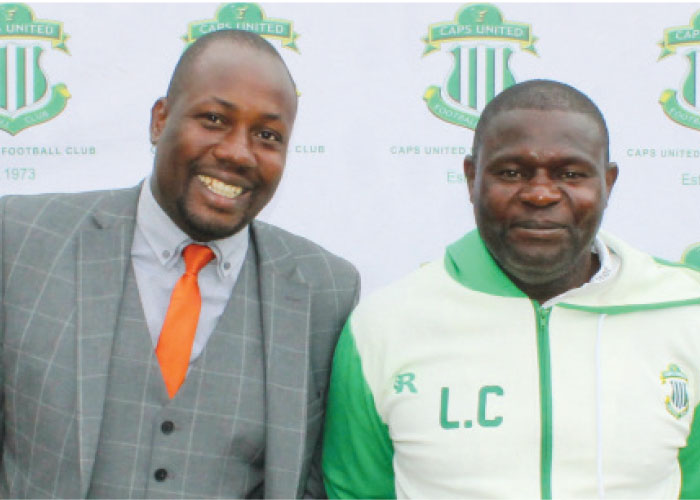 The Sunday Mail
Makomborero Mutimukulu Sports Editor
CAPS UNITED have done some tidy business this off-season but their biggest signing may turn out to be a man who hung up his boots over a decade ago.
Makepekepe, 2016 Castle Premier Soccer League winners and engineers of a fairytale Caf Champions League run last year, have assembled a team many a Green Machine faithful believes is good enough to recapture that big-eared trophy.
That trophy is currently housed in the FC Platinum boardroom, and Makepekepe president Farai Jere wants it back.
"I operate on a go big or go home basis. We want the title, we miss playing in the Caf Champions League and will stop at nothing to get what we want," he declares.
Jere has sanctioned the signing of Denver Mukamba, Praise Tonha, Milton Ncube, Peter "Rio" Moyo and Munyaradzi Diya, to mention just five of several players Caps United have splashed the cash on.
But his most defining capture might turn out to be a man who hung up his boots 12 years ago.
Caps United's ability to hang on to Lloyd Chitembwe at a time when ZPC Kariba and an unnamed Tanzanian club were ready to "more than double his salary" was key to laying the foundation to what they intend to do this season.
As the media – both mainstream and social – went gaga over an expected player exodus at the end of last year, Jere was unperturbed and pinned his hopes on an employee he considers a brother.
"I have been in this game for long and appreciate that the most important man in the team is the coach. There was no way I was going to rush into assembling a machine without making sure that I have the right man to operate that machine. That would have been a no-brainer.
"And I must confess that I rushed to tell the media that Lloyd was not going anywhere before talking to him."
The relationship between Jere and Chitembwe is more than that of an employee and employer.
"We are brothers," says the Makepekepe boss. "But I am not naïve. I'm aware that Lloyd is a fine coach and deserves a package reflective of his stature hence when reports of other clubs chasing him emanated I instructed the board to make sure that we get the coach to commit to us at whatever cost.
"And when we got to finally meet with the coach he said 'No mukuru (elder) I was never going to leave. Even if they were going to triple my salary I was going to say No. I will only go if you give me the permission to leave'."
With Chitembwe secured, Caps United plunged into the transfer market and with a week to go before the season starts, they once again find themselves among the championship favourites.
On paper they have a good squad. But there is a canyon between a good squad and a championship-winning team.
No one appreciates that more than Chitembwe.
With his pieces on the board, the Caps United gaffer is preparing for his season opener against Harare City next weekend.
On Thursday Makepekepe sparred with ZRP FC, and Chitembwe monitored how his men maintained their shape on and off the ball.
It was during that game that Moyo, a Highlanders reject who looked set to be told that he was also not needed at Makepekepe, earned his contract.
Simplicity is the ultimate sophistication with the former Warriors midfielder, and assistant coach Fungai "Tostao" Kwashi confimed what Chitembwe believed: Moyo deserved a place on the team roaster ahead of Roderick Mutuma.
The Caps United assistant coach whispered his observation to Chitembwe who in turn told club chief executive that the last slot on the 2018 squad would go to Moyo.
As in seasons past, Chitembwe has given the kiss of life to several players in his dressing room. The formula that worked with Devon Chafa and Joel Ngodzo is needed once again.
Moyo, Mukamba, Wisdom Mutasa and, to some extent, the returning Ronald "Rooney" Chitiyo badly need a fresh start but will have to toe the line.
It is ironic that Chitembwe, a man who had his fair share of disciplinary hearings during his playing days, is now being regarded as a stickler for rules.
The Caps United coach is in the habit of making surprise visits to his players' homes, chatting with their wives and parents.
On Friday he arrived for work at the National Sports Stadium 45 minutes early and found Mukamba seated in his car.
The midfielder, on loan from DeMbare, was patiently waiting to go through a fitness programme that makes him say "mahwani" (it's tight) at every interval and leaves him guzzling water like a camel.
The Caps United gaffer did not say "well done mate" to Mukamba. Instead he telephoned Jere.
"Lloyd has just told me that Denver is starting to repay the love we have been investing in him. In his eyes nothing shows commitment to duty than reporting early for it and Mukamba has just ticked an important box. We still have a long way to go with the player, but it's so far so good," says Jere.