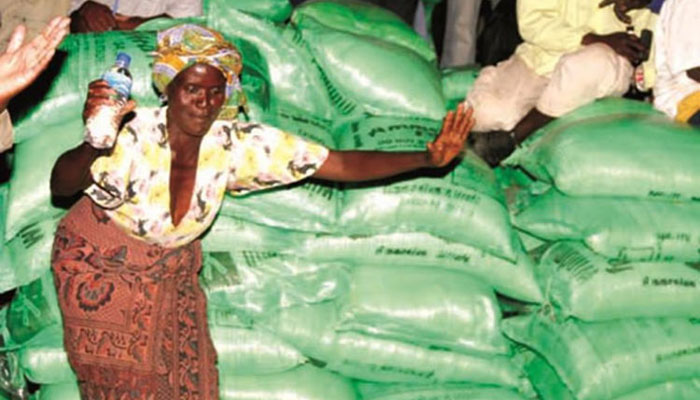 The Sunday Mail
Farmers are concerned that the worsening fertiliser shortage in the country could cripple the 2017 /18 cropping season if the issue is not addressed on time.
This comes at a critical time when most maize farmers are planting and require Compound D fertiliser to give the crop a perfect start.
The shortage has already rocked Command Agriculture beneficiaries, most of whom are yet to receive their inputs despite the fact that the rain season is well underway.
Local fertiliser manufacturing companies are blaming the shortage on the unavailability of foreign currency needed to import raw materials. Some manufacturers are also said to have taken advantage of the situation to hike prices, further making the preparations difficult for the farmers.
A snap survey in Harare revealed that where it is available, a 50kg bag of Compound D now costs about $41, up from the $29 it was trading for last season.
"It's a potential disaster we have on our hands because the season has already started and Compound D which is needed for planting is nowhere to be found in the formal market," said Zimbabwe Farmers Union director Mr Paul Zakariya.
"We are going ahead with preparations but it's not easy, inputs prices have gone up, some seed varieties are not available and most importantly we do not have fertiliser. We hope that Government addresses this issue on time."
Zimbabwe Indigenous Women Farmers Association Trust president, Ms Depina Nkomo, weighed in adding that it has also become a little bit harder to register for Command Agriculture due to pressure at registration centres.
"We are trying with the little that we have but the problem is that we do not have fertiliser and where it is available it is expensive," she said.
"Some of us still want to register for Command Agriculture but the pressure at the centres is just too much, especially for us as women. We appeal to the Government to intervene because the shortage can harm a potentially good season."
Mr Wonder Chabikwa, who leads the Zimbabwe Commercial Farmers Union, said he was pleased with the current weather conditions but said it could count for nothing if the shortage of inputs is not addressed properly.
"The forecast has been spot on and the rains are pretty good," he said.
"However, the challenge for some of our farmers in Command Agriculture is that the inputs have not been distributed on time. Things like fertiliser, herbicides and fuel are yet to be fully distributed. Also the issue of speculation has led to the increase of prices and this is affecting our preparations."
Meanwhile, farmers have given a message of support and expressed confidence in the new Government led by President Emmerson Mnangagwa.
Zimbabwe Poultry Association (ZPA) chairperson, Mr Solomon Zawe, said the sector was confident that the new executive would support agriculture as it is one of the major pillars of the economy.
"Well, it is still a bit early to comment but we are ready to work with the new Government," he said.
"We are ready to work, we want to hit the ground running, and we hope there will be no more unnecessary Statutory Instruments and retrogressive policies because we all want to work for the prosperity of the country."
Mr Zakariya said it is now time for all farmers to work together in partnerships regardless of race or tribe.
"As farmers we are happy with the new era, we are hopeful that it shall address the problems facing the agriculture sector and bring prosperity to the country."