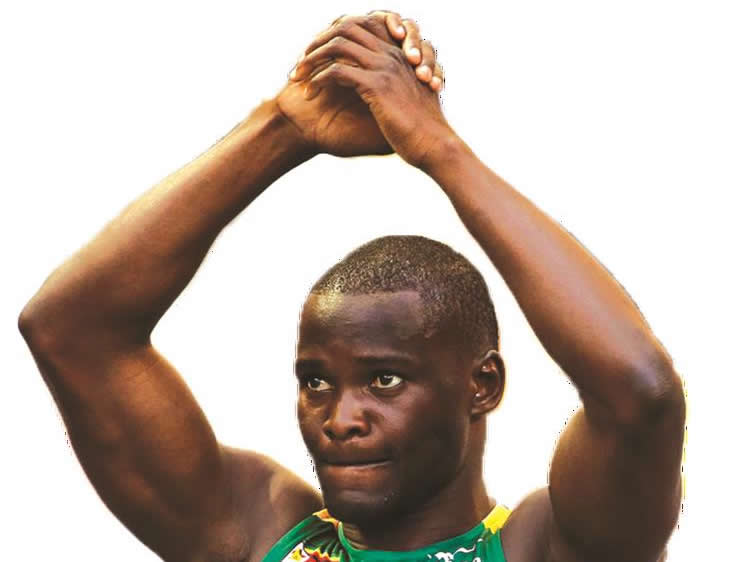 The Sunday Mail
HE doesn't know it yet but sprinter Gabriel Mvumvure (pictured) will be Zimbabwe's flag bearer during the 2016 Olympic Games opening ceremony in Rio de Janeiro on Saturday morning.
The 22 –year old US based athlete will get the honour ahead of Olympic gold medallist Kirsty Coventry, who was widely expected to sentimentally play the role again.
Coventry was the country's flag bearer at the London games and was tipped to do it again in what should realistically be her last Olympic appearance.
However, sources both in Rio and Harare yesterday disclosed that the nod has been given to Mvumvure.
"It is just a simple call, anyone can be the flag bearer really but for this year the honour is Gabriel's," said one official.
"During our discussions there was talk of giving Kirsty the honour once more as this is her Olympic swansong but there was in the end consensus that there was need to send a message that every athlete is equal in our eyes.
"Gabriel is a seasoned athlete, very patriotic and deserves the honour of being the flag bearer."
However, in a social media chat last night Team Zimbabwe chef de mission Titus Zimunya insisted they are yet to decide on who will be the flag bearer.
"Maybe you know better than I do but that decision is yet to be made. Trust me when we have made the decision you guys will be the first to know," said Zvomuya.
"But I must hasten to say that Gabriel has a chance of being the flag bearer just like all the other athletes who are here for the Olympics."
Zvomuya, who flew to Rio a few days before the team left, disclosed that Zimbabwe's delegation has settled in well at the Olympic Games village.
"Obviously a bit of acclimitisation was needed, we are five hours behind Harare and the weather is a bit different, but everything has gone on smoothly so far.
"Everyone is fit, pumped up and we cannot wait for our first representatives, the Mighty Warriors, to get our campaign underway on August 3," he said.
One athlete who has been enjoying her Rio stint is veteran swimmer Coventry.
The 32-year old swimming queen has been very active on social media, posting videos and pictures that tell a story of an athlete who is relaxed ahead of the world's biggest sporting showcase.
On Thursday Coventry posted a picture of herself together Olympic debutant Sean Gunn.
"Zimbabwe Swimmers have arrived in Rio! Say hi to 1st time Olympian Sean Gunn. #Olympics #Rio2016?," she wrote.
A day earlier Coventry had given the world a snip preview of the hard work she puts into her game away from the public eye courtesy of a 28 second video of herself in the pool.
"What many people don't get to see: the early mornings, the loneliness, the tears, the endless grind.
"We do it because we love it and we get through it because of the love we get. (with my coach of 4 Olympic Games: Brackin Elite Swim Training)," said the Olympic gold medallist of the video.