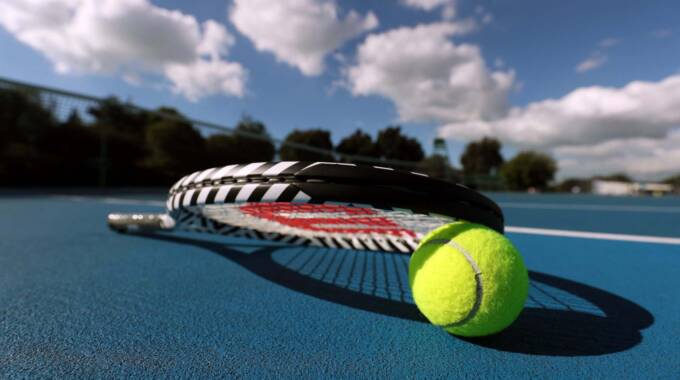 The Sunday Mail
Tinashe Kusema
Deputy Sports Editor
THERE are parallels one can draw between the careers of Serbian great Novak Djokovic and Zimbabwe's very own tennis ace Takanyi Garanganga.
Both are ultra-talented players, of course, with Djokovic being one of Serbia's greatest tennis exports, a mantle the 35-year-old shares with the likes of Monica Seles and, to some extent, former World number one Anna Ivanovic.
Djokovic is also in line for the greatest-of-all-time title, alongside the duo of Rafael Nadal and the now-retired Roger Federer.
Garanganga, on the other hand, is without doubt the greatest player of his generation in Zimbabwe. He ranks as one of Zimbabwe's greatest tennis exports, together with the Black siblings — Bryon, Wayne and Cara.
At face value, the comparisons between Djokovic and Garanganga can be described as quite a reach, given that the former is regarded as one of the greatest tennis players ever, while the latter's legacy is best viewed in the context of his native country.
But the duo seems to have a lot more in common, especially after events of the last 12 months. Djokovic recently made his return to the Australian Open, a tournament he has made his own over his long and storied career. He could make it a record-extending 10th crown with a win today.
This comes hot on the heels of his controversial deportation from the same tournament last year, one that saw him take some time away from the game, as he was also banned from the United States owing to his decision not to take the Covid-19 vaccine.
Djokovic is on record saying the deportation ahead of last year's Australian Open proved an unlikely catalyst for success in 2022, as it allowed him to regroup before bouncing back with key titles. The Serbian won his seventh Wimbledon crown after his comeback.
He capped off the year by winning the ATP Tour Finals for a sixth time in Turin, Italy.
Much like Djokovic, Garanganga finds himself on the sidelines, albeit due to injury.
He hopes his time away will have a similar effect to that of Djokovic, when he makes his own return to the court later this year.
"The rehab, or time away, has been good, as it has given me time to slow down and rest the body and mind.
"One hardly ever gets this time when they are active and on tour," said Garanganga.
"You are always stressing over issues like when your next tournament is, when are you playing the next match and what time am I going to sleep, train or play.
"The schedule is so tight, which is okay, but now I have the time to connect the dots and reflect on my game."
The 32-year-old Zimbabwean ace recently went under the knife to fix a nagging knee injury, which was sustained during the Zimbabwe Davis Cup tie against Syria in 2020.
"The doctors basically put little holes on your knee so that the bone marrow comes out and regrows," he said.
"I was fortunate that it was not a major surgery where they would have repaired my ACL (anterior cruciate ligament), torn ligaments or something.
"This was certainly a good thing," he said. Garanganga is three months into what is thought to be a six- to nine-month rehabilitation.
He, however, has been using his downtime to reflect and attend to his Takanyi Garanganga Foundation.
"I have been watching a lot of tapes as a tool on how I can develop myself, especially as it pertains to my technique and stuff," he added.
"I also like to study the game and watch what is going on around the world, something I don't usually do when I am playing.
"I have watched some good matches in the Australian Open; Djokovic is doing very well and Andrey Rublev had a very impressive run.
"It will be a tough call as to who will win it all, but Djokovic is a clear favourite, while Karen Khachanov can also be very dangerous.
"It really is anyone's game."
Garanganga was recently appointed non-playing captain for Zimbabwe's World Group II Davis Cup tie against Uruguay at Harare Sports Club this weekend.
The team itself consists of Benjamin and Courtney Lock, Mehluli Sibanda and Benedict Badza.
"We have a very good chance to win this one, and having home-court advantage will be key.
"We play in altitude-fast courts, hard courts, in this instance, while Uruguay are used to clay.
"It's a two- or three-day event; the adjustment is not as they would probably like it to be, and the speed of the court will cause them problems.
"It's still the beginning of the year, our guys are fresh and I really fancy our chances here."
The Zimbabwe Davis Cup team are expected to troop in from their bases, with the Lock brothers flying in from Europe, while Sibanda arrives from Bulawayo. The games start on Friday.