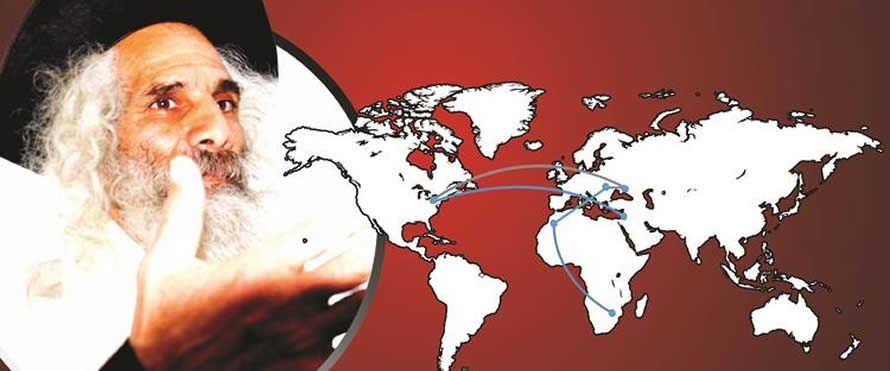 The Sunday Mail
Vusumuzi Dube and Tinomuda Chakanyuka—
A FUGITIVE rabbi from Jerusalem, who allegedly fled Israel after he was accused of abusing under-age girls and sleeping with numerous married women, is in hiding in Bulawayo together with a handful of the faithful from that country, it has been established. Rabbi Eliezer Berland (72), the head of Shuvu Banim, one of the largest Jewish educational institutions in Jerusalem, has for a number of weeks been living in various upmarket lodges in Kumalo and leading worship in a synagogue in the same suburb.
He arrived in the country in December last year under the guise of religious tourism.
Assistant regional immigration officer Mr Francis Mabika declined to comment on the issue, but a senior official from the Department of Immigration revealed that the rabbi was under investigation.
"We have information on that character and we are still investigating the matter. Right now, we cannot act because we do not have concrete evidence against him," the official said.
According to investigations by our Bulawayo Bureau, Berland and his followers are being taken care of by the Jewish community in the city who have been shifting him from lodge to lodge. Sources within the Jewish community said a hotel in Kumalo has been identified as his next hide out.
The hotel will be closed to members of the public as Berland and his associates are expected to book all the rooms. Their movements will also be limited as they will now be worshipping at the hotel.
The leader of the Jewish community in Bulawayo, Mr Hylton Solomon, refused to speak about their role in the upkeep and presence of Berland in the country.
Efforts to get a comment from the rabbi himself were unsuccessful although our crew managed to take his picture despite his aides' protests.
One of the aides translated to the crew that his leader was saying that the photographer would not make it to the next world for taking his pictures.
The aide said in English, "The Rabbi says if you want to make it to the next world, delete those pictures".
Back in his homeland, media reports revealed that several Israeli women reported that the rabbi had sexually harassed or raped them. The allegations came to light in 2012 when Israel Hayom newspaper reported an incident in which one of Berland's students saw him at his house standing beside a naked woman.
His supporters expressed anger over the report, and the person who leaked the story to the media was later violently attacked.
After the police opened investigations, Berland immediately fled Israel and spent some time in the United States, Italy and Switzerland. He then left for Morocco, settling in Marrakesh.
In November 2013, Berland and his students were ordered to leave Morocco after King Mohammed VI personally ordered their expulsion from the country.
According to news reports, a Moroccan newspaper had published an article profiling the rabbi and mentioning the circumstances in which he fled Israel, and the king ordered his expulsion after reading the article.
Berland is thought to have left Morocco for Cairo, Egypt. He reportedly bought tickets for various destinations to confuse pursuers. This left many confused as to whether he was staying in Zimbabwe, Venezuela or Johannesburg, South Africa, where he was reported to have been taken in by a relative.
Among those who have been travelling with him is a man believed to be a wealthy businessman whose private jet they have been using.
The businessman is also believed to have business interests in Zimbabwe and has partnered locals who reportedly include former Zimbabwe Football Association boss Ms Henrietta Rushwaya.
"I brought the Israelis who are investing in my mine. The religious tourism guys are not involved with me. Mr Solomon only called me requesting the numbers for the Zimbabwe Tourism Authority," Ms Rushwaya said when reached for comment.
Foreign Affairs Deputy Minister Ambassador Chris Mutsvangwa said the ministry was not aware of Berland's presence in the country as he was not a diplomat.
"No, we are not aware. Unless if he was a diplomat; that's when our ministry would come in. I think it's best you highlight that case with police," he said.
Home Affairs Minister Cde Kembo Mohadi said Berland would have been picked by police if he was on the Interpol red list.
"I'm not aware of such a fugitive in the country. I'm only hearing it from you for the first time.
"The problem is that he is not on the Interpol red list and in that case there is no way we would have known that he is a wanted somebody in his country.
"We rely mostly on Interpol in such cases and since he has a valid passport there is no way we would have picked him at the port of entry."