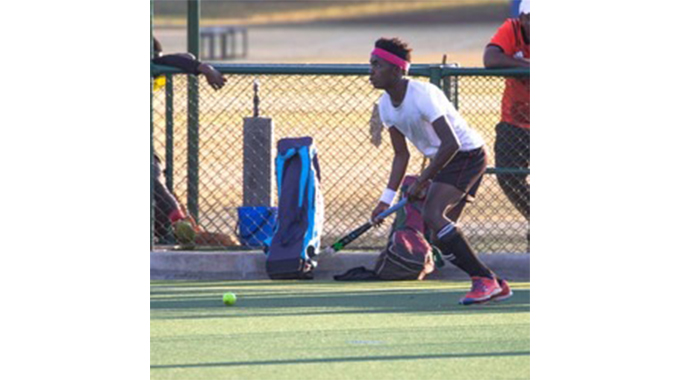 The Sunday Mail
Sports Reporter
FOR utility midfielder Tinashe Dzemwa, the best part of being called-up into the Under-21 and senior national team is getting to share this achievement with his best friend — Mufaro Rusike.
Theirs is a budding friendship, five years in the making, but one strengthened by their love and passion for the game of hockey.
"I met Mufaro at Rising Stars in 2015, when we had just finished our Ordinary Level examinations and we were looking for a club to join.
"We were both juniors starting our professional hockey careers and we clicked right off the bat.
"We have stuck together ever since, motivating and encouraging each other to keep working hard," said Dzemwa.
"We have been working on making it to the Under-21 squad since 2016 when the last World Cup qualifiers were held.
"Together with Mufaro we set our targets on representing Zimbabwe in the next World Cup qualifiers.
"And now, with the recent call-ups, it is testimony to that goal and our hard work finally paying off," added the 20-year-old.
"This is a milestone for me, and I am pushing to see it to the end, which is not only to making it into the teams but to win the upcoming tournaments," said Dzemwa.
Dzemwa and Rusike are part of the senior and U-21 hockey national teams that are preparing for next year's Africa Cup of Nations qualifiers and U-21 World Cup qualifiers.
As he dreams of making his debut for the national team, his sole objective is to help it qualify for the Africa Cup of Nations.
The same goes for the Under-21.
"My wish is to help the team to qualify for Afcon, while I would also want to help the U-21 qualify for the World Cup.
"I want us to compete on a global level," said the utility player.
For Dzemwa and his friend Rusike, the journey has not been rosy.
"We both stay in Marlborough and sometimes we find ourselves walking, or even jogging, all the way to UZ track to have a fitness session," said Dzemwa.
"We would travel to Bulawayo for practice games with no money, plan, and even a place to sleep, and then after (the games), we found our own way back home to Harare.
"It is the passion that kept us focused on making it. Looking back, these were pivotal points to our journey to the national team."
Dzemwa is currently in the books of Rising Stars.
He is also an umpire.
"I started umpiring in 2018 as a way to better understand and improve my game," he said.