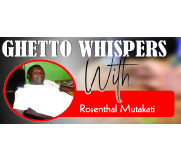 The Sunday Mail
ACCLAIMED Brazilian footballer Pele referred to it as "the beautiful game", but this is surely not the case anymore.
What with the hooliganism that spoiled an otherwise blissful afternoon at Barbourfields Stadium in Bulawayo last Sunday?
Highlanders fans invaded the pitch 37 minutes into play, contesting a referee's decision not to award their team a penalty kick at a time when it was two goals down to DeMbare (Dynamos), triggering unimaginable chaos that has been covered widely by the media.
The stadium turned into a war zone.
Horrible pictures of Bosso (Highlanders) fans kneeing hapless supporters of their team's opponents, fighting the police and throwing rocks, bottles and everything else imaginable in the pitch show just how the game of football no longer qualifies to be dubbed "the beautiful game".
Unprintable songs were sung as the goddess of violence turned some of the supporters into monsters, tearing the fabric of the game.
One can imagine the amount of business that was lost in the chaos.
Did you know that there is a significant percentage of the country's population that survives on selling drinks, roasted meat, maize cobs, eggs and cigarettes during soccer matches?
There are representatives of big international football clubs who attend soccer matches to scout for talent and one can just imagine the lost opportunities for local players and coaches in that moment of madness.
Lovers seeking time to bond with their partners often attend football matches to enjoy 90 minutes of soccer, punctuated by hugs and kisses. Sadly, this was blown away on the fateful Sunday. Long lost family members and/or friends also attend soccer matches as they go down memory lane and fill the missing pieces of the jigsaw puzzle. Unfortunately, this was spoiled on the day in question.
The way the fans behaved on the forgettable afternoon is a typical example of just how certain things should never be done.  Just imagine how demeaning it is for a father figure to be slapped, kicked, sjamboked and shoved in front of his child, as was the case at Barbourfields, where men and women were beaten in public.
Our nation certainly deserves better.
"If I knew that the match would end that way, I would never have paid my money to watch it. People behaved in a way that made me reassess my love for football. People were hurling expletives at match officials, the police and their rival supporters. I had taken my brother along so that we could spend a good afternoon together, only to be greeted by that chaos," wailed Mr Pomerai Nzarachirombo.
"Zvakaitika ipapo handizvidi," he continued.
Mr Vivian Chopamba echoed similar sentiments.
"We were left with nowhere to run. I only thank my ancestors that I was not injured but some people who were sitting next to me were hit by flying missiles, while we had to contend with tear smoke, as the police sought to restore order," he said.
This dovetailed with Shelter Muziki's views.
"I was with my boyfriend in the stadium when all hell broke loose. I usually let him attend soccer matches alone, but on this day, I thought I could go along with him since two of the country's biggest clubs were playing.
"No sooner had I started enjoying ice cream than I was forced to duck missiles and only God knows where the ice cream went. Oh, I will never attend a soccer match again! Not after what I witnessed last Sunday," she said.
Gentle reader, what happened in Bulawayo last week bids on every citizen to avoid conflict at all costs and ensure peace prevails.
Agreed, football has some high adrenalin moments but observing peace and registering displeasure in a civil manner helps preserve dignity.
We must never fight just to show the world that we can. We have a duty to protect our fellow citizens as we sow seeds of love for generations to come.
Inotambika mughetto.
 Feedback: rosenthal.mutakati @zimpapers.co.zw