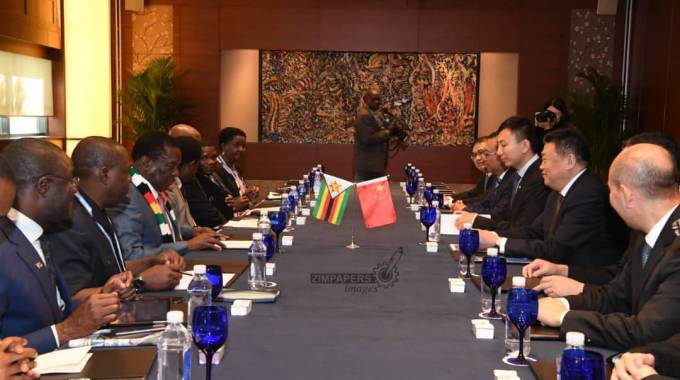 The Sunday Mail
Last week's Forum on China-Africa Co-operation in Beijing brings to the fore the need to fast-track the African Continental Free Trade Area.
Not only that, the protocols on Free Movement of Persons, Right of Residence and Right of Establishment must be ratified with speed in order for the continent to create for itself first, the environment that China is creating to further its own interests on the continent.
For the One Belt, One Road Initiative to be a success, China needs an Africa with solid infrastructure and skilled workforce. It needs an economically strong Africa with per capita income that makes it a viable market for Chinese goods. It needs a conflict-free Africa with strict enforcement of laws that deal with corruption.
In the past 18 years since Focac started, China has seen a deepening commitment from Africa. Which is why it has married its "New Silk Road" plan with Africa's Agenda 2063, whose flagship programme is the AfCFTA.
The Chinese do not see the borders that divide Africa into many small nations. They see a giant future economic hub with a rich, diverse culture, abundant natural and human resources, a 1,2 billion persons market for Chinese goods and services; but most importantly, a partner in the creation of a new world order.
An order based on an all-inclusive vision for economic, political and security development.
But other players that have tried to do business or enter into partnerships with Africa, particularly the European Union and the United States, have had one thing in common – selfish interests.
They have not gotten over the master/servant hangover created in 1884-85 in Berlin, Germany.
They still want to be domineering, inserting themselves into the African politics, interfering in sovereign nations' internal affairs, bullying through such instruments as sanctions and sometimes even outright violence.
But as China's President Xi Jinping has repeatedly said, including at the recently ended summit, China will not get involved in African nations' internal affairs.
This is proven by the Chinese's 5 000-year-old civilisation, which shows that at no point in its staggering, long and illustrious history has China tried to build its empire based on domination of others.
Even in the late 1970s and early 1980s as China reorganised itself and was entering a period of tough economic turnaround, which led to growth and stability, it still helped African countries not only logistically but financially on equal footing.
There is absolutely nothing to fear from the Chinese.
However, Africans must take China's manoeuvres with the utmost respect that they deserve. China wants a competent partner and the worry is that lethargy, procrastination, corruption and a lot of other vices that afflict this great continent will make Africa an incompetent partner.
It is largely believed, for instance, that Africa has missed most development goals, including some of its own targets, not because of lack of resources but because of corruption.
Which is why there are more developing nations in the African Union than any other multilateral grouping in the world.
On the other hand, China is strict on such things as corruption, and moves decisively and with speed in implementing its programmes.
For instance, there are 54 Confucius Institutes in 41 African countries since the first one opened in Nairobi Kenya in 2006 and plans are afoot for more such institutions on the continent.
Confucius Institutes are modelled on Western cultural institutes such as France's Institute Français, Germany's Goethe Institute or the UK's British Council.
Furthermore, China already has a diplomatic mission to the African Union based at the continental body's headquarters in Addis Ababa, Ethiopia.
Yet, the African Union, made up of 54 nations, has failed to open a similar diplomatic mission in Beijing. Perhaps the Africans are waiting for Beijing to build it for them and hand it over as they have done before when they built the $200 million AU headquarters in Addis Ababa.
So, while Focac has created a valuable platform for collective dialogue and cooperation between African nations through such programmes as AfCFTA under the umbrella of Agenda 2063, do African leaders themselves realise this and are they willing to walk the talk?
Judging from the words of the African Union Commission Chair Moussa Faki at the African Union Extraordinary Summit held at the Kigali Convention Centre in Rwanda in March this year, it seems they do, but perhaps lack the will and thus need to be nudged.
"The world is changing, and changing at a great speed. International competition is fierce. It leaves no room for the weak," said Mr Faki.
At that March extraordinary summit, 44 countries signed the agreement establishing the AfCFTA and 43 Heads of State signed the declaration for the launch of AfCFTA, while 27 signed protocols relating to Free Movement of Persons, Right of Residence and Right of Establishment.
The goal of AfCFTA is to create a single market followed by free movement and a single currency.
What remains is the ratification of protocols and instruments that make AfCFTA functional.
A number of countries have already deposited the ratification instruments, but AfCFTA will only formally exist once all documents are concluded and ratified by at least 22 countries.
There is a challenge. Some of the bigger countries, like South Africa, said the ratification process might need more time and Nigeria, Africa's second-biggest economy, is one of the dozen countries which did not sign.
When will African leaders realise that the continent needs unity in order to be a force to be reckoned with?
Said Mr Faki: "For Africa, after decades of independence, marked by persistent under-development and a marginal place in the international system, the terms of the debate are laid down in almost Manichean terms: Unite or Perish, as Kwame Nkrumah said at the Addis Ababa founding Summit."
He added: "Economic integration thus responds not only to aspirations born out of Pan-Africanism, but also to a practical imperative linked to the economic viability of the continent.
"Our peoples, our business community and our youth, in particular, cannot wait any longer to see the lifting of the barriers that divide our continent, hinder its economic take-off and perpetuate misery, even though Africa is abundantly endowed with wealth."
He further noted that, "Outside the continent, our efforts are observed with a mixture of admiration and scepticism. This Summit must, therefore, mark a break. It must strengthen the confidence of our peoples in their union and its ability to fulfil their aspirations.
It must confound those who, outside Africa, continue to think, with barely concealed condescension, that our decisions will never materialise."
By marrying President Xi's flagship Belt and Road Initiative to Africa's Agenda 2063, the world's second-largest economy has shown beyond any reasonable doubt that it does not view Africa's grand plans with "condescension".
China's commitment must surely prove to Africa that integration is not an option, but an imperative.
It is now incumbent upon the Africans themselves to move with speed in implementing Agenda 2063 and shun the vices that have long led to the stigmatisation of the continent and its leaders.
President Xi himself warned that the money that China is pouring into Africa is not for "luxuries".
To paraphrase Emperor Haile Selassie at the May 1963 Summit, the giant Africa cannot wake up if it remains divided.
A united Africa, with a single passport – which means uniform visa requirements, a strong well-funded African Union Army, a single currency, diplomatic missions that represent Africa in different parts of the world, a functional Pan-African parliament etcetera – is likely to reap more.
Collective bargaining will bring more.