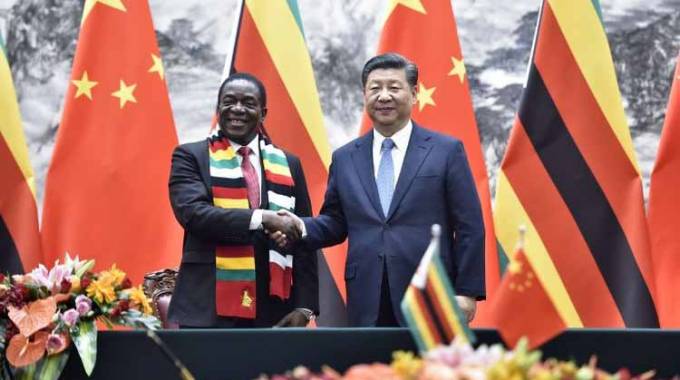 The Sunday Mail
Francis Mupazviriho
This year's Summit provides Zimbabwe with an opportunity to leverage on its new elevated relationship with China to unlock even more economic opportunities.
The Forum on China-Africa Co-operation (Focac) Summit begins in Beijing tomorrow.
It is reported that key areas of co-operation that the summit will focus on include agricultural transformation, industrial development, and science and technology development.
Of course, a summit of this magnitude will also be punctuated by bilateral engagements on the sidelines of the main event.
Focac 2018 becomes symbolic, especially for Sino-Africa relations, which seem to have now come of age.
Since the inaugural summit in 2006, when Beijing announced itself to the world as a global power, there has been a change in guard both in Africa and in China, with Xi Jinping assuming leadership in the latter in 2013.
The leadership changes present refreshing new personalities, which makes the shift from political diplomacy to economic diplomacy possible.
While China-Africa relations are etched on historical foundations, located in the politics of solidarity against colonialism, Focac, which has been running for nearly two decades, has steadily grown into a vehicle for translating these relations to economic deliverables. Forty-eight African Heads of State and Government attended the inaugural summit in 2006.
The notable absentee from the Sadc then was Malawi, which still had diplomatic relations with Taiwan.
A year later, Malawi chose to deepen its relations with China; it officially confirmed relations with the Asian giant in 2008. In May this year, Burkina Faso followed suit and ditched Taiwan.
Since 2006, the triennial summit has been hosted by Egypt (2009), Beijing (2012) and Johannesburg (2015).
Most notably, from 2002, China has become the reference point of the Look East policy.
Relevance to Zim
China's historical support to Zimbabwe is well-documented.
This overwhelming support culminated in the veto by China and Russia of a United Nations Security Council resolution to put sanctions on Zimbabwe in 2008.
However, many things in Zimbabwe have changed since then.
Mr Robert Mugabe has since been replaced by President Emmerson Mnangagwa.
President Joseph Kabila (DRC), Omar-al-Bashir (Sudan) and Paul Biya (Cameron) and Yoweri Museveni (Uganda) are some of the few leaders from the 2006 summit who will be in Beijing this week.
It is incumbent upon the new leadership to tap on the Sino-Africa relations in order to chart a new trajectory for their countries.
Although President Mnangagwa has strong links with China, having trained there, he is also alive to the need to broaden relations through engaging and re-engaging with traditional and new partners.
It is not surprising that in April this year, President Mnangagwa's first foreign visit outside Africa was to China.
Most importantly, the State Visit resulted in Harare and Beijing elevating relations to a Comprehensive Strategic Partnership status.
What is encouraging for Zimbabwe is that the present Focac summit is happening at a time when the 18-year-old dispute between Zimbabwe and the UK has been resolved.
Prime Minister Theresa May's recent comments on Zimbabwe show an increasingly positive disposition towards Zimbabwe.
The British are also looking for more trade partners around the world, including in Africa, post-Brexit.
With Focac imminent, it therefore becomes important to contextualise the current overtures being made by the UK.
For example, as African delegations are currently making a beeline for Beijing for economic engagements, the UK Prime Minister is busy engaging the continent's biggest economies – Nigeria (West Africa), Kenya (East Africa) and South Africa.
Though the British people largely voted in favour of exiting the European Union, in reality the process has been long drawn-out.
Some of the key Brexiteers have since resigned from the British government, and this has necessarily occasioned a strategic rethink by the Conservative government.
Essentially, Africa has now evolved as a foreign policy priority for foreign governments.
Over the years, successive Chinese presidents – Jiang Zemin, Wen Jiabao and Hu Jintao – have visited the continent.
In 2015, Xi Jinping was in Harare for a State Visit ahead of the Focac summit in Johannesburg, South Africa.
Beijing's flirtation with Africa has awakened Western countries.
Last week, President Uhuru Kenyatta of Kenya was in the United States. He is now in Beijing for the Focac Summit.
It has to be appreciated that geopolitical dynamics are fluid.
Our stake
This year's Summit provides Zimbabwe with an opportunity to leverage on its new elevated relationship with China to unlock even more economic opportunities.
Quite encouragingly, the focus of the Summit – agricultural transformation, industrial development science and technology development – dovetails with the Government's plan to achieve a middle-income economy by 2030.
In 2014, Zimbabwe and China signed 12 landmark agreements to fund vital projects for key economic sectors.
Though there was inertia with some of the deals, particularly as the country struggled to service its obligations, President Mnangagwa's recent visit to the Asian giant managed to give traction to the deals.
Clearly, international diplomacy is now shaped by business.
Thus, engagements with China can help Zimbabwe drive its modernisation and industrialisation agenda.
There is no doubt that this week, Zimbabwe will grab that opportunity with both hands.
But all this is taking place within the context of ever-changing global geopolitical dynamics.