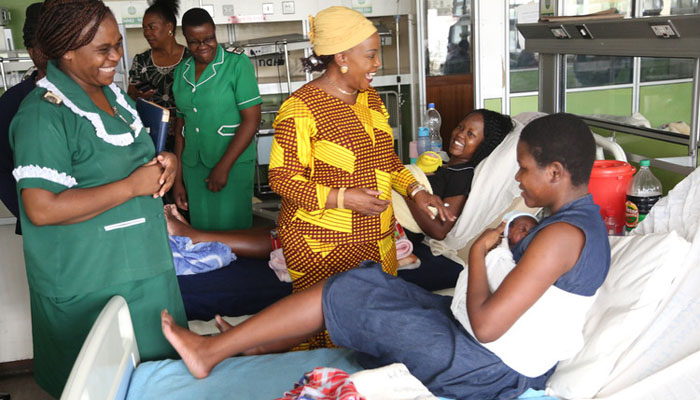 The Sunday Mail
Chief Photographer
Her vehicle pulled up into Harare Central Hospital just before midday on December 5, 2017.
Sporting brown-and-yellow apparel, both patients and staff hardly recognised her. Briskly, she headed straight to the outpatients department to engage people who were, no doubt, oblivious that their interlocutor was in fact First Lady Auxillia Mnangagwa.
Cde Mnangagwa was on a familiarisation tour of Zimbabwe's principal referral health centre where millions of patients converge for treatment.
Densely populated on account of a strained referral system, the hospital has had its fair share of problems — from grounded ambulances to patients sleeping on floors. At its most dire moments, it has run out of basic drugs such as painkillers. It's the kind of stuff that makes a mother cringe; that keeps a father awake at night.
The First Lady was here unannounced for a visit that could not be "airbrushed" or "photoshopped" by PR people. She wanted to see for herself exactly how the hospital was run when administrators had not been given a heads-up that a VVIP was coming.
What is clear is she was simply responding to her maternal instincts, and that she wants patients to get better services.
She moved from one patient to another, exchanging pleasantries and asking about their ailments and the kind of treatment the hospital was giving them.
And elderly lady caught her attention. Gogo Siboniso Nyakurwa was in her wheelchair, awaiting her turn to see the doctor.
Cde Mnangagwa advanced and knelt before the senior citizen who, subsequently, beamed as this smiling visitor listened to her every concern.
Other patients eavesdropped, but the First Lady seemed not to mind as she soon engaged them in conversation too.
She navigated her way to the front of a snaking queue where she sat next to a patient who was being attended to by a nurse.
Quietly she sat. Observing. Acquainting herself with the hospital's primary functions. She appeared to be just another patient. And when she was in front, she asked the nurse if everything required for service delivery was available.
As soon as she was done sourcing that information, she headed to the paediatric section.
She moved from one bed to another, her emotional connection with the children and their mothers ever visible.
Here, some senior nursing staff entered the ward and formally introduced themselves. The word had gone round. She had been recognised.
"The purpose of my visit is to have an appreciation of the hospital's operations. I am happy. I was impressed by the cordial patient-staff relationship and cleanliness in the hospital," she told them.
"You are doing great work caring for our patients despite the shortage of resources. I am sure you are aware of the prevailing economic situation in the country. I hope that some of the critical problems facing the institution will be addressed in the forthcoming National Budget when resources are allocated," she added.
Now in the company of senior nurses, the National Assembly representative for Chirumanzu-Zibagwe was led to the nursery and maternity wards where she got an insight into challenges impeding smooth service delivery.
Throughout her tour, she consistently preached the message of hope and hard work. She also urged mothers to take good care of their children.
Cde Mnangagwa concluded her tour at the transport section where she was briefed on debilitating vehicle shortages.
"We only have two old ambulances which are not well-equipped to cater for inter-hospital transfers. The situation is bad. The other ambulances are down," said the hospital's chief executive, Ms Peggy Zvavamwe.
"We also used to transport our staff home, but now we can only take them to the city centre because of our depleted fleet." Harare Central Hospital caters for over 1 200 in-patients and 900 outpatients/casualties daily.
It has 22 wards in the general hospital, a large maternity hospital, a psychiatric unit, and a tropical diseases unit.
As President Emmerson Mnangagwa's administration hits the ground running, ushering in a new work ethic, the First Lady's role can only be the icing on the cake.