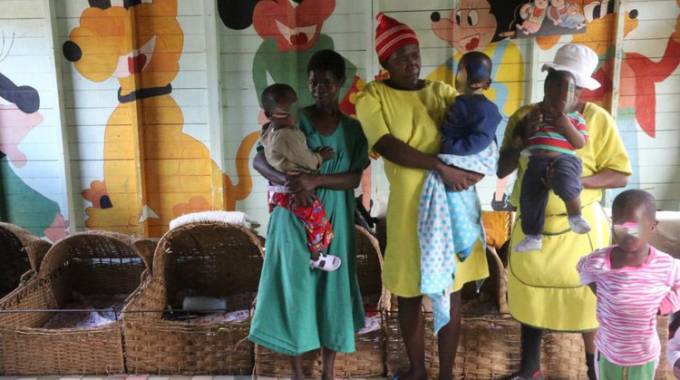 The Sunday Mail
Veronica Gwaze
Ukraine-born American author and playwright Solomon Naumovich Rabinovich – better known under his pen name Sholem Aleichem – once said life is a dream for the wise, a game for the fool, a comedy for the rich and a tragedy for the poor.
When he was talking of the poor, he could have very well been describing the calamitous circumstances of 20-year-old Chipo Jombo of Hopley suburb, Harare. Her life story has been a tale of unremitting tragedy: she got married to an allegedly violent man at age 15; made a living out of scouring dumpsites for scrap metal; and unfortunately, she was arrested last month for selling a stolen gearbox, which, ironically, she had picked up at a dumpsite in Highfield.
Jombo says she did not even know that it was a gearbox; to her, it was just an unusually big metallic heap that promised a good payday.
But she doesn't have to stay as a guest of the State for long.
All she needs is to pay $20 as bail.
However, she does not have the money, and even if she had, she would not pay it.
Faced with the option of spending time in remand behind the high, soul-sapping walls and wearing dreary prison garb at Chikurubi Female Prison, or paying her way home to be reunited with her 32-year-old deadbeat husband Omen Shawu, she has since opted for the former.
She even has her two kids as company behind bars.
Back-breaking ordeal
Jombo recently recounted her ordeal to The Sunday Mail.
"I was introduced to the scrap metal business by a friend five years ago.
"I had to do this to be able to buy baby clothes, and so since then, every day our business starts at 3.30am.
"I cannot afford a housemaid; I, therefore, have to do my business while my children are still asleep. There are three dumpsites that we usually gather our scrap metal from – two in Highfield and another one in the industrial areas.
"Sometimes I have to ask neighbours to look after my children while I visit dumpsites in areas such as Chitungwiza or Mukuvisi," said Jombo.
While the returns are measly, they are often enough to make them get by.
For a hard working week, she usually grosses $100, from which $20 is used for rentals every month, while the remainder goes towards food and other provisions for the family.
And that is if her allegedly abusive husband does not get his hands on her purse first. Her marriage has been a nightmare.
"I have to fend for the entire family. My husband does not help me. Instead, he often takes the little I have to spend on beer and girlfriends.
"Sometimes he becomes violent, especially if he suspects me of withholding some of the money," she said, as she unsuccessfully tried to hold back her tears.
Safety behind bars
Jombo's situation is, however, not unique.
According to the director of Female Prisoners' Trust (FPT), Ms Rita Nyamupinga, half of female inmates would rather stay in prison.
In fact, they try to seek behind bars the warmth they fail to find at home. They recount daily ordeals of abuse, some of it life -threatening, at the hands of their husbands or partners.
"Most women prefer being behind bars because they feel safe there. However, others do not have anywhere to go. Also, most women are dumped by their partners once they are jailed," said Ms Nyamupinga.
FPT believes that the bulk of the cases can be attributed to child marriages that would have gone wrong.
"Most of these cases are a result of child marriages.
"The girl either gets married to an older man, or both the boy and the girl are young. In this case, Jombo was only 14 when she fell pregnant and at 15 she gave birth to her first born."
UNICEF says domestic violence is on the rise in Zimbabwe and Africa in general.
Statistics show that one in every four women in this country experiences domestic violence – either physical or verbal.
It is believed that patriarchal cultural values even make the practice pervasive.
But even behind bars, there is no respite for Jombo.
She now faces the possibility of being separated from her oldest child, who is now five years old.
The law only allows children below the age of two to be with their mother in prison. She had been fortunate to have been allowed to bring the child in in the first place.
From Chikurubi Female Prison, children are usually taken to Chinyaradzo or Harare Children's homes; that is if they are not taken in by willing relatives.
"At the age of two, a child has to be separated from their mother, although we would love for them to get time for bonding.
"The separation process is difficult; therefore, we take the mother through psychotherapy, educating them that prison environment is not conducive for children," added Ms Nyamupinga.
Jombo's brood is part of the 12 children that are currently accommodated at Chikurubi Female Prison.
FPT believes there is need for more research to establish circumstances that force young women such as Jombo into early marriages.
Ms Nyamupinga said: "At the age of 20 and with a five-year-old child, Jombo is actually a victim, and there is need to establish the reason that got her married at such a young age.
"Right now, we need to persuade her family to take her in after jail because going back into an abusive marriage will be a death sentence, especially because the husband asked her to take both children to jail. He also never came to visit.
"In other cases, we also create an offender-offended dialogue to ensure that after jail they are welcome both at home and in the community," she said.
Women support groups say empowering women financially helps extricate them from abusive relationships.
"We set up a women empowerment programme whereby we fund small projects for them to reduce dependency after we discovered that dependency is among the major reasons that expose women to abuse."
It is definitely something that Jombo will certainly look forward to in order to pick up the pieces of her broken life and lay a secure foundation for her children's future.
She was non-committal on whether she would now opt to go home with her children or remain behind bars while one goes to a children's home.
However, the answer is almost obvious. She sounded like she would want to remain close to her children. She visibly fears abuse by her husband but it might seem a better option for the sake of her children.