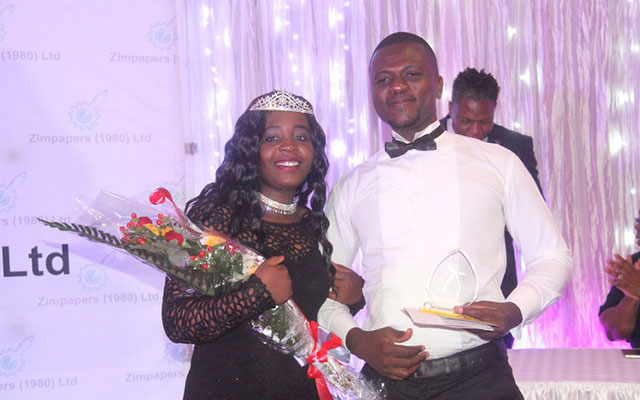 The Sunday Mail
Andrew Moyo
Superb hosting, good food and an epic after party headlined by the legendary Oliver Mtukudzi are what characterised The Sunday Mail Bridal Dinner on April 1 at the five-star Rainbow Towers Hotel in Harare.
Organisers this year departed from the usual Bridal Gala, which was characterised mostly by music, for the more exquisite and intimate dinner setup – which turned out to be a major success.
The Sunday Mail 2016 Bride of the Year was crowned in style.
With over 200 couples in attendance, the atmosphere was perfect with the ethnic décor and expert lighting giving the event the glow it deserved.
Almost everyone who came through heeded that this was a red carpet affair, getting the best out of their wardrobes and leaving the fashion police without work to do.
With the event starting at 6.30pm, the venue was almost full to capacity by the time the MCs started proceedings.
The programme was piloted by popular talk show host Mai Chisamba and radio personality Richard "RK" Kohola.
Mai Chisamba was up close and personal with the guests, quickly showing why her show on ZBC is one of the most popular on local TV as she dished out advice to the couples with poise and wisdom.
To set the ball rolling entertainment-wise, Gary Tight took to the stage with slow jams that brought lovers to the dance floor.
The talented musician set the tone for the night, ushering guests into the Festival of Love with wonderful lyrics and admirable instrumentation.
As Gary left the stage, a representative from Population Services Zimbabwe came forward to give the young couples timeless advice on family planning. Many family planning myths where demystified and some of the most common methods were explained.
During intervals, DJs from Real Sound kept the mood alive with mellow numbers befitting a dinner party.
When Pastor Davison Kanokanga came on stage at around 8.30pm, he proved why he is one of the most sought-after marriage councillors in Zimbabwe.
With the calm of a seasoned preacher who depends on the substance of his words rather than the power of his voice, he delved into numerous marital issues, encouraging and chiding with the finese that only experience can guarantee.
When the pastor finished, dinner was served and while people were busy with the fine fair provided by Rainbow Towers, there was a question and answer segment led by celebrity Star FM presenter Tilda Moyo.
Burning questions were asked, sound counsel was given, and through it all the humour flowed as couples relaxed and cosied up.
Then came the moment everyone was waiting for – the prize-giving ceremony.
The prizes comprised of cash, courtesy of Zimbabwe's leading family newspaper The Sunday Mail, Gtel T9000 tablets from Gtel, second honeymoons from RTG, Air Tickets from Air Zimbabwe, trophies from Technical Waste Buyers Association, personal care hampers from Exquisite Perfumes, and engraved frames from Pix Imaging.
Faith Leona Mwape-Samurowo was crowned The Sunday Mail 2016 Bride of the Year, walking away with US$500, a Gtel T9000 tablet, a second honeymoon at A'Zambezi Hotel, an air ticket to Victoria Falls, a trophy and certificate, personal care hamper and engraved frame.
The first runner-up was Fadzai Mtumwa-Savanhu, who won US$400, a Gtel T9000 tablet, a second honeymoon at Rainbow Towers Hotel, a trophy and certificate, and a personal care hamper.
Dionne Bough-Mwashita was the second runner-up, walking away with US$300, a Gtel T9000 tablet, a trophy and certificate, a personal care hamper, and a hamper.
It was to be a night to remember for our lovely Bride of the Year, as she also won the Cake of the Year prize which saw her get US$400, a Gtel T9000 Tablet, a trophy and certificate, a personal care hamper, and lunch for two.
Amanda Chipo Katema-Jakobo's cake was the first runner-up, getting her US$350, a G-tel T9000 tablet, a trophy and certificate, a personal care hamper, and lunch for two.
The second runner-up, Jane T Mudede-Chinomona, won US$300, a Gtel T9000 tablet, a trophy and certificate, a personal care hamper, and lunch for two.
Mr and Mrs Mandipira were the lucky couple who won the free wedding prize, comprising of a venue provided by ZimParks, tables and chairs from Bluffhill Hiring, invitation cards from Kenchris, transport from Just Wedding Cars, a gown from Rose Bridal, a suit from Vessels of Honour, video filming by Ashpex Media, decor by Passion, and a PA system supplied by Sun Valley Audio.
After the prize-giving ceremony, there was a dance-off where couples got to show their skills with the top two walking away with prizes.
And to cap what was a thrilling evening, the master himself, Oliver Mtukudzi came on and dished out some of his popular hits including "Shamiso", "Chirinani" and "Ndima Ndapedza".
One of the organisers, Charity Gwata-Chirume, said she was impressed with the way things went.
"We did not expect the event to be so successful considering that this is the first time we have done our bridal function in this fashion," said Gwata-Chirume.
"This was a special night where people did not just get to enjoy but they were also helped by the various experts that were present."