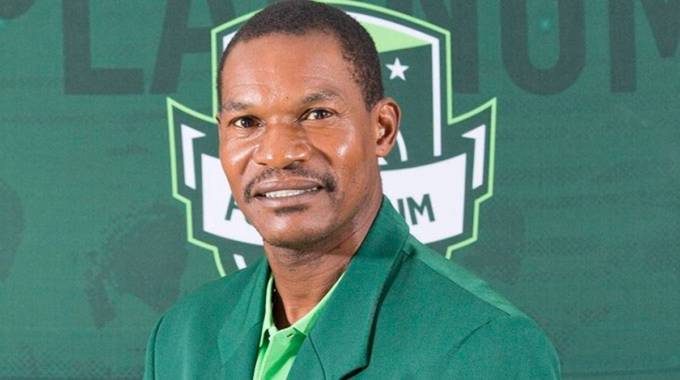 The Sunday Mail
Don Makanyanga
Black Rhinos . . . . . . . . . . . . . . . . . . .  0
FC Platinum . . . . . . . . . . . . . . . . . . . . (1) 1
SOCCER Star of the Year Walter Musona struck what proved the winner in the first half as champions FC Platinum ensured there was no joy for Black Rhinos coach Saul Chaminuka on his return to Castle Lager Premier Soccer League duties.
Chaminuka has been away from the domestic Premiership for seven years during which he travelled to Swaziland and also coached in the lower leagues in this country.
The veteran coach, who in 2014 came within a game of leading ZPC Kariba to the championship, was recently roped in as Rhinos mentor.
But he had to contend with directing operations from the terraces as he was still to be accredited, in line with the regulations put in place by ZIFA and the Premier Soccer League.
Musona, scoring his third goal of the season, however delayed the party for Chaminuka when the reigning Soccer Star struck after 35 minutes.
FC Platinum, who have had a slow start to their title defence, then hung on for a crucial win that saw them leap into second place behind Highlanders, albeit, on inferior goal difference.
Highlanders and FC Platinum are now tied on 18 points.
For Rhinos, who are struggling with their game, there had been hopes that with Chaminuka barking instructions from the touchline, victory was imminent.
Rhinos have now managed just a single win in 11 attempts and Chaminuka acknowledged that their poor run is now cause for concern in the army side's dressing room.
"The result is bad . . . We need to start winning matches. I am seeing positives in the team, and what we need to work on is our final third and we still have hope that we will win games," Chaminuka said.
FC platinum gaffer Norman Mapeza felt the win will boost his team's confidence.
Mapeza feels his charges are still to find their rhythm.
"It is a massive result for us.
"The guys have worked so hard and, like I said last Thursday, we are still in the woods, and we are trying to crawl out of the woods,'' Mapeza said.
He defended his team's sluggish start to the season.
"I cannot say it was a slow start but we just got in a terrible phase and in a game of football those situations come to pass.
"There is no statement we are sending, we are just playing to win our games and it is as simple as that," said Mapeza.
The champions dominated much of the proceedings in yesterday's game.
Their dominance could have paid dividends as early as the 10th minute when Musona came to the end of Juan Mutudza's pass, only to see his effort miss the target from close range, with the goalkeeper to beat.
Veteran Perfect Chikwende was causing the Rhinos defence all sorts of trouble from the right flank but his deliveries into the box found no takers.
Chikwende was involved in Musona's goal, dribbling his way through before sending a low cross which the latter connected with a simple tap in.
Rhinos, who had their only clear-cut chance of the game at the end of the first half, could have levelled the scores through Tatenda Mchisa.
Mchisa was sent through by Allan Gahadzikwa but an alert FC Platinum goalkeeper Wallace Magalane blocked his effort.
Despite grabbing the goal, Musona was the chief culprit in missing the numerous chances that FC Platinum carved.