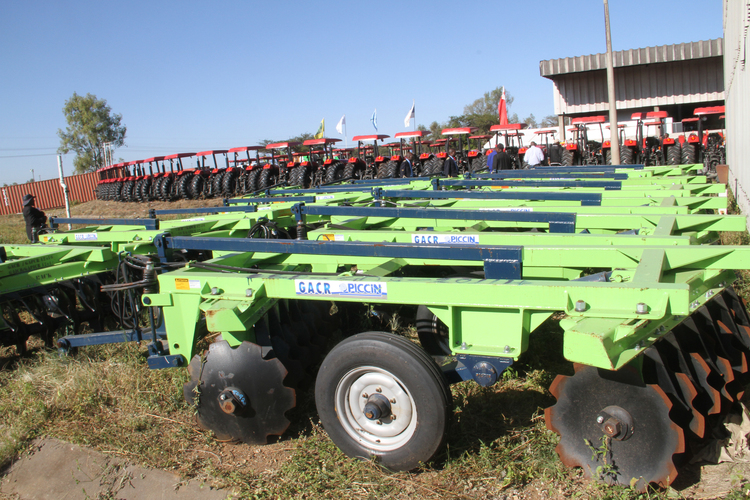 The Sunday Mail
Michael Tome
Business Reporter
ABOUT 98 percent of farmers who benefitted from the State-assisted Belarus farm mechanisation initiative have repaid their loans, a move that has elicited commendation from the Government.
This marks a departure from previous farm mechanisation programmes where farmers are still to pay up.
Under the Belarus farm mechanisation loan schemes, the Government distributed tractors, combine harvesters and disc harrows worth US$51 million in phase one, and US$52 million in the second phase.
Government says repayments have been highly encouraged, with farmers honouring most of their loan obligations for the farm equipment.
The high rate of repayments has largely been attributed to high-level management of the credit facilities by CBZ, through its agribusiness division, which offered a range of financial products to the farmers to recapitalise their farms.
Tractors with specifications of 15 horsepower and above are being distributed through CBZ, while the AFC Leasing Company was introduced to improve reach to farmers in need of tractor and other agricultural equipment services.
CBZ Bank recently said it was committed to supporting the agriculture sector through the provision of financial solutions that enable farmers to access equipment and machinery to grow their farming businesses.
As of 2020/2021, Zimbabwe had 7 800 tractors, representing a 19,7 percent mechanisation rate.
The second phase of the farm mechanisation saw the acquisition of 1 337 tractor accessories, while President Mnangagwa has already negotiated for the delivery of 3 700 tractors valued at US$170 million, under the third phase of the farm mechanisation programme.
Mechanisation has been identified as a key driver of agricultural transformation and food security in the country, given its potential to improve the efficiency and productivity of farming operations
The Second Republic has invested heavily towards enhancing production in the agriculture sector, in line with the Agriculture and Food Systems Transformation Strategy, the Agriculture Recovery Plan, and the National Development Strategy 1, which is designed to lay the groundwork for an empowered and prosperous upper middle-income society by 2030.
In an interview, chief director, agricultural engineering, mechanisation and soil conservation, in the Ministry of Lands, Agriculture, Fisheries, Water and Rural Development Ministry, Engineer Edwin Zimunga, said repayments by farmers have been impressive. "We have seen a significant improvement in terms of payments as 98 percent of the loans that were given under the mechanisation facility have performed really well, while we expect the remaining 2 percent to be settled this summer.
"The payments have been quite incredible. Timeous payments are being made, especially through the stop order facility. We also have the Mechanisation Development Alliance, which is helping farmers to commit to payment without necessarily having to procrastinate," said Eng Zimunga.
CBZ Bank head of agribusiness, Shadreck Chinembiri, said the financial institution remains resolute in supporting the agriculture sector through the provision of financial solutions that enable farmers to access equipment and machinery they need to grow their businesses.
"We understand the challenges that farmers face, and we are committed to working with them to find solutions that enable them to achieve their goals. The CBZ agribusiness division is currently running an asset finance scheme," said Mr Chinembiri.
Agriculture expert and consultant Mr Pious Chigunde weighed in, saying: "Farmers have grown to know that agriculture is a business, hence the urge to own up to their obligations.
"That change of attitude is a plus because it allows the Government to have money to continue funding more initiatives of this kind."
Efforts by the Government to increase the number of working tractors, combine harvesters and irrigation systems are currently underway across the country.
Mechanisation improves efficiency and enhances farm productivity per worker. By its nature, it reduces the quantum of labour needed to produce a unit of output.
According to the Food and Agriculture Organisation, mechanisation means more tasks can be completed at the right time and greater areas can be farmed to produce greater quantities of crops while conserving natural resources.