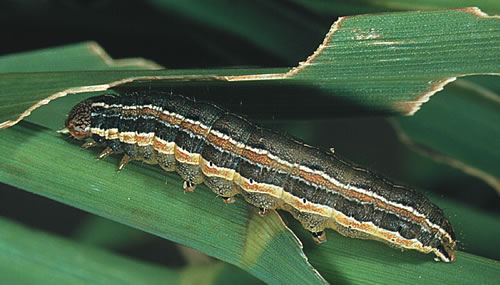 The Sunday Mail
Harmony Agere
The fall armyworm has rocked the country for a third consecutive cropping season after a fresh invasion was reported in Chipinge last week.
The extent of crop damage was not immediately established, but it is small-scale farmers who resorted to dry planting who are said to be the most affected. Efforts to control the pest have so far not yielded positive results as it has become resistant to even the strongest chemicals.
If not contained, the fall armyworm pauses a great threat to the country's food security, having already destroyed swathes of the maize crop last season.
The pest becomes the latest challenge to the 2018/19 cropping season, which is already writhing from a developing El Nino weather phenomenon and astronomic input prices.
"The invasive species of fall armyworm are still a menace and very much among us," said Zimbabwe Commercial Farmers Union (ZCFU) chairperson Mr Wonder Chabikwa.
"However, what was reported in Chipinge is our usual African armyworm, which can be controlled easily through natural methods and chemicals. Farmers all over the country should be on high alert because once there is an outbreak it can spread all over the country."
Mr Chabikwa, however, said farmers still needed to be on high alert for fall armyworm. The fall armyworm is a deadly transboundary pest of American origin which was first reported in Zimbabwe in 2015.
It is not clear how it arrived in the country but reports have emerged that it might have come as eggs with imported maize.
The pest, an avid crop eater, arrived in Africa early 2015 and is now present in about 22 countries in the continent.
It has already caused havoc in countries like Malawi, Zambia and Zimbabwe.
Researchers say the pest can feed on over 80 crop plants including maize, rice, sorghum, millet, sugarcane, vegetable crops and cotton although it prefers maize the most.
While it shares almost similar appearance with common stoke borers, it is much more aggressive in its feeding and breeding, a trait which has eluded and confused farmers.
"The reports we are getting from Chipinge are that the pest is resisting quite a number of chemicals," said Zimbabwe Farmers Union director Mr Paul Zakariya.
"Therefore, we encourage our farmers with smaller fields to conduct physical scouting of the pest and even destroy it using hands.
"They should also work closely with extension officers in their areas so that they can be advised on the most suitable chemicals to use."
There are various chemicals which can be used to fight fall armyworm.
Last year, Government distributed chemicals such as Carbaryl 85 wettable powder to control the pest in affected areas.
Other chemicals such as Ampligo 150 ZC (Chlorantraniliprole), Coragen (Chlorantraniliprole), Superdash (Emamectin Benzoate) and Tide Plus 5WG (Emamectin Benzoate) have also been used to control the pest.
However, the Food and Agriculture Organisation (FAO) encourages the use of natural methods as toxic chemicals are believed to have led to resistance.
Research shows that in the Americas, the fall armyworm is preyed on by natural predators such as ants, earwigs, wasps.
Further, pathogens such as bacteria, virus and fungi can cause up to 50 percent natural mortality of fall armyworm in the field.
FAO argues that this natural process can be used  to comprehensively deal with the invasive pest.
It is the small-scale farmers who continue to count the cost.
According to the latest rural livelihoods study, the proportion of households affected by the fall armyworm increased in all provinces in 2017/18 compared to the previous season, except for Matabeleland North and Matabeleland South.