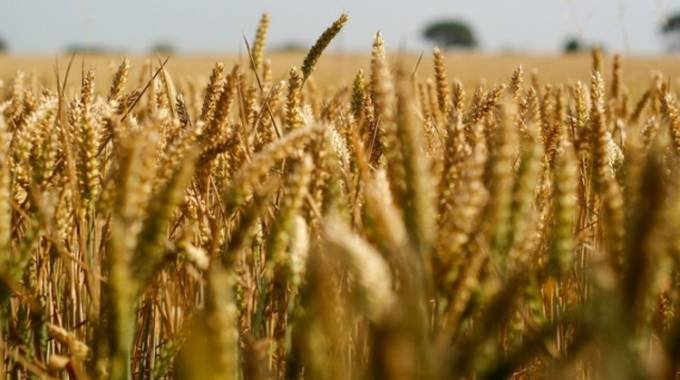 The Sunday Mail
Harmony Agere
Local farmers cannot explain why gresley wheat, a variety which is used to blend the locally produced cereal to bake bread, cannot be grown locally.
This comes on the back of claims by bakers that it is impossible to make standard bread from local wheat.
The claim has since been challenged by Gweru-based baker, Mr Douglas Kwenda, who said he has been producing standard bread using local products for years.
Mr Kwenda contends that it is possible to produce bread wholly from local wheat. He said local wheat can even produce bread albeit of lesser quality wheat.
He told a Cabinet meeting recently that he is currently producing 5 000 loaves daily, supplying the Gweru market where his operations are based.
"I buy wheat from other farmers around and we mill the wheat 100 percent and bake bread which we take to the shops," said Mr Kwanda.
"On a 50kg bag of wheat, we put premix 2,5 kg, we put yeast 1kg and we put in the prover then we put in our ovens for 40 minutes and the bread is done.
"Like the bread that you have seen is 100 percent local. We are saying our local wheat, if grown well, it can also make bread without anything that we add."
Nevertheless, local farmers still cannot understand why the gresley variety was not introduced in the country over the years if it was such a prerequisite.
Farmers are equally astounded to learn that their wheat needs a blend to produce bread despite farming the cereal for almost a century in the country.
"This is one subject I can't explain at all," said Zimbabwe Farmers Union director, Mr Paul Zakariya.
"I'm sure the bakers, as they are the ones who are in the business of making bread, can explain why they are saying they need to blend.
"What I know is that they are saying they need to blend local wheat with imported products to produce standard bread."
Zimbabwe Commercial Farmers Union president, Mr Wonder Chabikwa, challenged research institutions and seed companies to carry out research to bring clarity to the matter.
"We don't know why the wheat we produce is not suitable and I don't know why we haven't been able to produce the preferred variety locally," he said.
"Maybe it's because of climatic conditions. I don't know but maybe our seed companies may help us with research which can help us to begin growing this variety."
Millers argue that due to climatic conditions Zimbabwe can only produce what is called soft wheat which will need to be complemented with hard wheat to produce good bread.
"The climatic conditions in Zimbabwe and Africa as a whole are not conducive to produce the same crop as Asia and other more favourable parts of the world," said Grain Millers Association of Zimbabwe spokesperson, Mr Garikai Chaunza.
"It's a crop which is foreign to Zimbabwean climate and traditionally grown in very wet conditions as compared to what we have here.
"Therefore, we end up producing what we call soft wheat here in terms of nutrients content instead of hard wheat which is suitable for making bread."
Mr Chaunza says local wheat is not useless as it can be mixed with imported ingredients to produce standard bread.
Ivan Craig, the sales and marketing director for Agriseeds, said: "We do have a variety called red wheat which can be of a greater quality than the one they are importing.
"The only challenge is that this variety, in agronomic terms, is not appealing to the farmer.
"With red wheat you cannot go above five tonnes per hectare while with white wheat you can even go above eight tonnes per hectare yet the price per tonne is the same.
"So the problem is with GMB because they won't pay premium price for that variety which means farmers will end up going for a higher yielding and more rewarding variety.
"We have been engaging GMB for years over the issue and we hope they will change their position. This variety can 100 percent be produced locally."
Wheat varieties are called soft or weak if gluten content is low, and are called hard or strong if they have high gluten content.
Hard flour, or bread flour, is high in gluten, with about 12 percent gluten content, and its dough has elastic toughness that holds its shape well once baked.
Soft flour is comparatively low in gluten and thus results in a loaf with a finer, crumbly texture.
Soft flour is usually divided into cake flour, which is the lowest in gluten, and pastry flour, which has slightly more gluten than cake flour.
Zimbabwe has struggled with bread shortages due to shortage of forex needed to import wheat.
Players in the baking industry are always knocking on Government's doors seeking foreign currency to import wheat.
This has seen constant shortages of bread and also sudden price hikes.
Speaking after Mr Kwenda had presented his case to Cabinet, the Minister of Industry and Commerce, Cde Mangaliso Ndlovu, said it was Government's priority to ensure bread is affordable for every Zimbabwean.
"As the Ministry of Industry and Commerce, we are currently engaging the baking sector, specifically looking at the issue of bread availability and the price of bread," he said.
"As a Government, we have been engaging the sector for quite some time.
"We are worried that there is always a demand for importation of wheat. Today I invited a colleague of mine to bring his bread to fellow Cabinet members here and, indeed to His Excellency, to show them that it is possible to have bread that is 100 percent Zimbabwean."
Meanwhile, GMAZ plans to invest in contract wheat farming to produce an annual yield of about 150 000 metric tonnes over the next three years.