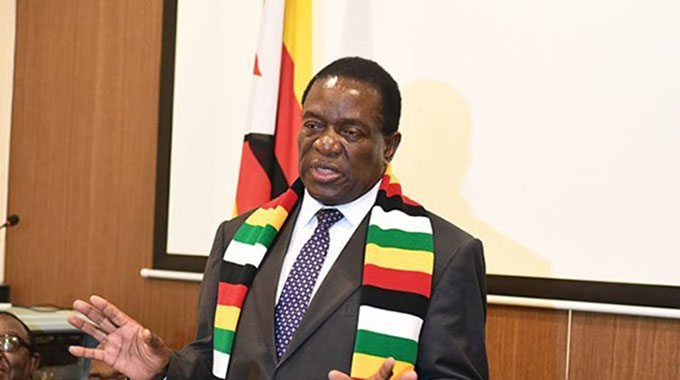 The Sunday Mail
Sunday Mail Reporter
President Mnangagwa has directed Treasury to send back all procurement invoices to ministries, Government departments and agencies for thorough revalidation before payments are effected to suppliers of goods and services to curb malpractices that have been destabilising the Zimbabwe dollar and fuelling inflation.
Government suppliers have reportedly been inflating invoices and using local currency payments to mop up US dollars on the black market, leading to volatility in the exchange rate.
Accounting officers who fail to detect such pricing malpractices will now be "deemed criminally negligent" and held "personally liable" in terms of the Public Finance Management Act.
Suppliers who generate invoices based on black market exchange rates will be blacklisted and banned from participating in public procurement processes.
Writing in his weekly column for The Sunday Mail, the President said the measures were necessary as the public sector, which accounts for over 70 percent of purchases in the economy, had become an unwitting player in stoking the parallel exchange market.
"A random check has shown that such abusive pricing in respect of procurement of goods and services by the public sector is more of a rule than an exception," he said.
"That way, our financial services have been destabilised, with the public sector being an unwitting player. I have now directed the Fiscal Ministry to send back all invoices from Government ministries, departments and agencies for thorough revalidation before payment."
Going forward, President Mnangagwa said, Government will be a prudent procurer, as investigations have shown that the public sector's role in stoking the black market was not intentional, but rather a "sin of omission".
He singled out fuel suppliers and players in the tourism sector for taking advantage of public procurement loopholes to charge extortionate prices.
"We use lots of fuel in the public sector, which is often bought from private fuel suppliers through a coupon system," he said.
"Ordinarily that should not be a problem, provided the pricing is right. The pricing of fuel coupons by these private players has been based on extortionate huge mark-ups, and on black market rates of anything between $900 to $1000 per USD.
"Even players who obtain their fuel from our NOCZIM at official rates and at prices gazetted by our own ZERA have been abusing ministries, departments and agencies using the same extortionate pricing formulae. That way, billions of dollars have been paid out to these devious suppliers."
The extra dollar paid to suppliers then finds its way into the black market, thereby precipitating exchange rate turbulence.
"Another illustrative abuse came from travel agents and hoteliers," he said.
"In several instances, Government officials flying from Harare to Victoria Falls would be sold tickets for $699 000 or more apiece. At the official rate, this amounts to more than US$1 500 a ticket to Victoria Falls! This is close to what it costs an air traveller in economy class to fly to Europe! "Meanwhile, Air Zimbabwe, the sole carrier of Government delegations, only charges about US$300 a ticket! The issue is what happens to the huge difference? It finds its way into the black market."
Mobile money platforms have been found guilty of aiding parallel exchange markets in the past, and Government is maintaining a close watch on them.
"Always mobile and on the hunt for new loopholes, the same greedy and devious economic actors moved into our financial sector where they consorted with several banks and other deposit-taking institutions to resume their arcane, unlawful activities," said the President.
"In response, we had to take drastic actions this last May, including freezing all lending by all banks, so our Financial Intelligence Unit, FIU, could move in and carry out thorough investigations to account for all culprits, and for all those aiding and abetting them.
"Today, I can share with the nation that out of the 16 deposit-taking institutions we have in our economy, only five passed the integrity test, with the rest having been involved in activities that ran contrary to terms of their operating licences."
Punishments have since been meted out to offenders.
The latest measures taken by Government are expected to give the economy a huge lift.
The economy, the President added, is in good health.
"Export proceeds from January to June this year stood at more than US$5,4 billion, up from US$4,07 billion during the same period last year.
"Exports dominated these earnings, suggesting greater activity in the economy. This is hardly surprising."
During the same period, figures on foreign payments show greater importation of capital and intermediate goods, a development that indicates the economy is retooling and leaning towards value addition.
There has also been marked reduction in imports of finished foods.
"Statistics show a drastic reduction in the importation of finished goods, showing that more and more, we are meeting our needs from local manufacturers. This trend must continue into the future so we escape the curse of a supermarket economy which is stocked from elsewhere."
President Mnangagwa said his Government has also been disciplined and deploys 30 percent of its earnings towards infrastructure development.
"Government collects more than $150 billion monthly, by way of revenue," he said.
"50 percent of this amount goes towards recurrent expenditure, principally salaries and wages for our public servants. The other 50 percent is split between public sector operations, which account for 20 percent, and for payment for infrastructural projects which we are implementing, which account for 30 percent. The last item is particularly noteworthy in that before the Second Republic, very little was going towards building infrastructure, which had come to a virtual standstill."