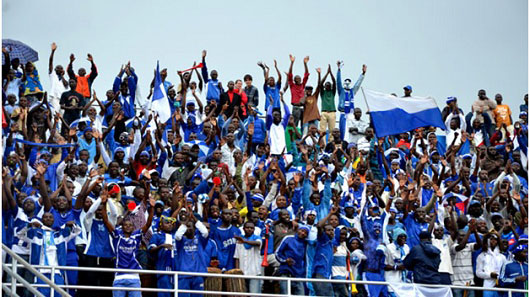 The Sunday Mail
Sunday Mail Reporter
A group of defenders, including new skipper Frank Makarati, listened attentively as coach Herbert "Jompano" Maruwa shared some defensive tactics.
On the other end of the pitch, club legend Murape Murape and Genesis "Kaka" Mangombe were working with attacking players.
Box-to-box midfielder Shadreck Nyahwa, who is recovering from a nagging knee injury, did some light training on the sidelines.
There was a lot of energy and a lot of enthusiasm among the players, who are eager to impress Dynamos' new coach.
DeMbare's new signing Tanaka Shandirwa has immediately drawn attention, not because of his tinted hair, but his skill and ability.
The former Yadah player, whose industriousness has earned him the moniker "Kante", was very impressive during an 11 versus 11 session DeMbare held at Alex Sports Club on Friday.
However, the training session was soon to be halted following the arrival of Division Two side Mabvuku United, who had come for a sparring match with the Harare giants.
But attention soon switched to an all-too-familiar but pleasant surprise guest.
Denver Mukamba walked into the venue and greeted the security staff before having a long chat with Dynamos secretary Webster Marechera.
Whether the chat was business or social is still unclear.
However, Maruwa cleared the air on Mukamba, who has been heavily linked with a return to DeMbare after he was offloaded by Ngezi Platinum Stars.
Mukamba won the 2012 Soccer Star of the Year award with Dynamos, before his career took a nosedive due to disciplinary issues.
Since 2012, he has played for University of Pretoria, Jomo Cosmos, CAPS United, Chapungu United and Ngezi Platinum Stars.
He is now eyeing another sensational return to DeMbare.
"Nothing as yet concerning Denver (Mukamba). He just came to watch the game.
"If there is anything, we will let you know," Maruwa told The Sunday Mail Sport.
While the future of the controversial Mukamba remains a subject of speculation, Ali Sadiki, who hails from the same neighbourhood in Highfield as the controversial player, has found a new home at Dynamos.
The 35-year-old linkman is the latest player to join DeMbare, who have been on a massive realignment exercise since the arrival of Maruwa.
"He (Sadiki) is now a Dynamos player; he has signed already," said the gaffer.
Sadiki, who played for Simba Bhora in the Northern Region Division One league last season, becomes the ninth official signing.
Strikers Nyasha Chintuli (28) and Soccer Star of the Year finalist Eli Ilunga (25) are now at DeMbare.
Chintuli looked lively during Friday's training session.
Emmanuel Ziocha (21), Shandirwa (23), Tendai Matindife (21), Arthur "Diego" Musiiwa (27) and the Moyo twins — Kevin and Elvis — are the other new signings who played a part in the practice match against Mabvuku United.
Musiiwa, who has joined DeMbare from Bulawayo Chiefs, is a skilful midfielder with an eye for that fine pass.
He scored the solitary goal when Chiefs beat Herentals in the 2022 Chibuku Super Cup final at Barbourfields Stadium in November.
"We need to build a team that can compete with the likes of FC Platinum and Chicken Inn, then see what happens.
"But so far so good. The new guys are giving us a lot of options," said Maruwa.
The former Black Rhinos coach clocks exactly 40 days in charge of Dynamos today.
He replaced Tonderai Ndiraya, who led DeMbare to a third-place finish in the 2021/2022 Castle Lager Premier Soccer League.
And now Maruwa is aiming to do better than Ndiraya.
That is why he has been refreshing the squad with young and energetic players.
Thirteen players have already been shown the door.
Godknows Murwira, Keith Murera, Ralph Kawondera, Sylvester Appiah, Albert Eonde and Alex Orotomal are no longer at DeMbare.
Ageing striker Evans Katema and Ghanaian flop Martin Ofori have been transfer-listed, while Luke Musikiri, Claivert Tshuma and Stephen Chatikobo — who filled the Under-20 slots last season — have been released.
Some of the key players in DeMbare's campaign last season — Taimon Mvula, Emmanuel Jalai and Emmanuel Paga — have been retained.
"In terms of endurance, the boys are almost 70 percent; we keep on pushing, and we are happy.
"We need a strong team that can compete and reduce the gap between us and defending champions FC Platinum.
"We need to make sure we are up there for us to compete."
DeMbare are not yet done with signings.
"We need to keep on improving the team. We need to add two or so guys to make sure we have a solid team. Expect more signings."
Maruwa has brought in a new approach at Dynamos, and discipline has become the buzzword.
The gaffer also wants to assemble a youthful side that can overrun opponents.
"It's not about performance only, even discipline also counts," he says.
As a result, some of the players were offloaded for indiscipline.
"We need a vibrant squad with an average of 25 years.
"We need a team with a lot of energy and speed; that's why we are bringing in more youngsters. But we also have to balance the squad with some senior guys," he said.
■  Twitter: @LangtonGuraz