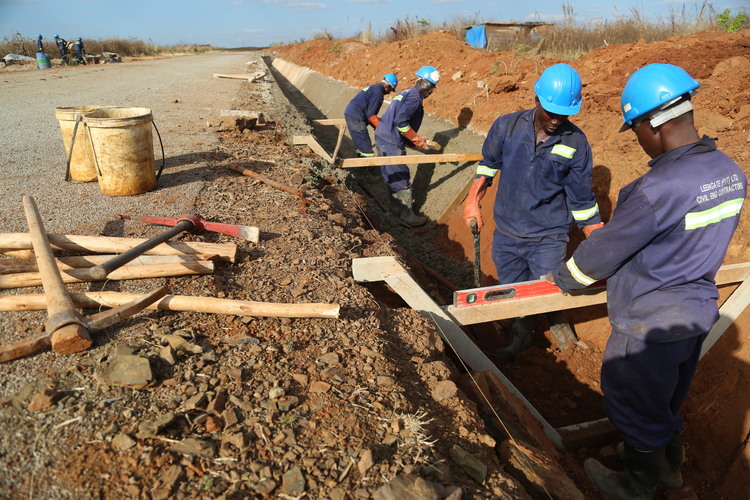 The Sunday Mail
Garikai Mazara —
Exciting times are beckoning for Zvimba Rural District Council, probably one of the few "clean" councils in the country, as construction of "New City", the satellite city which is meant to de-congest Harare, gathers pace.
Mr Peter Hlohla, the chief executive officer of Zvimba Rural District Council, speaking in a wide-ranging interview last week, spoke of the exciting times that lie ahead for his council.
"The New City is exciting for us, primarily because part of the land on which the city will lie is within our administrative boundaries. This excitement has seen most of the land in and around Harare West go up in value," he said.
Because of this interest, he said, most land holders in areas surrounding Nyabira and Mount Hampden are currently seeking title for land they hold.
The interest in New City is not just being driven by speculation but by what is happening on the ground. "There are a number of residential suburbs, some of which the infrastructural developments will compete with Harare's plush ones, which are already under construction. And in some areas servicing of the stands has already begun, and in some instances residents and/or private developers are already building houses. These are, indeed, exciting times for us."
But projects of such a nature do come with their challenges: "We are short of off-site infrastructure and we are aware of the challenges that come with a metropolitan settlement like the one that will be the New City. To this end, we are seeking financially sound partners for a water treatment plant, under a public-private partnership arrangement.
"Currently we have about 20 000 stands that need water supply and we expect that number to increase and that is a huge market for a pre-paid water investment. This is an area that we are seeking investors for, the market is already there."
Stretching from Raffingora to Mutorashanga, right through the Mount Hampden area, and then bordering Harare just outside Kuwadzana and running right up to and beyond Murombedzi, combing four political constituencies, the population under Zvimba Rural District council is roughly about 230 000, a figure that is likely to grow if the "New City" becomes fully functional.
Central government announced plans to de-congest Harare with the construction of a new administrative capital, much the same way as Pretoria and Johannesburg are configured.
Already the Chinese government has committed $120 million towards the construction of an ultra-modern Parliament in Mount Hampden, of which pre-commencement works on the project have already begun. Construction of the new Parliament building is expected to kick-off in August, after the completion of road works.
Besides the Parliament, the new city will have modern shopping malls, rivalling those found in Harare and residential suburbs are already taking shape, with Sandton being the leading light.
"The coming of the new city will see the construction of high value buildings and consequently the houses in and around these high-value buildings has to be of equal value and consequently so will be the intrinsic land value," explained Mr Hlohla.
He said in collaboration with central government, his council has already identified the extent to which the "New City" will stretch and all land that is necessary for the roll-out of the development has been acquired.
"The next challenge, especially for a council of our size, has been the capacity to service this land. To this end we have acquired a number of earth-moving equipment which will we hope will help solve this headache for us. Apart from that, we have engaged private land developers to service some of the areas. If you drive around the Mount Hampden area you will notice a lot of housing development going on, that is all part of the new city."
To this end, said Mr Hlohla, expectations are high on everyone that the new settlement will be better than Harare in every sense. "Harare is congested and this has put pressure on a number of its service delivery capabilities. The New City is there to take off that pressure and if we could have our way, we would have the New City functioning as soon as yesterday."
But as Zvimba is excited with the prospect of taking over from Harare, it has not forgotten where it is rooted. "Murombedzi is one of the oldest growth points in the country and it is quite sad that we don't have a sewer reticulation system. That is another project that we are working towards. Honestly there is no way one can attract investment if there is no sewer reticulation in that settlement.
"We would like industry to come and invest in Murombedzi but how do you attract such investors when you are using the pit latrine system. We are hopeful that by the end of this year we would have held the ground-breaking ceremony for the construction of a sewer reticulation system.
"We are in the President's backyard and all our efforts towards development should be seen in the context of what the President has done for the country. Even our critics are quick to throw in the President's name when he is not even involved in our operations. The fact that we are associated with his name gives us an urge to always work harder to develop Zvimba."
The other headache for the council, Mr Hlohla admitted, is that his council, since 2000, has been issuing stands especially at Murombedzi, without servicing these stands. "So we have a backlog of stands that need to be serviced and this needs a lot of patience and co-operation from the residents. We are no longer getting any grants from central government and what we collect from our rates and rentals is what we use to service and develop our district. It is never going to be easy but it will be done."
If Hlohla and company have been having sleepless of late, it should be because of the impeding billion-dollar investment by Great Dyke Investments. "We entered into an agreement with Great Dyke Investments, that as soon as their investment gets into motion, we would offer them land to build houses for their staff. They are looking at a staff complement of 2 000 and if 2 000 families are to move into Murombedzi, I shall not bother explaining the knock-on effect of that kind of human resources investment. Besides the likely boon that will be seen in the construction sector, the complexion of Murombedzi will definitely change over-night. Just imagine the size of market that will be created by 2 000 families."
Another billion-dollar investment that Zvimba is eagerly awaiting is the dualisation of the Harare-Chirundu highway.
"The reason why we bought the million-dollar-plus earth-moving equipment is because we are expecting a return on it from the dualisation of the Chirundu highway. Notwithstanding that the highway passes within our boundaries, we expect that we will be able to offer part or all of our equipment for the dualisation project. That way we should be able to recoup some of our investment."