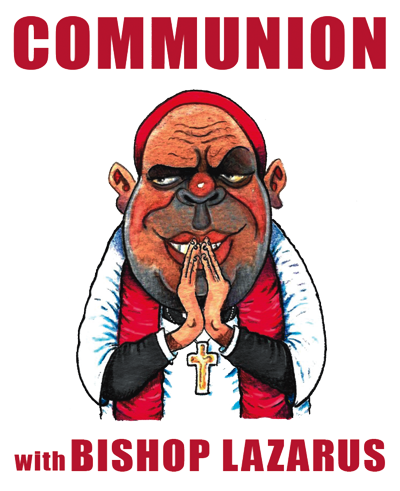 The Sunday Mail
ZANU-PF should stop this confusing game. Some evil men should stop abusing Minister Chimene. Big brother should stop treating scum-bags with kid gloves. Joice should stop dreaming about Donald Trump. Quite a number of issues in this sermon. Zanu-PF should slow down its intricate and confusing politics. The private media has gotten lost. They don't even know where Zanu-PF is. They can't follow this revolutionary party. I had a chuckle last week, when one of the papers ran a lead story headlined: "War veterans gun for Grace, Mphoko." Kurashika chaiko.
That headline was enough confirmation that the private media is still living somewhere around April 2016, yet we are in November.
Zanu-PF politics has moved and continues to move fast. If some people are not noticing that Zanu-PF is once again morphing into that frightening creature that can't lose elections, then it's not this Bishop's fault. Hehe, Zanu-PF rigs elections, blah, blah blah. Can't you see what's happening before your unsuspecting eyes?
Yet, day in and day out, the news is the same — "Morgan to meet Mujuru!" "Coalition talks begin" "Coalition in the pipeline." What pipeline? I looked down that pipe hamuna kana chinhu. I saw sick and stubborn Morgan. I saw a clueless and hopeless Joice. Then I saw mafufu mamwewo anana Biti, Welshman and other nonentities peeping from the edge of the pipe, waiting and hoping for another second coming. But I didn't see, Simba Makoni? I swear I didn't see him. Mavambo akava Magumo! Kikikiki!
On a serious note, those holding latches to Minister Mandi Chimene should give her a break. In fact they should not give her a break. They should now leave her alone. Can't they see it's enough? Inzwaiwo tsitsi imi varume imi. Ahh, nhai?
Minister Chimene was in the news yet again this past week. She was accusing War Veterans Minister, Cde Tshinga Dube of plotting a coup against President Mugabe. Minister Mandi was angry because Minister Dube was meeting with the Christopher Mutsvangwa-led war veterans.
"I was not at the meeting, but what I can say is this is gross insubordination. I would like to think this person (Minister Dube) is ill-advised . . . This was done when the President was outside the country . . . If we say too much they will say we have smoked mbanje . . ." she went on and on.
You listen to Minister Chimene and say to yourself: "Why are some men this cruel? Why are they doing this to this innocent woman? While they send her to embarrass herself, in the middle of the night the men are making all sorts of apologies. Some even volunteering information to cleanse themselves. Yet they leave poor Minister Mandi to soil herself. It's just not fair. Hazvitombori right kana mufunge."
I don't know whether Minister Mandi smokes mbanje, but am just wondering what was going on in her head as she said the statements above. Does she really think Minister Dube would wake up one day and start meeting with the Mutsvangwa-led war veterans without the blessings of the person who appointed him? Bishop Lazarus keeps reminding congregants that Mutsvanga and his team still owe us a big explanation with regards to that treasonous communique. How then does Minister Mandi think Minister Dube would hold meetings with these war veterans without clearing with the powers that be?
As a Minister, we thought Minister Chimene would know some of these simple and basic things, but looks like we were overrating her.
Hebrews 13 vs 3 says: "Remember those who are in prison, as though in prison with them, and those who are mistreated, since you also are in the body." I still feel for Minister Chimene. Some evil men have put her into a political prison. Free Mandi! Free Mandi! Free Minister vedu!
As we fight for Minister Mandi's freedom, we also need to free some scum-bags in our midst. Some day that I can't even remember, these scum-bags led by Patson Dzamara tried to organise some demo against the introduction of bond notes and corruption. "Zim braces for crippling demo," one of the opposition papers screamed. Kuhumana if you ask me. Wishful thinking. Zviroto and as we know zviroto zvichava zviroto.
The demo was an embarrassing flop and Dzamara tried to play a fast one. He injured himself somewhere and took himself to hospital claiming to have been beaten up by state security agents.
Now here is the issue. Bishop Lazarus thinks the state security agents are treating this boy with kid gloves.
I know he is dying for attention and giving him some big-brother massage may turn him into a hero, but we can't take his nonsense anymore.
This boy wrote some stupid letter to the World Bank a few months ago, saying all manner of rubbish and its high time he is held accountable for his nonsense. Zimbabweans have ignored him.
Let's turn the heat because we have some fish to fry here.
Dzamara and his likes are confirming the words by Benjamin Franklin who said: "Any fool can criticise, condemn and complain — and most fools do." These scum-bags have perfected the art of complaining without even coming up with what they think is the solution.
Enough is enough!
One last one before we close the sermon. Joice Mujuru says she is ready to led Zimbabwe. Kikikikiki! Actually, I think she is ready to led. Yes, she is ready to led this country astray. But seriously, Joice says she is now ready. Kwanzi naJoice ndaibva imiwe!
A few months back, I was reading a book by American lawyer Clarence Darrow and one of his statements caught my attention.
He said: "When I was a boy I was told that anybody could become president. I'm beginning to believe it." May be Joice read the same book and is beginning to have hallucinations. She failed dismally as a Vice President and now she thinks she can be the president of this country? Joice, please! Give us a break!
I know where Joice is getting all these hallucinations. Americans have just voted, of all the people, Donald Trump into office. Joice thinks "kana vana Trump vava kutonga America, why not inini Joyi in Zimbabwe?"
Well, it's not that easy Joice. Will Rogers will tell you that; "A fool and his money are soon elected." That's made in America!
As Herald columnist, Nathaniel Manheru would say: "Tangai magona kumbwandira asikana."
Bishop is out!