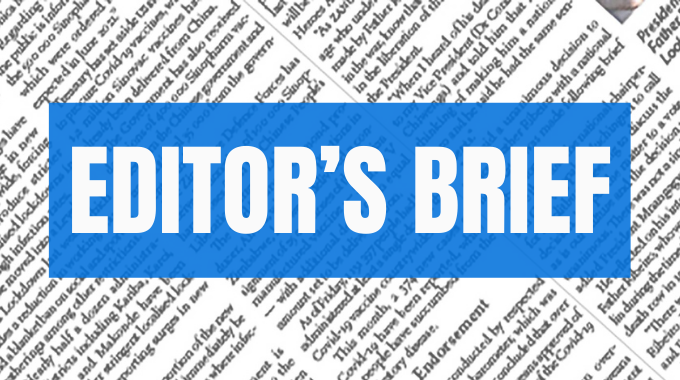 The Sunday Mail
Editor's Brief
Victoria Ruzvidzo
Zimbabwe's foreign policy, premised on the engagement and re-engagement drive, has stood out as a key pillar of National Development Strategy 1 (NDS1).
When it all started when the Second Republic came into office, some were of the view that it would not yield much, but in a few years this programme has achieved much, directly and indirectly.
The ship has steadied, barring a few challenges that the nation is working on.
Much of the progress is attributed to improved relations between Zimbabwe and other countries and global institutions.
"The world was misled into branding Zimbabwe as a haven for human rights chaos and lagging in rule of law. A close look at the sanctions that were annexed onto Zimbabwe proved how disgruntled Britain was with Zimbabwe's noble decision of restoring ownership and control of Zimbabwean land and resources to Zimbabweans. Eurocentric transition mechanism foisted onto Zimbabwe through the illegal sanctions had put Zimbabwean resources, sovereignty, and institutions on Western cannibalistic chopping boards.
"It is so soothing that the Second Republic's engagement and re-engagement agenda has lubricated the mindset of the KP. They have come to realise that aggression against Zimbabwean gems was based on Western selfishness and individualistic tendencies," said commentator Alex Manjonga when Zimbabwe was elected vice chair of the Kimberley Process Scheme.
The thawed relations have brought with them huge benefits that have impacted on the country's Gross Domestic Product (GDP) through such sectors as mining, agriculture, manufacturing and others.
The President has said as much.
This makes a good case to persist on this path.
Zimbabwe is coming from a path where many would open their eyes wide and take a keen interest if you introduced yourself as a Zimbabwean.
How would you "brag" about being Zimbabwean in an era where the country was carrying such a negative tag and seemingly fighting much of the world. Of course, the narrative is changing and this is through deliberate and intentional strategy to engage.
This must persist.
There are pockets of resistance, reluctance and lethargy by some potential partners who should play ball and warm up to Zimbabwe's overtures.
Re-engagement presupposes a disengagement at some stage. This was inadvertent, for it was some powers which crafted and implemented measures to isolate and frustrate Zimbabwe through the arbitrary imposition of sanctions,encapsulated by the Zimbabwe Democracy and Economic Recovery Act ZIDERA, of 2001.
True to form, other western powers followed suit, taking a cue from the United States.
It is folly to believe that the sanctions are targeted, far from it, they have had deleterious and expansive effects on the entire economy.
We learn from history of the policy of splendid isolation, which is an oxymoron writ large, for how can any isolation ever be splendid, more so now in a global village?
Nations form symbiotic relationships, mutually benefiting each other.
This is evident in trade and commerce. It is apparent in the diversity of humanity and how that promotes tourism and fosters an inter-connectedness which a disease like Covid-19 poignantly brought to the fore.
Despite some condescending attitudes from some powers, humanity is inextricably linked.
In the final analysis,we may as well face collective fate.
The issue of sanctions and the attendant isolation transcends political affiliation.
It is a compelling national issue which beckons that we rally around a cause which affects each and every one of us, no matter the party one supports.
Education, health, economic development, societal safety nets, among others, have been adversely affected.
The notion that sanctions inflict suffering on the populace thereby leading to a shift in the political dynamics is tragic and misplaced. Surely, one cannot cut the nose to spite the face.
It is my submission that political contestations should be based on other dimensions.
That sanctions are not targeted was confirmed by the United Nations special rapporteur Alena Douhan last year.
This, after she witnessed first hand their devastating effects on the local populace. It is one thing to oppose on substantive issues and quite another to do so on inane grounds. It is important to remember that the 2nd republic inherited an economy in shambles, with an astounding debt overhang.
Those in the know will attest to how challenging it often is to turn around the fortunes of just a single corporate entity, how much more that of an entire country.
We derive comfort in the milestones covered in the last few years.
Indeed looking at our engagement and re-engagement drive, notable and encouraging progress has been made, a few examples will suffice.
The President spoke to US president Joe Biden when he visited Scotland for the Climate Change conference COP26.
That gave the opportunity to state our position rather than be referred to as an "outpost of tyranny".
Furthermore, the President met with the Commonwealth secretary-general Baroness Patricia Scotland and it emerged that the group is willing to welcome back                                                            Zimbabwe.
Work in progress in this regard. In addition, French president Emmanuel Macron is facilitating the rehabilitation and upgrading of the Great Zimbabwe monument worth more than three million Euros.
It is important to note that Britain is no longer part of the EU, therefore, the group no longer has the one member who agitated for sanctions in its midst.
Significantly, Zimbabweans have also risen to leadership roles globally and continentally.
It is now the vice chair of Kimberly Process Certification Scheme KPCS, a body which is made up of diamond-producing nations, with representatives of 82 countries.
The appointment of chief Fortune Charumbira as the president of Pan African Parliament (PAP) bodes well for the country as well.
He is the first from the Sadc region unanimously voted to assume it.
What does all the foregoing reflect?
That Zimbabwe is increasingly getting integrated into the community of nations, that the Government's engagement and re-engagement efforts are bearing fruit.
We learn that the sanctions violate Article 41 of the United Nations Charter. Legally, economically, socially, politically and morally they are profoundly deficient.
As our engagement and re-engagement drive persists, we will continue to reap increasing benefits.
The international community will increasingly embrace us, as it is already evidently doing.
Some of our challenges emanate from low levels of production, but that is already being resolved.  Other commentators point to the trade gap, a fair point. Increasingly, as we improve on import substitution and escalate exports, we will get there. More investment is critical and the "zimbabwe is open for business" mantra addresses that though we may do more in business-friendlies vis-a-vis convoluted registration processes, for example lack of access to international finance is another challenge, attributable to history and sanctions.
Indeed engagement, re-engagement beckon amplification.
In God I Trust!
Twitter handle: @VictoriaRuzvid2; Email: [email protected]; [email protected]