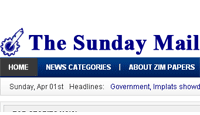 The Sunday Mail Tourism and Hospitality Industry Minister Engineer Walter Mzembi has arguably been one of the biggest news makers of the week. Some will contend that Mr Bothwell Mbuwayesango and his team of amazing professionals were the toast of the nation after separating Siamese twins in a delicate procedure.
And no one can dispute that. These men and women deserve the nation's recognition for what they have achieved.
But that does not diminish the importance of Eng Mzembi's FIFA World Cup 2034 pronouncement.
Naturally, people are divided on the feasibility of his statement of intent, that Zimbabwe — with proper planning — could host such a mega event.
He had an interesting take on the matter in an interview with our sister paper The Herald as published in their July 10 edition.
". . . today when we sit under trees, they were planted by others more than 100 years ago (and) whoever planted was not selfish. . . it is wisdom to plant a tree today whose shade you definitely know that you are not going to enjoy."
Like most nuggets of wisdom, it is simple and to the point.
Which brings us to the other issue that dominated the headlines this past week, and which has a bearing on what course we are taking as a nation.
This is Mr Morgan Tsvangirai's nostalgic musings on how he used to drink beer to the point of vomiting back in Rhodesia because things then were cheaper than they are now.
It is significant that the MDC-T leader was making the remarks to youths in Harare.
What message is he giving to these young people? Is he trying to tell them that life for them would have been better under colonialism because they would have been oppressed workers who could drown their sorrows with a couple of drinks after a day of slaving?
What values is he instilling? That indolence and drunkenness are the best lot that they should aspire to?
There are many flaws in Mr Tsvangirai's thinking, or lack thereof.
Firstly, anywhere in the world, a dollar in the 1960s and '70s will not buy what it can today. Inflation is not an Independent Zimbabwean peculiarity, sir.
Secondly, those pints of lager that Mr Tsvangirai so fondly talks of, were largely off-limits to blacks.
Which leads to the third issue: such oppression cannot be tolerated for the sake of worthless tokenism.
But most importantly, what we are seeing is a man — who leads a party that has significant following in Zimbabwe's electorate — indulging in the kind of contradictory speak that cannot take us anywhere meaningful as a nation.
Mr Tsvangirai forgets that he would never have been prime minister, would not even have a political party with Parliamentary representation, in Rhodesia, no matter how many pints of lager he imbibed under Ian Smith's rule.
His longing for the status quo of 1970 while at the same time calling himself a leading black national politician is no different from a person who hankers after his mother's virginity while at the same time asserting his right to life.
You cannot have it both ways — she is either a virgin or you are alive. There is no immaculate conception.
For Mr Tsvangirai to be in that Highlands mansion today, blood was shed. In independence as in giving life, blood is lost!
Somebody decided to plant a tree back in Rhodesia while Mr Tsvangirai was enjoying his lager so that today we can sit under the shade of Independence.
Sacrifices far bigger than a beer drink forfeited were made, and this is what the youths Mr Tsvangirai was trying to brainwash on Wednesday should remember.
While Eng Mzembi dreams of the World Cup and Mr Mbuwayensango and team perform feats that make us all proud, Mr Tsvangirai is yearning for cheap alcohol.
Visionaries are planting trees, laggards are wistfully scratching old scars.
Mr Tsvangirai would have us believe that everything in Zimbabwe has become unbearably expensive because of Independence.
What we are seeing, however, is that Mr Tsvangirai's possesses an expensive degree of ignorance that desperately needs curing.
As we head towards the Heroes Holiday, let us bear in mind the words of late national hero Cde Border Gezi:
"Nyika haifambe nekutengerana hwahwa!"