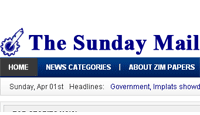 The Sunday Mail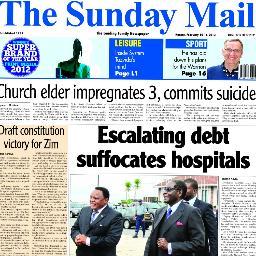 NewsDay's front page (April 23, 2014) showed a gruesome picture of a young boy, barely four, being carried into an ambulance, bleeding from the nose and ears. He had been struck by a commuter omnibus (kombi) fleeing the police at the intersection of Kwame Nkrumah Avenue and Chinhoyi Street, Harare.
He later died in hospital.
NewsDay followed this up, splashing the next day's front page with an unequivocal charge laying the blame squarely on Police Commissioner-General Augustine Chihuri. It is difficult to fault the newspaper; everyone is angry.
While Chihuri is indeed culpable, it is not on the basis that the police should not pursue kombis. Chihuri is culpable in that he has failed to crush the kombi nuisance, allowing it to grow into a very real menace. How many people must be killed before the police take decisive action?
It is widely accepted that the police force can be ruthlessly efficient when it wants to be. Take for instance their aggressive stance on armed robbers and violent crime or their no-nonsense approach when it comes to crowd-control and public order.
It is clear that police can maintain order, when they want to.
It is remarkable that kombi crews continue to violate every regulation in the Highway Code with complete disregard and without consequence. It is not that they are especially sophisticated in their methods; their unlawful activities are carried out in plain sight.
It is simply that the police do not care.
If the police launched a determined operation to bring them to order and eliminate illegal shuttles operating in the CBD, it would take no more than five hours to restore order. The commuter omnibus crews know when the police are serious and they equally know when they are not.
The police are not yet serious.
The Zimbabwe Republic Police's spokeswoman, Senior Assistant Commissioner Charity Charamba, went on radio to address public concerns over the death. Her callous approach, describing callers as having come from "Mars" and dismissively disregarding any criticism of the police did nothing to improve the ZRP's image.
Even if the police felt that they were not to blame, it would have been more appropriate to express regret over the incident and explain that internal investigations were underway to ensure the same thing did not happen again.
Her palpable impudence is unhelpful and it is difficult to see how her regular public appearances help endear ZRP to the public.
It is time for Government to come up with stiffer penalties.
If kombi drivers knew the cost for any traffic violation was a US$400 ticket, they would likely behave. The current fines are merely a slap on the wrist and do not serve as a deterrent.
It is not in doubt that the police have the capacity to swiftly bring the kombi chaos to a decisive end.
What is unclear is whether they actually want to.