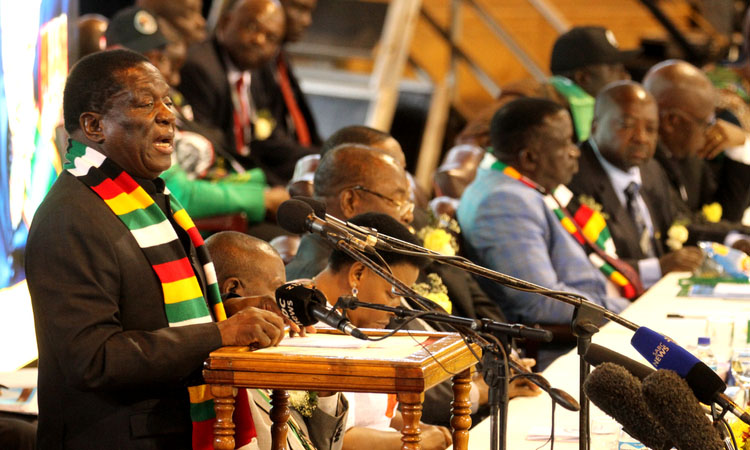 The Sunday Mail
PRESIDENT Emmerson Mnangagwa will name and shame land barons and multiple farm owners when the Commission of Inquiry into sale of urban and rural land completes its report.
Responding to issues raised by war veterans at a meeting he had with them at City Sports Centre in Harare on Friday, President Mnangagwa said land barons' days were numbered.
War veterans from Bulawayo province had raised complaints about officials involved in the illegal sale of State land.
The Head of State and Government said the Commission of Inquiry into sale of urban and rural State land was finalising its report.
The seven-member commission is chaired by Justice Tendai Uchena; and includes Mr Andrew Mlalazi, Mr Stephen Chakaipa, Dr Tarisai Mutangi, Dr Heather Chingono, Ms Vimbai Nyemba and Ms Petronella Musarurwa. The Secretary for Justice, Legal and Parliamentary Affairs, Mrs Virginia Mabiza, is the commission's secretary.
President Mnangangwa said, "Vachema zve nemaland barons, tine Commission of Inquiry into urban and rural land barons which will submit its report soon and so many of our people, you will be surprised kana ndozopublisher vanhu vakaita zvemaland barons, vamwe tinavo muno."
He said the commission was also investigating multiple farm ownership.
There are reports that former President Mr Robert Mugabe and his family own around 20 farms.
"Multiple farm ownership by family one chete, zvese izvozvo it's being looked into by the land commission," said President Mnangagwa.
In response to war veterans from Mashonaland East, he said Government would descend on lands officers who were demanding bribes to assist people to get farms.
President Mnangagwa condemned illegal farm evictions in Matabeleland North.
The President, who is on an anti-graft crusade, warned those engaging in illegal activities at Beitbridge Border Post that the net was closing in on them.
He added: "Zvichemo zvenyu pane vanga vachizvinyora pasi. Asi pambotaurwa naVice-President Cde (Constantino) Chiwenga vabata zvimwe vachikuudzai zvimwe zvatagadzira kana zviri pakati pekugadzirwa.
"Province by province mataura zvichemo zvenyu, zvimwe zvakafanana asi ndoziva kuti machiarman mamwe vanga vachisiya vachiziva kuti zvichemo zvavo zvanga zvataurwa navamwe.
"Kwatanga vokuBulawayo, hanzi pamakore 38, vazhinji vedu maCdes, tiri kungofa tiri varombo. Isu tiripo tafunga kuti dai mati tarira kuti tiwane health care, tazvitambira izvozvo.
"Zvakare vanoda mainputs akanangana nemawar veterans, tazvinyora. So we need a structure to effect that.
"Vakati ahh muparty medu umu, vane mari ndovanohwina. Hapasi pose pose panoshandiswa mari, hongu ndinonzwa mareports but havasi vese vakahwina vachishandisa mari.
"VokuHarare, hanzi $260 allowance yatinopihwa ishoma, ngaitutsirwe, ndofunga Vice-President vataura kuti chii chiri kuitika. The current, new dispensation unotoita kutsvaka kuti asiri war veteran ndeupi, saka hatingakunganwi nokuti tiri vanhu vamwe. On imposition of candidates, please no to imposition. Please report."
President Mnangagwa said he would soon meet youths and students, followed by countrywide meetings with the people.
"Tine shungu dzekugadzirira hupenyu hwamangwana, kugadzirira vana vedu, so the next meeting I will be meeting the youths and the students. Tapedza izvozvo, tichatenderera nenyika tichivona mvura nokuti imwi you are the fish and fish can only survive in the water and the water is our people. Tadero tinenge tapedza humiriro hwenyika."