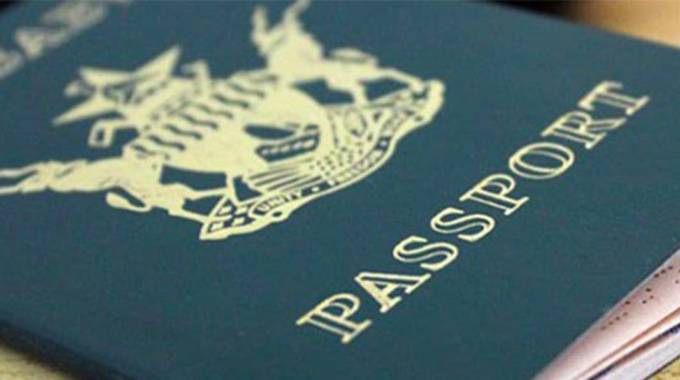 The Sunday Mail
Kuda Bwititi
ON numerous occasions, President Mnangagwa has stated that he is against what he has coined the "Bambazonke" philosophy' through which everything was centralised in favour of metropolitan provinces, cities and towns at the expense of historically ostracised rural areas.
This forms part of His Excellency's masterstroke mantra that "no one and no place should be left behind".
The people of Mazowe district and surrounding areas in Mashonaland province became the latest to benefit from the "leaving no one and no place behind" policy last Wednesday, after Home Affairs and Cultural Heritage Minister Kazembe Kazembe opened the Mazowe District e-Passport and Bio-Enrolment Centre in Concession.
This will bring convenience to the residents of Mazowe district, which is home to about 300 000 people. It is the largest district in Mashonaland province, covering rural areas that include Mazowe, Concession, Glendale and Chiweshe.
Nearby districts in the province — including Guruve, Mvurwi, Centenary and Muzarabani — will also be served at the offices.
As such, there will be no need for the residents to visit the capital, Harare, for passport services.
Minister Kazembe said decentralisation of e-passport services to districts resonates well with the New Dispensation's policies on devolution and the digital economy under the purview of the National Development Strategy 1.
"To date, my ministry has decentralised the e-passport services to six provinces and six districts. Other registry offices which are earmarked for this development this year are Gwanda and Mutare provincial offices, Chipinge and Mwenezi district offices," the Minister said.
Improved service delivery
Other centres where Zimbabweans are currently accessing the e-passports are Lupane, Bulawayo, Murewa, Chitungwiza and Harare.
For many years, Zimbabweans struggled to get passports and the turnaround time for getting the documents could be as long as one year. However, it is now just down to a maximum of seven days, underlining the strides made by the Second Republic to make national documents accessible to citizens.
Minister Kazembe said: "It is worth mentioning that decentralisation of services is among the programmes that have had the most far-reaching impact on the lives of Zimbabwean citizens.
The introduction of the e-passport has significantly improved service delivery and brought about convenience to members of the public.
The application process is no longer cumbersome."
Unlocking opportunities
Concession trader Mr Brezhnev Chigwanda said the passport centre will unlock more business opportunities for him and other operators.
"Grocery stores will record more sales because an increased number of people will now come to Concession to apply for passports. The coming of CBZ means, for the first time, we now have a bank branch in Concession. This is, indeed, a great development for our area, which has remained at the periphery, while neighbouring townships like Glendale and Mvurwi were growing.
Read more on www.sundaymail.co.zw
I can safely say that this office will bring a lot of development to Concession and it will help the area to grow into a town in the future," he said.
Mr Paul Boyce, a Concession resident with Malawian roots, said the new office will enable him to get a passport for the first time in his life.
"I was one of those people called aliens because my parents are from Malawi. For many years, we did not feel like Zimbabweans, even though this country is the only home I know. Now that this passport office is just two kilometres from home, I will raise the money to get a passport for the first time," he said.
Nineteen-year-old Tina Mandaza, who completed her A-Level studies last year, said she was excited the passport office is now right at her doorstep. I plan to apply for a scholarship to further my studies abroad. I did not have a passport but now, it will be easy for me to apply for one because I live just a few hundred metres from the e-passport centre."
Leaving no one behind
Making passports and other national documents easily accessible to the people is a citizens' right enshrined in the Constitution.
The documents are fundamental to individuals as they provide citizens with rights to participate in the economic, political and social development of a country.
Minister of State for Provincial Affairs and Devolution Senator Monica Mavunga said decentralisation of the e-passport project to Mazowe is what people in the area have been waiting for. "This development is most welcome by the populace of Mazowe and Mashonaland Central province at large, as it will address the travel document concerns, considering the ever-rising demand for passports.
"The people of Mazowe and surrounding areas such as Glendale, Mvurwi, Christon Bank, Howard Mission, Nzvimbo Growth Point, among others, will benefit from this initiative. This passport office will cater for other districts in the province such as Mbire, Guruve and Muzarabani.
"All these people used to travel to Harare for application of e-passports but it is now a thing of the past, as the service can now be accessed here in Mazowe," she said.
Senator Mavunga said the e-passport centre is in line with the devolution agenda that has empowered local communities countrywide. Registrar-General Mr Henry Machiri noted that decentralisation of services is in line with Government's thrust of bringing services closer to the people and promote ease of doing business to contribute towards the realisation of Vision 2030.
"Civil Registration is the most reliable source of data and is central to the country's developmental process. The department, therefore, plays a pivotal role in upholding human rights and facilitating the modern administrative system and good governance," he said.
Mashonaland Central is home to thousands of people of Malawian and Mozambican origins, who have been facing challenges in accessing national documents like birth certificates, national identity cards and passports.
Many affected people in Mazowe and surrounding areas felt they lived on the margins of citizenship because of failure to get such national documents.
The opening of the Mazowe e-passport centre is, therefore, yet another positive step by the Second Republic in facilitating rural development. In addition to providing passport services, economic activities in Concession are set to grow, while the CBZ bank has set up a new branch for payment of passport application fees.
 Twitter: @KudaBwititi