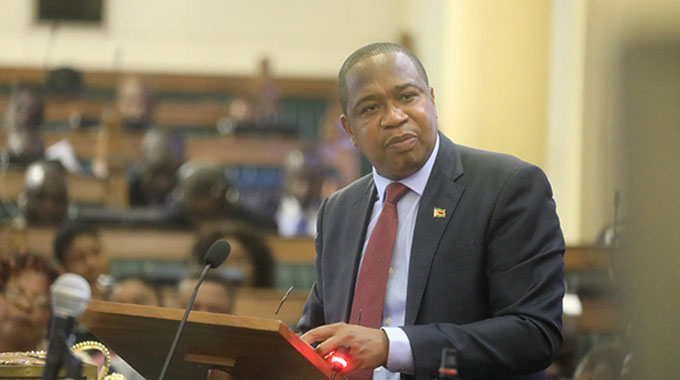 The Sunday Mail
Business Reporter
Treasury's proposal to double the portion of incomes that is not taxed (tax-free threshold) is likely to boost disposable income, stimulate aggregate demand and help drive economic growth.
During the Mid-Term Budget and Economic Review on Thursday, Finance and Economic Development Minister Professor Mthuli Ncube proposed to increase non-taxable incomes for workers to $50 000 from $25 000 per month.
Tax bands were also adjusted to end at $12 million per annum from the current $6 million, above which tax will be levied at a rate of 40 percent with effect from August 1, 2022.
Similarly, the tax-free bonus was adjusted to $500 000 from $100 000 with effect from November 1, 2022.
"This measure is envisaged to increase disposable income, spur consumer spending and income for corporates," said Minister Ncube while presenting the 2022 budget and economic review.
While he tried to strike a balance between raising funds partly to fund the supplementary budget and leave workers with more money to spend, lingering fears over inflation, which is expected to end the year at 166 percent, pose serious risk to growth.
In July, annual inflation topped 256,9 percent, according to the Zimbabwe National Statistics Agency (Zimstat).
Continued hostilities in Eastern Europe could impact on global growth, further disrupt supply chains and sustain commodity price increases, with adverse implications on domestic inflation and economic growth.
Fuel and food prices may also worsen the country's external position.
For every 1 percent increase in global food prices, the pass-through effect into the domestic inflation ranges from 0,1 to 0,6 percent depending on the local food supply situation.
However, there are expectations increased disposable incomes from the latest tax interventions might continue to sustain growth in local manufacturing.
Of the supplementary budget of US$929 billion proposed by Prof Ncube, 53 percent will go towards employment costs of Government workers.
And the latest tax-free threshold, which is set to come into effect on August 1, 2022, will add $25 000 to a person's disposable income.
Economist Mr Victor Boroma told The Sunday Mail Business that rising incomes are likely to boost consumption of consumer goods.
"This has a ripple effect on improving consumer confidence and aggregate demand in the economy, especially for consumer goods," he said.
Resilience
Despite significant headwinds from supply chain disruptions caused by Covid-19, the conflict in Ukraine and rising global prices, local aggregate demand has remained resilient.
In a recent trading update for the three months to June 30, 2022, Delta Corporation, the country's biggest beverage manufacturer, reported strong volumes across its product lines.
Lager beer volumes grew by 19 percent during the period, while sorghum and sparkling beer gained 14 percent and 32 percent, respectively.
Delta is presently building new plants for both lager and sorghum beer that will be commissioned early next year.
"Consumer spending remains high, reflecting faster velocity of the local currency and spurred by increased mining activity, infrastructure projects, marketing of commercial crops and payments of wages and salaries in foreign currency.
"Demand is, however, being constrained by the low disposable income in certain consumer groups," said company secretary Ms Faith Musinga in the update.
Conversely, volumes in other markets such as Zambia were reportedly "constrained".
Owing to internal and external pressures on the economy, Treasury has since trimmed its growth forecast for this year to 4,6 percent from the initial 5,5 percent, which is more than projections for Sub-Saharan Africa.
However, some market watchers believe non-taxable incomes should have been aligned with the consumer basket to add even more buying power to consumers.
"The consumer basket for a family of five was $120 000 and, naturally, we expected the Minister (of Finance and Economic Development) to align the non-taxable incomes with the poverty level," said Prof Gift Mugano.