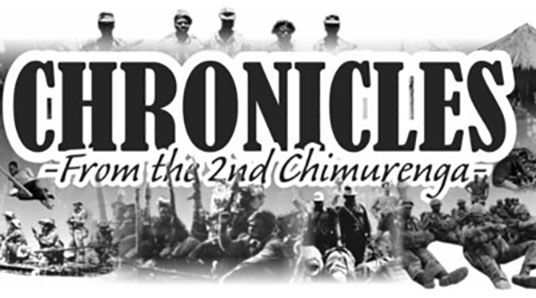 The Sunday Mail
BORN and bred in Mwanza, Tanzania, Henry Kambizi Matemba Mutasa, had a privileged upbringing. Born to a Zimbabwean father who was a prominent lawyer and a Tanzanian mother, who was an accomplished businesswoman, Henry attended some of the most prestigious schools in Tanzania. After enrolling for a degree in civil engineering at Dar es Salaam University, the young man's future held great promise. Although Henry was living an opulent life that was envied by many at the time, growing up away from his father's country during the years of the liberation struggle proved to be a haunting experience. In this week's discussion, Henry Mutasa (HM) tells our Senior Reporter TENDAI CHARA (TC) how his father was actively involved in supporting the liberation struggle and how a deep sense of belonging stalked and haunted him (Henry) from childhood up until he finally returned to the land of his ancestors. But before Mutasa goes into the details regarding his unhappy upbringing as a foreigner, he will first introduce us to his father and narrate to us the circumstances that resulted in him getting into a dire situation.
********************** TC: If you can introduce yourself to our readers and give us a brief background about yourself.
HM: My name is Henry Kambizi Matemba Mutasa and I was born in Mwanza, Tanzania in 1968. My father, the late Christopher Kambizi Matemba Mutasa, was a Zimbabwean and my mother, Mary Cathrine Mutasa nee Mushi, was a Tanzanian national. I grew up and went to school in Tanzania. For my university education, I first studied civil engineering at Dar es Salaam University before transferring to the University of Zimbabwe in 1994.
TC: Tell us more about your father?
HM: My late father was an academic and prominent barrister who practised and taught law in India, Tanzania and Zimbabwe.
He was among the first group of black people from the then Rhodesia, that qualified as lawyers during the 1950s. He qualified as a lawyer after Herbert Chitepo and Professor Walter Kamba.
He was also among the first group of black Rhodesians that earned Masters' degrees. The late national hero Dr Bernard Chidzero was one of them. My father was also among the earliest, if not the first black Zimbabwean to become a university philosopher.
TC: What was your father's involvement in the liberation struggle?
HM: My father's participation in the armed struggle dates back to 1962 when he was a legal adviser to Julius Nyerere, the Tanzanian leader up until 1980 when Zimbabwe became free.
TC: How did your father end up being Nyerere's advisor?
HM: What happened was that my father studied, and later got a job as a philosopher at Punjab University in India. When Julius Nyerere, who was then the Prime Minister of Tanganyika, (later on Tanzania) visited India, he requested for a discussion with intellectuals from Africa who were then working in India. My father was one of the intellectuals that attended the meeting. It was after the meeting that Nyerere requested my father to become his legal advisor.
My father left his job at Punjab University in 1962 and went to Tanganyika where he helped Nyerere establish the newly-independent Tanganyika (now Tanzania) legal system. As Nyerere's advisor, my father contributed to the formation of the Organisation of African Unity by providing ideas and strategies.
The African leaders, among them Nyerere and Kenyatta, had by then decided that for the rest of Africa to be liberated, there was need for a continental body.
If you know the history of the formation of the OAU, you might be aware of the fact that there were two groups of African leaders that were not agreeing on how the continental body should be formed.
One group was in Monrovia and the other one in Addis Ababa. My father was involved in the negotiations between the two groups that eventually culminated in the formation of the OAU.
TC: As a Zimbabwean based in Tanzania, how did your father contribute to the liberation war effort?
HM: As Nyerere's advisor, my father assisted the Tanzanian leader in many important ways.
Most African liberation movements among them Zanu and Muzorewa's UANC benefited from Nyerere's advice. He gave Nyerere advice on how African liberation war movements would present themselves whenever they dealt with international organisations such the Commonwealth, OAU and the United Nations.
Apart from the advice, my father looked after the children of some of the nationalists. He looked after Tsitsi Muzenda, the child of the late Vice President Muzenda and took her to school. She is a legislator now. If you ask her, she will give you more information. He took care of Tsitsi Muzenda so that the late Vice President Muzenda would focus more on the liberation struggle.
My father looked after and helped, in different ways, many people that I cannot remember. He sourced scholarships for many young people to study in India. My father also helped both Zanu and Zapu representatives that were stationed in Tanzania.
He would buy furniture, typewriters and stationary for the liberation movements' offices. As a lawyer, he would give them free legal advice on how to run their affairs.
Remember there were few lawyers at the time. At one time my father paid hotel bills for more than 30 people who had come as a delegation to Tanzania.
Again as a lawyer, he offered free legal advice to both Zanu and Zapu.
This was after Nyerere had advised the two liberation movements to rope him in ahead of the Lancaster House talks.
So in 1979, my father travelled to Mozambique and Zambia where he met Zanu and Zapu leaders.
I remember my father bringing me a suit that he bought in Zambia during that time. During the trips, he suffered life-threatening bouts of malaria and yellow fever.
TC: It is clear that your father contributed a lot during the liberation war. Now, if you can tell us about how you felt growing up in a foreign country.
HM: Growing up in a foreign country had negative effects of me. In 1956, my father was banned from Rhodesia. He had written articles criticising the Rhodesian government. The Rhodesian government was not amused and subsequently banned him.
The ban affected the whole family negatively. It made me feel bad. I realised that I was born in exile because my father was not wanted in his country of birth. This meant that I was also not wanted in my country. As a child, I was asking myself why we were put in a situation in which we could not travel to see our relatives.
My father yearned to visit his ailing mother, but he could not do so. I also wanted to see my grandmother, but I could not visit her until she passed away. All we had were her pictures and I visited her grave much later in life. As foreigners, we were sometimes treated differently.
In our next instalment, Mr Mutasa will narrate how he was constantly called a Mukimbizi, meaning a refugee and how this subconsciously fuelled a desire to one day return to the country of his origin.