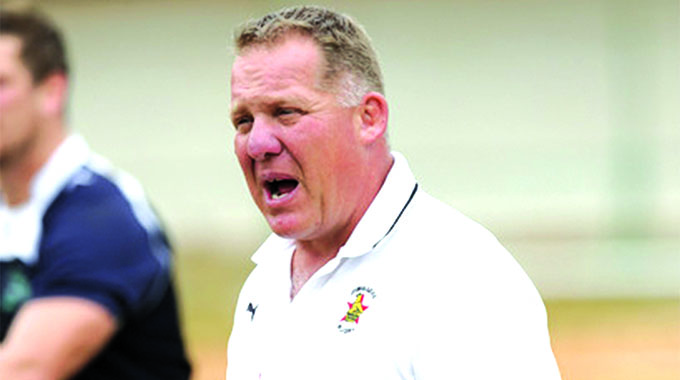 The Sunday Mail
Petros Kausiyo in CAPE TOWN, South Africa
Goshawks . . . . . . . . . . . . . . . . . . .  (13) 16
Valke . . . . . . . . . . . . . . . . . . . . . . .  (12) 26
SABLES captain Hilton Mudariki has challenged his teammates to improve their defensive lines as Zimbabwe shift attention to the Africa Cup to be held in France next month.
The Sables, trading as Goshawks, wrapped up their Currie Cup First Division campaign on a losing note as they fell to Johannesburg outfit Valke in a game they could have easily won at Wynberg Boys High School yesterday.
Scrumhalf Mudariki scored 11 of Zimbabwe's 16 points off three penalties and a conversion, while hooker Liam Larkan scored the Goshawks only try.
But those points and the team's strong finish to the first half were not good enough to stop coach Brendan Dawson's side from slumping to their fourth straight defeat in the Currie Cup.
The Goshawks got off to a slow start and had conceded 12 points after hooker Raynardt Nel and wing Valentino Wellman touched down once each and flyhalf Ruben Liebeberg converted one inside the opening 25 minutes.
But Goshawks rallied back into game, with Mudariki finding his precision with the boot and sending over two penalties and a conversion off Larkan's try.
That gave them a slender 13-12 lead at the break.
Both sides battled against strong winds that made kicking for posts or touch very difficult.
However, a 66th-minute penalty try and gangly wing Wellman's second of the day right at the death ended Goshawks hopes of finishing their three-month stay in South Africa on a high, as they fell to their sixth defeat in nine matches.
Yesterday's match came just after Dawson had ended months of anxiety on the part of players by announcing the squad that will do duty for Zimbabwe at the Africa Cup in France from July 1 to July 10.
Reflecting on yesterday's match and their Currie Cup campaign in general, Mudariki emphasised the need to improve their defence and decision-making in critical phases of the game.
"I think we are lacking in patience in our defence and in our attack; and in defence, our penalty count has to go down because we definitely need that.
"In play-off rugby that we are going to play in France, one or two penalties can hurt you and we have to avoid that,'' he said.
He reckoned his troops had immensely benefited from the Currie Cup.
"Back home, we do not have a competitive league and playing in this league helped us a lot to prepare for what is to come.
"We also benefited from having some of the Under-20 players …
"We came out wanting a result today and I feel very positive than the last three weeks that we had."
The Harare Sports Club scrumhalf also had another chance to add to his points tally in the 57th minute via a penalty that he dragged wide off the pencils.
As captain, Mudariki will, probably on reflection, also note he could have been brave enough in his decisions and attempted to push his men over the line when they won two penalties inside the Valke 22-metre area.
He instead opted for posts, managing to convert one of them in the 73rd minute and reduce Zimbabwe's deficit to 19-16.
Mudariki, however, insisted the defeat to Valke had not dampened their spirits as they shift focus to the Africa Cup.
Zimbabwe will leave South Africa tomorrow and head to Netherlands where they will play a rare Test against  hosts in Amsterdam on June 25.
Mudariki felt the announcement of the squad had helped calm nerves following the anxiety that gripped their camp.
"It's a bit of relief that the squad has been announced. The guys had been on the edge, but this is a squad effort … The chosen squad know we have a duty to do.
"As a squad we owe it to the guys that can't be here and we know we have to go out there and try to qualify to be at the World Cup next year,'' he said.
Injuries and absence of some key players also forced coach Dawson into late changes to the squad.
Mudariki will not be able to line up alongside his brother and France-based tight-head prop Farai, who has been sidelined by a ligament problem.
He, however, successfully underwent surgery on Friday.
Andrew Evans, Blithe Mavesere, Kudakwashe Nyakufaringwa, Under-20 international Tavonga Ablant and Michael Kumbirai have also been affected by injuries.
There was no place for New Zealand-based loose-head prop Doug Juszczyk.
But, in keeping with his pledge to blend youth and experience, Dawson included the duo of Brendon Marume and Takudzwa Musingwini, who were among standout players for the national Under-20 side that won the Barthes Trophy in Kenya in April.
After working with 56 players in the build-up to the Africa Cup, Dawson whittled his side to 31, while the trio of George Saungweme, Tawanda Matipano and Carlos Matematema will continue to be on standby as the non-travelling reserves.
Sables Rugby Africa Cup squad
Tyran Fagan, Victor Mupunga, Matthew Mandioma, Liam Larkan, Cleopas Kundiona, Bornwell Gwinji, Sean Beevor, Godfrey Muzanargwo, Godwin Mangenje, Kelvin Kanenungo, Johan Du Preez, Nyasha Tarusenga, Jason Fraser, Hilton Mudariki (captain) Kyle Galloway, Takudzwa Musingwini, Takudzwa Chieza, Riaan O'Niel, Marcus Nel, Tapiwa Mafura, Matthew McNab, Shingirai Katsvere, Tapiwa Tsomondo, Brendon Marume, Shayne Makombe, Ngoni Chibuwe, Aiden Burnett, Royal Mwale, Martin Mangongo, Gabriel Sipapate, Biselele Tshamala
Non-travelling reserves: Carlos Matematema, Tawanda Matipano, George Saungweme