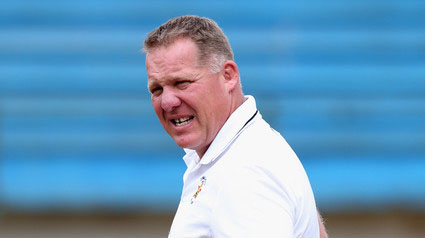 The Sunday Mail
Tinashe Kusema
Deputy Sports Editor
BRENDAN DAWSON finds himself in all too familiar territory – on the eve of a big assignment, but with little or no time to prepare.
After the cancellation of the Africa Cup earlier this year, the Zimbabwe Sables can afford to smile again following the return of the Victoria Cup slated for June 22 to September 14.
Dawson returns to the helm of the Sables outfit and will be in charge for the duration of the tournament which includes Kenya, Uganda, Zimbabwe and Zambia.
But with so much to do and little time, the 51-year-old appears unfazed with the tough task before him.
"Look, it's time we get over such obstacles and concentrate on the task, or tasks, that lie ahead.
"Ideally, I would have loved to have all our players camping for a month before assignments, but it is what it is.
"Right now, the most important thing to do is to make the most of the resources and time we have.
"I have already started talking to some of the Bulawayo-based players and I will be in Harare on Monday (tomorrow) to look at the Harare-based players and see who is fit and available.
"The plan is to then camp for like a week before our first assignment (July 6)," Dawson said.
While he has left the door open for new players, Dawson is likely to rely heavily on some of his charges from the academy side that participated at the SuperSport Rugby Challenge in South Africa.
"Nothing is set in stone so far. The plan is to look at everyone who is available.
"Some of the old guard, or senior players if you will, bring with them tonnes of experience and skill and will be valuable as the tournament runs.
"Otherwise, the academy side should make up the core of the team."
He also spoke about the SuperSport Rugby Challenge.
"It was a success. Yes we failed to win a game but results were never the main goal going into the tournament.
"The plan was to give everyone a go, grow and develop their game, which we did.
"Everyone benefited both from an individual point of view and from a team and team bonding perspective.
"As a bonus, we managed to play some fantastic rugby. We even stretched some of these professional and semi-professional teams to the wire.
"Some players stood out. The likes of Cleopas Kundiona and Matthew Mandioma had fantastic spells at various points of the tournament.
"Jan Ferreira was an absolute workhorse throughout the tournament,'' Dawson said.
Zimbabwe open their Victoria Cup account away to Kenya on July 6.
Fixtures
June 22 Kenya v Uganda
July 6 Kenya v Zimbabwe
July 13 Uganda v Kenya
July 13 Zimbabwe v Zambia
July 20 Zimbabwe v Kenya
July 27 Uganda v Zimbabwe
July 27 Zambia v Kenya
August 10 Uganda v Zambia
August 17 Kenya v Zambia
August 24 Zimbabwe v Uganda
August 31 Zambia v Uganda
September 14 Zambia v Zimbabwe