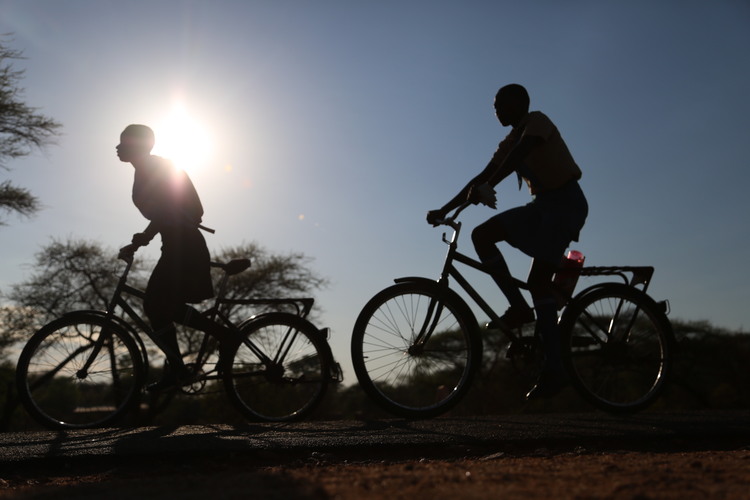 The Sunday Mail
Garikai Mazara —
For a girl her age and her surroundings, Proud Ngwenya is a rare breed. She is overwhelmingly confident.
She says when her parents named her Proud, they must have been optimistic that one day she would be the source of pride for her family. Hence her determination to do well in the Ordinary Level examinations she will write next year.
One of her teachers, Lindai Ncube, describes her as an average pupil who has potential to do much better. The teacher is hopeful that come next year, she will be one of the students who will up the school's pass rate. In 2015, the school recorded a 19 percent pass rate. But Proud's dreams of bringing pride to her family — or her teachers' optimism of her chances in next year's public examinations — would only be a dream were it not for the intervention of Lubancho, a not-for-profit organisation (which, unfortunately, has since closed shop).
Lubancho is a Nambya (one of the two main languages spoken in and around Hwange, together with Tonga) word which means "help".
In 2013, the organisation — in conjunction with Christian Relief Services — donated 180 bicycles to Dampa Secondary School, in Dete, which is approximately 60km before Hwange when driving towards Victoria Falls.
Proud's confidence, she says, has been growing since she came to Dampa Secondary School three years ago because "My end-of-term results for each term have been improving and I am happy". She says the improvement has, in part, been through her staying after classes with her peers to study. And she can stay behind after classes because she can cycle for about half-an-hour and get home before it gets dark.
Were it not for the bicycle donation, she would have had to walk 15km twice daily, which would have meant that there would be no extra studies after classes.
And coming from a resource-poor neighbourhood, where livelihoods have not been made any easier by the ravages of last year's drought, Proud – just like the other 178 beneficiaries of the bicycles – will forever be grateful that schooling is now much more bearable.
In the 2016 Zimbabwe Vulnerability Assessment Committee's Rural Livelihoods Assessment report, it was noted that 15 percent of children of school-going age are not in school, with four percent of them saying they could not attend classes because schools were too far.
Whilst the bicycle donation might have worked wonders for Proud and some of her schoolmates, the happiest of them all must be the headmaster, Pearce Khoza, who has seen the institution improve its pass rate from five percent in 2012 (before the bicycles were donated) to 19 percent in 2015.
"This school lies in a drought-prone area, which means the students, most of the times, are having to survive on the edge. At times they come to class without having had enough meals. And if we were to factor in walking for about 15 kilometres to get to school, then you would get an appreciation of why we are so happy about this donation," he said in a recent chat at his school. Whilst the bicycles might have enabled the 179 students (of the donated 180 bicycles, one has since been declared a write-off after a student was involved in an accident with it) to travel easily and faster between school and their homesteads, that most of them come from poor households has left the school in a lurch.
"Students who have been allocated bicycles are charged an extra US$3 per term for bicycle maintenance but some of them cannot afford paying the extra fee, which leaves the school with the burden of having to keep the bicycles up and running," explained the headmaster.
But for a school with an enrolment of 387 students, how do they choose which students benefit?
"It's a question of distance and nothing else. We formed a committee that looks into such issues. Besides teachers, the committee has village heads in it. The village heads help in identifying which students deserve to be allocated bicycles at the beginning of each academic year, judging by the how further they come from school.
"The same village heads also double up as our 'eyes' to ensure that the bicycles are used for what they were donated for. Any misuse during weekends or after hours to run any errands will result in the allocation being withdrawn. And to ensure a longer life for the fleet, the students hand over the bicycles as schools close for the holidays."
For security reasons, the bicycles have been numbered, in addition to having a special mark on them.
"The numbering was so that each student will be able to identify his or her bicycle at the school and the special mark was such that the school can be able to identify its bicycles from similar bicycles already in the community. I can tell any of our bicycles from a distance away," added the school head.
For Rachel Ncube, a Form 1 pupil, who is one of the beneficiaries of the programme, getting to class on time and fresh enough to learn; and staying on afterward for extra studies are no longer a problem.
"I come from about 12km away, an area called Nsongwa, along the Kamativi Road; and if I were to walk home, I would definitely arrive after dark. But with this bicycle it takes me about half-an-hour to get home."
The first benefit that the donation made to the school was an improvement in attendance, which in turn had an effect on the pass rate.
"Just after we received these bicycles we noticed a marked improvement in class attendance, which ultimately was reflected in the pass rate," said Khoza.
Though the NGO Lubancho has since folded, the model has been copied by other schools in and around Hwange.
"We have heard that other schools in Matabeleland North have copied this model, and we are particularly pleased that a primary school, Dandanda in Lupane, has followed in our bicycle tracks," said Khoza with barely concealed pride.
Because of the school's proximity to the Bulawayo-Victoria Falls Highway and that some of the students have to ride their bicycles across the busy road, as well as that some ride along the equally busy road to leads to Dete Growth Point, the school has engaged the local police in educating pupils on traffic rules and regulations.
"Every student has to pass a test conducted by the police before they are issued with a bicycle, and from time to time, we bring police officers here to give the students refresher courses. Passing the police-conducted tests is their passport to ride, it like a certificate in bicycle riding," said Khoza.