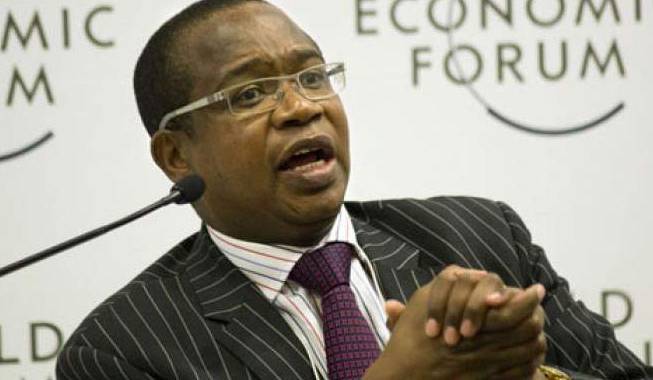 The Sunday Mail
Finance and Economic Development Minister Professor Mthuli Ncube (MN) recently accompanied President Emmerson Mnangagwa on his four-nation tour of Eurasia (Russia, Belarus, Azerbaijan and Kazhakstan). He also had the opportunity to represent Zimbabwe at the World Economic Forum in Davos, Switzerland. Our Chief Reporter Kuda Bwititi (KB) last week spoke to him to interrogate the benefits of these trips to Zimbabwe's economy, as well as his reading of the local economic environment going forward
***
KB: Give us a synopsis of the benefits that came out from the recent trip to Eurasia?
MN: In Russia we had a fruitful meeting on several fronts. On the financing front, we met key financial institutions that are keen to support investors from that country to invest into Zimbabwe in several sectors that include diamonds, platinum, fertiliser supply and acquisition of equipment. On the other hand, these same financiers are willing to provide loans to our private sector, particularly our local companies that are into export. So this is a scenario that will benefit both Zimbabwean companies and Russian companies that are willing to invest in Zimbabwe.
The highlights were the signing of the $300 million for the Great Dyke Investment platinum project and also the deal with Alrosa for the mining of diamonds.
There was an agreement on wheat, which will see us collaborating with Russia to assist our situation, given the current wheat shortages that we are experiencing as a country.
Kazakhstan and Azerbaijan were a good lesson on how countries manage natural resources. We learnt that we need to manage our resources through the Sovereign Wealth Fund. Both of these countries are strong in management of the oil sector and how to transform economies. I was blown away in Kazakhstan with the quality of their One-Stop Centre. It takes a company 15 minutes to register and get a certificate. We want our own ZIDA to learn from this and the Kazakhstan Investment Centre is willing to give support to ZIDA.
In Kazakhstan, we were also able to learn more about creating an offshore financial centre so that we can compete with Mauritius and Botswana, to upgrade this idea of an offshore investment centre that allows for a tax-free zone.
Belarus is one of the most competent countries in the world in terms of equipment. We saw companies that are operating here buying equipment there. There is a factory in Belarus where milking is done "robotically." This just goes to show how we can mechanise and modernise our agriculture. There so many other areas, for example, Belarus Infrastructure Bank wants to cooperate with our own banks here and this will help us source additional credit lines. All these were yet another frontier for economic cooperation.
For each of these countries, we want to create a business council and its business people who must get together.
KB: Is there an actual value to the deals signed in Eurasia?
MN: These are multi-billion-dollar deals. I cannot give an exact figure but all I can say is that potentially multi-billion and this is FDI (foreign direct investment). It was telling that big banks such as AFC, Afreximbank as well as Russian financial institutions committed to fund various initiatives.
KB: You also represented the country at the World Economic Forum in Davos. What positives did you bring from that mission?
MN: I met an investor who manages quite a sizeable chunk of resources globally and wants to work with us in structuring a facility on arrears clearance on terms that are close to concessionary, in a transparent way. We are exploring all that, there is nothing signed as yet. It contributes to the plan that we already have. We are already working with other funders and the current creditors, including the G-7 countries. We are aware that failure to solve our arrears clearance will be an albatross around our neck. We are determined to address it. But this particular investor I am talking about is not a small outfit at all, I will not reveal the name until we sign, but all I can say is that this is a serious player with capital of about US$30 billion.
In Davos, I also met with a player in the fuel sector who is willing to come up with more favourable terms for financing our fuel bill. It's helpful at the moment that we have managed to address the arbitrage that was taking place in the fuel sector, but this is a very serious player in the market and we are going to make an announcement soon.
Coming to the World Economic Forum itself, the agenda for Davos was about globalisation, basically trying to see where countries and companies fit in this changing landscape where the world is now multi-polar than uni-polar. It was also about where we fit in as Zimbabwe and Africa and how can we remain attractive enough to attract FDI, and what can we do to raise more funding so that we cannot be left behind. So this gives us scope to improve our finance infrastructure.
I was able to talk about our international debt situation, there is a debt-bomb globally. So our challenges are about balance of payment and liquidity but other countries in Africa have actually got a foreign debt problem.
Coming to Zimbabwe specifically, I was able to meet various business people that are willing to invest in Zimbabwe. I met about 40 investors that are willing to invest in Zimbabwe. We were able to have discussions with them, across all sectors.
Some of these investors that made contacts with Zimbabwe are ABB, African Rainbow Minerals, Credit Swiss, Exotix Capital, Gazprom Bank (Switzerland) Glencore, Gemcorp, Novortis, Renaissance Capital, Sahara Group, Swissport, Syngenta, Vitol, Pictet Group and others.
I was able to meet them one-on-one over a four-hour meeting and I was able to give them the economic reform agenda. Others I met have already invested here such as Nestle. There is a lot of interest. This is something that we have to continue doing.
One of the things I highlighted was that in the mining sector alone, we have potential investment of US$8 billion, which will bring a return of US$12 billion. We know the potential in the country in gold, diamonds and so on, because we have the resource.
KB: Did your message get traction, given the negative sentiments about the country as a result of the January 14 disturbances?
MN: It was not easy when things were happening on the ground, but I was able to explain successfully and my message was very consistent that Zimbabwe is a good story, what is happening now is temporary. My answer on the internet shutdown was that there was a feeling that the internet was used to fan the violence so it had to be shut down temporarily so that the situation could be put under control; this was a temporary but tactical move.
It was good that one was there to explain because we could not be silenced and we can overcome these challenges.
KB: From the plethora of investors you met, are there any who showed immediate interest on Zimbabwe?
MN: The truth is that savvy investors always want to invest when an economy seems to be under pressure because you get quality assets cheap. I was able to say Zimbabwe is the cheapest buy in Africa; these are seasoned investors who invest in so-called risk areas and take positions.
KB: The ordinary person will ask, what is in it for me, in reference to the entire trip?
MN: I do not need to emphasise the Russia deal. The benefits are clear, thousands of jobs are going to be created upstream and downstream.
We can expect that we are going to structure more deals on the fuel supply and also on additional credit lines for financing basic commodities and clearing our arrears.
It's about FDI and job creation. FDI is a key input into job creation.
KB: You introduced the 2 percent tax last year, promising to ring-fence the money for developmental goals that would be realised by ordinary Zimbabweans, please provide an update on that?
MN: It is already happening. We allocated $310 million for devolution. The actual allocations are per province and per every district.
This money is 5 percent of our budget. We are allocating it at two levels: per province and level 2 at the local authority level.
It is clear who is getting what. It must not be invested in consumption but infrastructure projects that generate jobs. The allocation process is measured through a three-pronged formula that depends on size of population, level of poverty and quality of infrastructure as measured by percentage of unpaved roads.
This $310 million creates spatial inclusion in the country and it adds to what is already going to the provinces through other channels. The remainder of the 2 percent is going to social services such as schools and hospitals.
We have authorised the hiring of 3 000 teachers so this shows where the 2 percent tax is going. This is inclusive because it targets social services.
Disbursement will start now. The budget went through Senate, now we are good and the disbursements are ready to roll.
We are ready to disburse; it's now up to the provinces, they should be able to submit their projects and once approved, the money will be immediately released. We are implementing it jointly with Ministry of Local Government (Public Works and National Housing) and Treasury. Other ministries such as health and education will come in, depending on the nature of the project.
What I want to tell Zimbabweans is that disbursement of the money will be done imminently because we want the people to feel the positive impact of this tax.
I was showing the MPs that this is their money and these are their resources that they need to make sure they are being applied appropriately.
There will be no discrimination on who benefits from this facility. It is apolitical. It's an equitable and fair system that is apolitical. I challenge the MPs to follow up so that these projects bring positive development to the people.
KB: Do you have a consolidated figure of how much has been realised from the 2 percent tax so far?
MN: We only have November figures, which was $177 million — for both October and November. The December figures are coming. This is a very useful and modern tax because we are following the transactions. It improves compliance. It's a start to broadening the tax base and we have exemptions so that we do not overtax on areas such as salaries, taxes and payments to Government.
KB: You have been on record saying a local currency will be introduced in 12 months, which is by year-end. What mechanisms are you putting in place to prepare for the new currency?
MN: The process of currency reform is within the entire framework of macro-economic reform; by that, I mean what we are doing on fiscal consolidation front by containing Government expenditure and expanding tax collection, all of which contribute to fiscal consolidation and getting Government finances in order to contribute to currency reform. Why? This is because one of the determinants of a currency is the state of Government finances. When we talk of fiscal discipline, it also speaks to value preservation. When you have fiscal discipline, it means that then Government's capacity to engage in wanton growth in money supply is curtailed. Often excessive Government expenditure leads to extensive printing of money. This is what was happening in the past. That is why we then had the problem of the past because we were excessively creating money.
Once we curtail fiscal expenditure and the budget deficit, then we have the right ingredient for currency reform.
On the monetary policy front, we are making steps towards management of the monetary policy. It starts with the institutions. That is why we introduced the Monetary Policy Committee (MPC), the use of a reserve requirement rule, those we announced October last year. These are key institutions. Once these are in place, we would then publicise the inflation-targeting framework. At the moment, we are working on one leg because we have no currency of our own.
For example, if you look at the issue of inflation, we cannot have inflation targeting if we don't have the monetary policy in place. Actually having a monetary policy is key in controlling inflation in the first place. We need to complete this puzzle and the puzzle can only be completed if we introduce a domestic currency while we target inflation without stifling growth.
The first step was separation of the FCA accounts, and now you can trade with nostro FCAs until you get to a full domestic currency situation. This is why we have said the process will be done in 12 months.
There is no need to worry because in implementing currency reform, we will balance preservation of value with removal of price distortions across the economy.
KB: There have been suggestions that the local currency will come much earlier than December?
MN: I cannot say the dates with certainty. We are working on triggers and sub-steps. For example, the idea of trading FCAs through nostro accounts was a function of having the systems in place. This is just an example of some of the triggers that need to be in place.
We need a local currency, we need it to improve competitiveness, internationally. That is the only way our industry can be competitive. It is something whose value we would have to protect as it is being introduced. We will only introduce it when the right triggers are in place and we expect these triggers to be in place within 12 months. We have 12 months to make it happen.
KB: How much foreign currency reserves do we need to support the envisaged new currency?
MN: We need an appropriate level of import cover, in the form of reserves and credit lines. These are the things we are working on. We need to strengthen the country's balance of payments. Some of these conversations that I was having abroad will go a long way in strengthening credit lines.
KB: It appears that many people believe that joining the Rand Monetary Area and adopting the rand is the best route for Zimbabwe. What is your take?
MN: We are not joining the Rand Monetary Area. No determination has been made on how the exchange rate will be pegged at in future. It's something that we still have to explore once the conditions are in place. The conditions will also dictate the best way to set the exchange rate, whether it's fixed, floating or managed. Whatever we do, we should be able to manage the volatility of the currency. It's always key to manage the volatility but we haven't made a determination. We haven't made a decision on the nature of this currency.
KB: What has been the pith and marrow of your discussion with SA Minister of Finance Tito Mboweni?
MN: We have been meeting with Mr Mboweni to discuss how Zimbabwe and South Africa can deepen their economic cooperation. He was accompanied by the Reserve Bank Governor and the Director-General there.
The talks also included potential financial support to Zimbabwe. But it was much broader than just the financial package. What is of importance is that we are still discussing. This was just the beginning. These discussions have not concluded. SA is one of the partners that will come aboard as we come up with partners to support our reform agenda. They could provide us with a credit line to finance the private sector but it is too early for now for us to say anything.
KB: Some quarters are sceptical about Government's sincerity to the "austerity for prosperity" mantra. What is your response to this?
MN: One example of our sincerity is that we have not authorised purchase of new vehicles. Most of the ministers are using their own personal vehicles, some may use pool vehicles from one of their parastatals. But no official vehicles have been bought for ministers. This is the same for parliamentarians. As we think about how best to come up with a policy to get vehicles, let's think about supporting our own local industries.
I have heard suggestions that the trip to Eurasia was too expensive. My response is that the level of investment that is likely to come out of that visit far dwarfs the cost of the trip. I can assure you that. For example, the GDI project is worth $3 billion and it was done and dusted. It's actually a very good return on the expenditure that we spent travelling to those four countries. Its chump change.
KB: What is your synopsis on the general state of the economy? There is a view among some that the economy is in the doldrums and since you started your tenure, you have actually made things worse?
MN: I have great optimism in our reform agenda. The reforms are on track. Investors are coming. Domestic investors are also keeping their business going. No reform is easy, we will go through turbulence but I am still focused that the economy will come right. By year-end, you will see a whole different economy.
But of course, one worry is inflation. This is one issue that we need to deal with. That is why I am keen that we are able to put in place a monetary policy with inflation targeting so that we are able to deal with inflation and work along fiscal policy to stabilise things. Inflation is our enemy number one. Inflation is stubborn. In terms of reforms, we would have done quite a lot in terms of reforms in six months' time. In terms of the actual returns, the numbers take a year. The one thing that we should be wary of is the weather condition, its impact on agriculture should not be under estimated.
At times we get criticised for doing the right things. For example, on the fuel situation, when we raised the price, we did so with a full understanding that the situation had become untenable as trucks were coming from neighbouring countries to fill-up in Zimbabwe, and the parallel market went haywire. There was also pressure on our limited foreign currency that we had to continue to direct to fuel imports. After the price hike, we are definitely going to make a saving and we have killed off the parallel market. We are going to make a saving and it will allow us to allocate resources to other sectors.
People forget that this Government has only been in place for only three months. I have only been a minister for three months but we are trying to make sure that all hands are on deck.