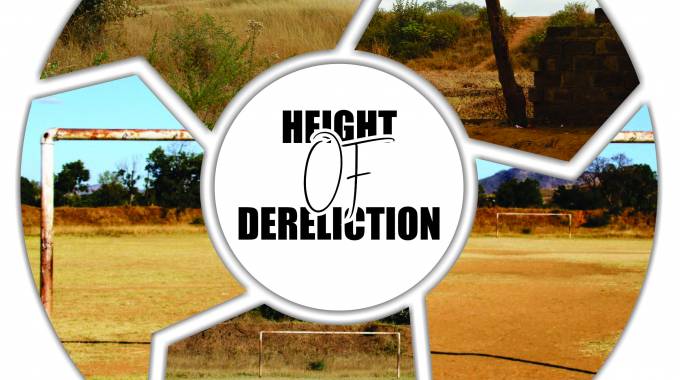 The Sunday Mail
Petros Kausiyo
Sports Editor
AS the town of Bindura came to a virtual standstill, it's people and visitors uniting to give a befitting send-off to the late Dynamos assistant coach Biggie Zuze, there was one talking point which would have left the former Bindura United and DeMbare midfield general saddened and angry — the dilapidated state of Chipadze Stadium.
Zuze, who died at the age of 55, was buried at Chiwaridzo Cemetery in Bindura last Monday, with hordes of people who had thronged his family home later switching to Chipadze Stadium to pay their last respects to the man who starred for Dynamos as a player in the 1980s-1990s before pursuing a coaching career on retirement.
But the state of the stadium, where Zuze and his former teammates at Bindura United fought many exciting Division One football matches, is in a deplorable state.
It's sorry state mirrors the condition of many facilities that are run by councils and municipalities across the country amid revelations by the ZIFA First Instance Board that none of such venues like Rufaro, Gwanzura, Ascot, Vengere, Sakubva, White City and Nyamhunga are ready to host Premiership matches even if the Covid-19 pandemic was to be declared over today.
Premier Soccer League chief executive Kenny Ndebele is also a worried man over the pathetic state of the stadiums, which are far from being ready for certification for the 2020 season.
"To be honest none of the main stadiums are ready. At least Barbourfields was close, Rufaro they were doing cosmetic (refurbishment), Gwanzura is a rushed mess, Ascot still needs a lot of work and something was being done at Sakubva.
"The problem is that these stadiums were built in the 1970s and not upgraded and worse now councils have been milked dry by successive corrupt councillors whose appetite grows after every election.
"But the overall challenge is lack of a strong national sports policy for elite sports,'' Ndebele said.
For Biggie, his brother Garikai, a fine winger who also featured for Dynamos and others who included the Black Mambas trio of Tapera Khumalo, Charles Kumwala and Ripai Majuwaka, Chipadze meant a lot as it is the turf on which their journeys to stardom began.
An iconic venue for the people of Mashonaland Central, where not only footballers and athletes honed their skills, but also a centre for many key events such as the Independence celebrations, commemorative galas and inter-schools competitions, Chipadze, just like Gwanzura, has become an eyesore.
Dynamos chief executive Jonathan Mashingaidze was at Zuze's funeral and bemoaned what he saw of Chipadze and elsewhere on his travels.
Mashingaidze implored councils to improve the infrastructure which the country inherited from the colonial era at independence.
"Chipadze Stadium's sorry sight is a caricature of the sorry and deplorable state of our sports infrastructure. We inherited the sports infrastructure from the colonial era, an era which had resources dedicated to the construction and maintenance of sports, arts and culture facilities and or amenities. There was deployment of trained and committed staff, implementation of a community sport, arts, culture and recreation programme, talent identification, development and exposure, among a host of social welfare interventions,'' he said.
"Sports development and excellence was synonymous with the mining and urban community centres during the pre-independence period.
"The mining centres were no better than sport, arts and culture incubation centres whose products would dominate in football, athletics, netball, volleyball, tennis, boxing, martial arts and indoor games at club and national team level.
"A case in point is how the Chamber of Mines Games became the showroom for talent showcase. Mines became the backbone of the popular and all-conquering teams then like Mangula, Rio Tinto, Alaska, Wankie, Zisco, etc.
"The national teams prior to independence and into early 80s had more than 60 percent of their players drawn from the mines. As if that were not enough evidence of the power of the mining sector, our neighbours Zambia had the inimitable KK11 (Zambian national team) drawing players from the Copper belt.
"Mines and towns would invest in sport, arts and culture through the community centre-based programmes which managed to produce prodigies like Biggie Zuze, David Mwanza, Onias Musana, Posani Sibanda, Nyaro Mumba, George Shaya, Andrew Kadengu, the Chieza family, the Ndlovu family, Joel Shambo, Stix Mtizwa, Artwell Mandaza . . . the list is endless''.
Mashingaidze said it was imperative that the Bindura Municipality galvanised resources to improve their poor facilities.
"The demise of the mining centres and community centres is a result of budgetary constraints, misplaced priorities, negligence, abuse of resources, and general mismanagement.
"Bindura Municipality must roll out a robust facilities' rehabilitation programme, working closely with local stakeholders, private sector and central government. The programme in question should ride on the devolution thrust of the Government and lobby for sports, arts and culture, ensuring they are resourced as part of the local community's budget items and not some after-thought commitment,'' he said.
Bindura mayor Councillor Carlos Tokyo, who addressed mourners and revealed plans to rename the stadium after Zuze, pointed to the need for Government to help with some devolution funds to refurbish the venue.
"I would love for Bindura Municipality to come on board on this, but I believe that Government must, especially come on board with devolution funds.
"Our people are broke . . . the little they pay which accounts for zero to 40 percent is going towards sanitation and water, but we need funding and we are appealing to local and international investors to come on board. Big business people must assist us,'' Tokyo said.
Sport and Recreation Commission board member Titus Zvomuya said the poor state of the stadium had left him almost in tears.
"The state of the so-called 'stadium' in Chipadze is to say the least embarrassing, an eyesore. It is indeed painful to be associated with this facility.
"Many people might blame the current economic situation in the country, but the major problem is not on the dilapidation, but the state of this facility and its condition.
"I feel both the local authority and the business community that benefit from the local community need to come on board. The local authority needs to take a philanthropic approach to catalyse the change we want at the stadium.
"They know that they don't have the resources, but they should show leadership which can then be emulated by everyone else in Bindura and Mashonaland Central,'' Zvomuya said.
The veteran administrator said Bindura needed modern sports facilities in order to continue to churn out some fine athletes as it has often done.
"Mashonaland Central in general and Bindura in particular have produced great sports persons especially in athletics, football, netball, hockey, rugby and golf.
"Our record in these areas speaks volumes in terms of the abundant talent around here. We have just laid to rest one of the greatest icons from Bindura in the name of Biggie Zuze — a provincial hero by all standards and records.
"But alas, the facilities we have do not live up to this mantra. The performances of institutions like Bindura University, Chipadze High, Hermain Gmeiner, Chipindura, Mazowe, Bradley, Howard, Mavuradonha, Rujeko and Chindunduma schools among so many other institutions at national, regional and international levels is a joy to all of us.
"We are also privileged as a town to have produced some of the greatest sports administrators and sports journalists. My take is that this is the most opportune moment for Bindura to build a state-of-the-art facility that will meet all international standards.
"It must be an all containing multi-purpose facility. All internal and external stakeholders must come together for the good of our current and future children, youths, community and students,'' said Zvomuya.