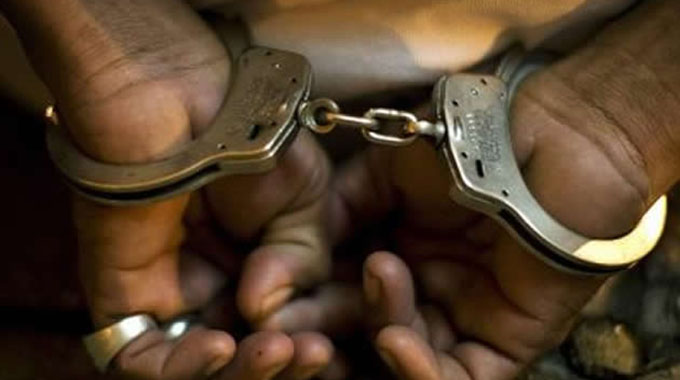 The Sunday Mail
Tendai Chara
THE arrest and subsequent appearance in court of a Harare man who is answering to multiple charges of rape, robbery and indecent assault has come as sweet news to the commuting public.
Sam Muropa (31), who drove around Harare in an unmarked Toyota Wish, allegedly picked up women looking for transport before robbing and raping some of them.
He is facing 19 counts of robbery, six counts of rape, one count of aggravated indecent assault, three counts of indecent assault, one count of money laundering and one charge of impersonating a police officer.
However, two of his accomplices — identified as Author Kudzai Sithole and Trymore — are still on the loose, though the long arm of the law is fast catching up with them.
The trio took advantage of public transport woes to lure women into their pirate taxi, also known as mushikashika, under the pretext that they want to ferry them to their intended destinations.
"We are calling for an end to all forms of violence against women and the girl-child. Violence against women and girls can take place anywhere, be it at water collection points or through child marriages, among others," said Shamwari Yemwanasikana director Ms Ekenia Chifamba.
A number of women continue using both private cars and pirate taxis despite the surge in robbery and rape cases.
"Public transport has become a problem. The Zupco buses and commuter omnibuses are not enough to transport the commuting public. Women have responsibilities that need their attention at home, thus they end up using private cars to get them home on time to fulfil their responsibilities . . .
"I am urging women to be vigilant when boarding private vehicles. They should try by all means to memorise the number plates of the vehicle. They should also have items like pepper spray at hand to protect themselves," added Ms Chifamba.
Mr Tafadzwa Goliati, president of the Passengers Association of Zimbabwe (PAZ), also agreed.
"Zupco is not capable of ferrying passengers as their fleet is small. They must increase their fleet two-fold . . .," Goliati said.
Zupco requires 2 000 buses to run an efficient mass transport system.
Currently, the transport utility owns less than 300 buses, while the rest are operating through its franchise.
However, Government has redoubled efforts to boost its fleet.
Last week, 50 new buses were commissioned  and a further 100 are on the way.
Authorities plan to buy a cumulative 667 coaches this year.
The programme is running in tandem with plans to locally assemble buses through strategic tie-ups with companies from both Belarus and China.
Last week, Zupco also entered into a deal with the National Railways of Zimbabwe (NRZ) to ease transport problems in major urban areas in Bulawayo and Harare through introducing commuter trains.
Using a single $60 ticket, commuters can use buses to get to the railway line then take the train to town, including on the return journey.
The new system is expected to be fool-proof.
"Government's short-term plans to alleviate transport challenges include stepping up the procurement of buses for Zupco operations with an estimated 667 buses set to be delivered by year-end.
"…in addition, the Government is carrying out surveys and assessments for rescheduling and prioritising bus deployment in favour of high-demand routes and pressure points, as well as stepping up the engagement of private operators to register with Zupco," Local Government and Public Works Permanent Secretary Mr Zvinechimwe Churu told The Sunday Mail Society.
Penalty
Police continue to warn the public against boarding buses that are not registered with Zupco, using pirate taxis and private vehicles.
In fact, it is now deemed a criminal offence.
Commuters risk fines as high as $2 000 for breaking the law.
"As police in Harare province, we are worried by this growing trend in which victims fall prey to criminals who misrepresent themselves as transporters," said Zimbabwe Republic Police (ZRP) Harare spokesperson Inspector Tendai Mwanza.
"A case in point is that of a Kuwadzana man and his accomplices who were operating a mushikashika with the intention of robbing and raping female victims. Most of the victims are women, hence our appeal to members of the public to avoid mushikashika."
Police, he added, will hunt down the fugitive rapists.
"We are currently pursuing leads that might result in their arrest. We are, therefore, appealing to members of the public who might have information on their whereabouts to report to any nearest police station," he said.
Commuters are also being implored to avoid travelling at night, while those who drive private cars are being warned against picking up strangers.
Added Insp Mwanza: "The law is clear: Zupco, and only Zupco buses and affiliated kombis, are allowed to operate…"
Harare police recently impounded more than 30 buses that tried to take advantage of Government's decision to open intercity travel to those transporting learners back to school.
The rise in rape and robbery cases raises the spectre that the number of serial rapists on the prowl might be high.
But security and crime expert Brian Kashangura is confident that the rapists will be tracked down.
"The police are capable of profiling and tracking them down.
"The police have what is called the carding system in which its crime intelligence unit keeps records of offenders who are out of prison either on bail or have served their sentences. It is, therefore, easy for the police to profile and apprehend repeat offenders."