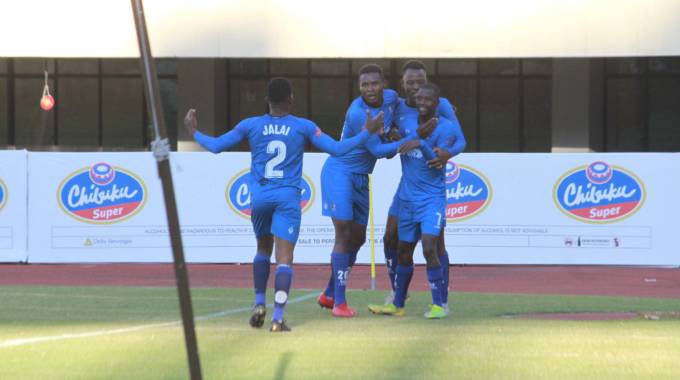 The Sunday Mail
Sports Reporter
Dynamos hope to avoid a potential banana skin when they meet Yadah Stars at the National Sports Stadium this afternoon, as they seek to transfer their form in the Chibuku Super Cup to the league marathon.
The Harare giants are unbeaten in eleven games of the 2021 Chibuku Super Cup.
Coach Tonderai Ndiraya is upbeat.
"We have enjoyed a good run in the Chibuku Super Cup, but now we have to shift our focus to the league marathon and ensure that we have a good start," said Ndiraya.
The DeMbare gaffer admits the assignment against the 'Miracle Boys' will not be an easy one.
"It's never easy playing against Yadah, they are a good team, but all the same we are Dynamos and we are expected to perform well each time we take to the field.
"A victory against Yadah is obviously crucial because it will give us a good take-off.
"We will need the support from our fans, though the crowd is restricted."
He promised value for money for fans that will grace the match.
Having managed three wins, two draws and five defeats, Yadah coach Genesis Mangombe is hoping for a change in fortune.
"It is a different game altogether and we will have to take each game as it comes.
"There were a lot of lessons to be learnt during the Chibuku Super Cup, which I hope we will use as we get into the Premiership marathon," said Mangombe.
The gaffer, who will face Dynamos for the third time this year, having lost the two meetings in the Chibuku Super Cup, is confident of getting better results to kick-start their campaign. "Playing Dynamos has never been easy; it has always been a difficulty assignment for us," he said.
"For us, going into today's game we will be looking for two things, with the first being that we will be looking to end our poor run against Dynamos.
"This year, we are going into the match looking for a win and maybe if we would have failed, then a draw will be a better result for us.
"Secondly, this is our first game in the Premiership marathon, hence we have to start the season on a high.
"We have to give our fans something to look forward to in the season, and that is playing entertaining football and to assure them that we are in the PSL to stay."
Much like Mangombe, Triangle head coach Taurai Mangwiro is also dreaming of brighter days when he faces Bulawayo Chiefs at Luveve Stadium this afternoon.
The Chiredzi-based side finished the Chibuku Super Cup Group Four games with a single win out of six matches.
They also drew three matches and lost two.
Mangwiro has chosen to put behind the disastrous campaign in the elite club tournament and focus on the league marathon.
"We are excited that we will be finally starting our season, this after not having the performance we would have wanted in the Chibuku Super Cup.
"We bowed out without reaching our intended target of the quarter-final . . .
"We believe we can make an impression in the league; a good start would always be ideal going forward."
He praised the Bulawayo side for building a competitive team.
"I have been following proceedings at their base and one can see the seriousness and commitment that they are putting towards their project.
"However, we also fancy our chances.
"As a team, we are looking forward to playing away at Bulawayo Chiefs, a fixture that has always proven to be difficult for us. We are hoping we will be able to come out with a positive result," said Mangwiro.
Bulawayo Chiefs' clash with Triangle will herald a new start for the Bulawayo side in the Premiership under their expatriate coach Nilton Terroso.
"We are in football to compete; players are looking forward to the start of the season.
"Everyone is confident of what they want to do throughout the season, and what I can promise the fans is that they will see change, they will see a team that is positive, confident; a team that is not afraid to play and a team that plays quality football," said Terroso.
Turning on to today's match, the Portuguese revealed that he will have to rely on his technical team, as he braces for a tough season ahead.
"Like every coach you have to be prepared for every match as much as possible.
"Going into the match (Triangle) I will have to rely on my coaching staff, they have in-depth knowledge of the game here, the players and the teams.
"All this information is valuable.
"I have researched on Triangle, and to be honest, like any other game in the season, this won't be an easy game.
"They will be competitive games throughout the season," said Terroso.