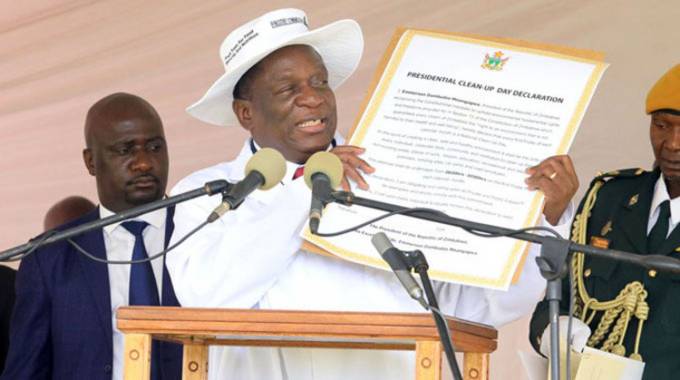 The Sunday Mail
Bishow Parajuli
It was great to witness and participate in President Emmerson D. Mnangagwa's inaugural launch of National Clean Up Day campaign last Wednesday under the theme "Zero tolerance to litter: my environment, my pride".
The UN in Zimbabwe takes great pride in partnering with all actors to make sure that Zimbabwe has a clean environment.
I was particularly pleased to see the involvement of the private sector as a crucial partner in this endeavour because these efforts need all hands-on deck.
There are several compelling reasons that require us to prepare – with a sense of urgency – to adapt to climate change to preserve the progress we have made thus far and achieve a sustainable environment, consistently clean water, and good hygiene and sanitation for sound human development.
Chief among the many reasons is, firstly, the fact that the impacts of global warming are likely to be felt earlier than expected.
Emerging and developing countries such as Zimbabwe will be hit earliest and hardest by climate change, even though they have contributed little to causing the problem.
Secondly, it has been reported that agricultural production, including access to food is projected to be severely compromised by climate variability and change.
According to some estimates yields from rain-fed agriculture could be reduced by up to 50 percent by 2020.
The good news is that an effective remedy to climate change is surprisingly affordable if evidence-based action is taken sooner rather than later. One of the effective remedies is to keep our environment clean and green.
While developed countries will have to take the lead and bear most of the cost in funding both remediation and adaptation, developing countries will need to play a significant role in limiting global warming to safeguard their own future by building resiliency to climate change, and particularly recycling of waste by introducing smart waste management systems.
Deliberate and evidence-based policy adaptations can help make the livelihood assets of the poor more resilient to environmental stresses; implementing early warning systems to anticipate environmental emergencies and to prevent disasters; and establishing micro insurance schemes or social protection provisions for farmers.
Availability of timely information about the environmental stresses and remedies to government, media and public can generate discourse and allow for an informed action to mitigate and reduce the risk of natural disasters.
Given the urgency to address the effects of climate change, we need to accelerate the speed and scale of our response and this clean-up initiative led by the Government will be instrumental in the effort to combat climate change in Zimbabwe by adopting reduce, reuse and recycle mechanism to waste management.
In addition, the initiative will also create the basis to foster collaboration and partnerships to build resilience and empower the people of Zimbabwe, particularly communities in poor hygiene and sanitations areas.
The launch of Zimbabwe's National Clean-Up Initiative coincided with the UN Secretary-General's meeting in Katowice, Poland to chart the way forward for climate action as part of the preparations for the COP24, the culmination of which will be the UN Climate Change Summit in New York happening next year.
The Summit will focus on driving action in six areas: transition to renewable energy; funding of climate action and carbon pricing; reducing emissions from industry; using nature as a solution; sustainable cities and local action; and climate change resilience.
All the areas augur well with this clean-up campaign which strives not only promote hygiene, sanitation and healthy lifestyles, but also ensures environmental sustainability.
In promoting zero tolerance to litter, it is prudent for Zimbabwe to focus particularly on the plastic menace.
Plastics are the most common element of solid waste produced in Zimbabwe and indeed across the world.
Plastic takes a long time to break down so the plastic we throw out today is going to be around for many generations.
The problem is that plastic does not disappear rather it breaks into small pieces also known as micro plastics.
Every single piece of plastic that has ever been produced still exists today.
In addition, other issues remain with our waterways that suffer from both solid and liquid waste from various industries and residential areas.
We have also seen the health hazard that unmanaged waste presents – namely the cholera and typhoid outbreaks that are clear testimonies of today.
The UN in Zimbabwe is cognisant of the fact that sustainable waste management is closely associated with the numerous development goals identified under the Sustainable Development Goals including healthy lives, sustainable cities, industrial development, poverty reduction, food and resource security, consumption and production, decent work, green jobs and climate change.
The UN will join and support Zimbabwe in all its endeavours for a cleaner and safer environment.
As such, we will commit to support the Government's clean-up campaign by doing the following:
l Supporting continued dialogue with the private sector for more sustained waste management and clean up results;
l Designing development programmes that aim to sustain a green economy through supporting green enterprises and jobs;
l Working closely with the local authorities to enhance their capacity to deliver on their mandate in maintaining clean spaces;
l Broadening the scope of water and sanitation programming to include managing the contamination risks posed by improperly managing waste; and
l Encouraging UN staff to act as ambassadors of this campaign wherever they work and live in Zimbabwe.
I would like to congratulate the President and his Government, one again, for launching this much-needed initiative and would like to encourage everyone to seize this opportunity to make a positive impact and take significant steps toward keeping Zimbabwe healthy and clean.
My Environment, My Pride is truly a winning mantra.
Bishow Parajuli is the United Nations Resident Co-ordinator and UNDP Resident Representative in Zimbabwe