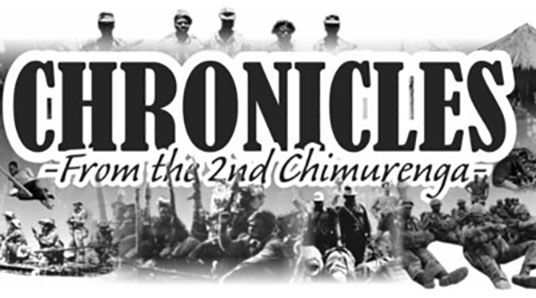 The Sunday Mail
AT the tender age of 15, Cde Nelson Ndarasika abandoned his studies and crossed into Mozambique to become a liberation war fighter. Cde Ndarasika, whose Chimurenga name was Cde Godo Tambawega, was inspired by the late national hero Cde Herbert Chitepo to leave the comfort of his parents' home and sacrifice his life for the liberation of this country.
In this first instalment, Cde Ndarasika (NN) narrates to our Senior Reporter, TENDAI CHARA (TC), how he became a guerrilla fighter and the many battles he took part in.
TC: If you can kindly introduce yourself to our readers?
Q: My name is Nelson Ndarasika (Mate). I was born on November 29 in 1960 in Honde Valley, under Chief Mutasa. I was born in Matingo Village. My father's name was Justin Kutsera and my mother's name was Winnie Ndarasika. I attended Honde River School from Grade One to Grade 3. I then transferred to St Simon's Primary also known as Sahumani. I was in Grade Four when I abandoned my studies and crossed the border into Mozambique. Our village is near the border with Mozambique and we could hear the guns as fighting between the Mozambican government and the liberation movement in that country raged. I did not go to secondary school since I had joined the liberation war. I, however, continued with my education after the war.
Q: When did you cross the border and joined the war?
A: I joined the war in August 1975. I joined the war after I got inspired by the late nationalist Herbert Chitepo. When I was growing up, we heard stories about Cde Chitepo. I was aware of the confrontations that he had with the white Rhodesian government. Although I was a boy, I was aware of political developments in the country. When I learnt of the Chitepo assassination, I was gutted. I heard of Chitepo's death on the news. We are related with the Chitepo family and I remember my mother weeping bitterly following Cde Chitepo's death. People gathered at our home following his assassination. During the time, my parents did not want me to discuss political issues since political discussions were forbidden by the Rhodesian government.
Q: How did you travel to Mozambique?
A: When Mozambique got independence in 1975, the floodgates were opened for everyone to go to Mozambique. My elder brother had crossed into Mozambique in 1974. In our family, the six of us joined the liberation war. One of my brothers died at Nyadzonia before he was even trained. So in 1975, myself, together with my relatives and friends Patrick Jaricha and Charles Bepere decided to skip the border and become freedom fighters. I had visited my grandparents in Nyakatsapa and we left home in the morning. Some of the boys that I knew in Nyakatsapa while growing up had also joined the war and we were together in Mozambique.
Q: How did you travel to Mozambique?
A: From Nyakatsapa we went through the gum plantations in Stapleford as we tried to avoid contact with the Rhodesian army. During this time the Rhodesian army was conducting border patrols whose purpose was to arrest those that were crossing into Mozambique to join the war. We were given directions by local villagers who also provided us with information regarding Rhodesian border patrols. We got into Mozambique through Timba Border Post. We went straight to a FRELIMO camp where we were vetted. During this time the Rhodesian army was also sending its spies to Mozambique so that they could gather information on what was happening. After a thorough vetting exercise, we were allowed to stay at the camp. We stayed at the camp for three weeks. The FRELIMO fighters occasionally gave us tasks and we were sent on errands. We washed their clothes and polished their shoes. I was taught how to operate a gun by FRELIMO soldiers. Then a group of about 60 people came and the FRELIMO fighters decided that we should proceed. My group was deployed to Mavonde, another transit camp for those that were on their way to Manica.
Q: Tell us a bit about Mavonde.
A: Mavonde was a small town then and was used as a base by the FRELIMO fighters. When I arrived at Mavonde there was a group of about 100 people. We were again subjected to security checks and vetting. From Mavonde we went to Zhunda in Manica. Zhunda was a farm which had been converted into a transit camp. From Zhunda we were taken to Nyadzonia. We stayed for a long time at Nyadzonia. The security checks and vetting exercise were rigorous at Nyadzonia. For the first two weeks, we were put under the camp's security division as we were being vetted. Rhodesian spies from the Rhodesian Special Branch were flushed out at Nyadzonia.
Q: Explain how the spies were flushed out at the camp?
A: The security department was effective, very effective when it came to identifying spies. I remember one day when a spy had his cover blown. There were a number of camps at Nyadzonia, with some of them housing children, the elderly, the deaf and women. I gave myself the guerrilla name Godo Tambawega or Peacemaker. It was during the Détente period and new recruits were not being trained. So we stayed for a long time at Nyadzonia. When I arrived, Cde Teurai Ropa Nhongo was a camp commander. Recruits were not trained at Nyadzonia, it was only a transit camp.
I was reunited with my brother Patrick at Nyadzonia. My brother asked me why I had decided to come to Mozambique. He told me of the severe lack of food at the camp. I told him that I was prepared for the worst. We were more than 15 000 at Nyadzonia and getting a decent meal was a rare luxury. We quickly got used to such harsh conditions. We were very brave and up to now I do not know where we were getting the guts to withstand such hardships. We were also given political orientation. We could spend days on end without food. The road that connected Nyadzonia to other parts of Mozambique was often inaccessible, especially during the rainy season. We ate wild fruits such as Uriri. We had a single meal per day, without breakfast. The amount of food that we were given depended on availability. When food stocks were low, we were given a small portion of food.
In July 1976, training had commenced and groups were now being sent to training camps. We were itching to get training and were becoming impatient.
We organised ourselves and decided to abandon the camp and seek military training. So during the dead of the night, we slipped out of the camp and headed towards Chimoio.
Don't miss the next episode, in which Cde Ndarasika will narrate to us about life after Nyadzonia. He will also recount to us how he "miraculously" survived the Chimoio bombing.