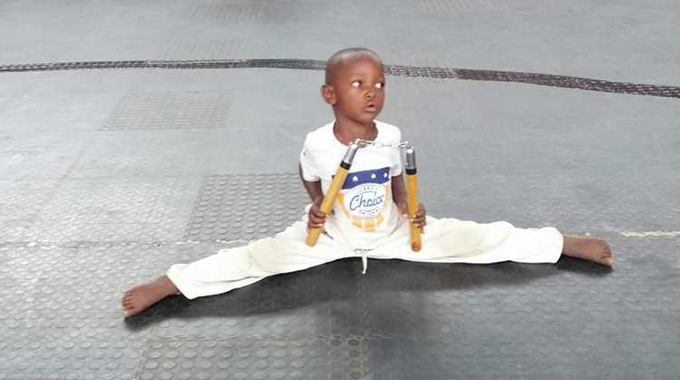 The Sunday Mail
Tinashe Kusema Deputy Sports Editor
WHEN it comes to the father and son duo of Wilfred and Wilfred Mashaya Jnr, a family that fights together, stays together.
But the two are no ordinary fighters who just happen to share a name — the senior Mashaya is a world Kobudo champion and a Hall of Famer in Spain, Serbia, Italy and Portugal.
For several years, the 37-year-old has been globe-trotting, sweeping accolades and not only putting Zimbabwe on the map, but perfecting the unique weapons form of martial arts.
Now, the time is right to pass the torch.
The father-son show was the headline act at the inaugural World Online Kata Championships, where Zimbabwe finished with six medals.
Three-and a-half-men made it to the podium with Vincent Fambira winning a gold and silver in the Kobudo Short and Long Weapons 16 and over categories, respectively.
The older Mashaya finished with a silver in the Long Weapons 35 and over, while his son had his first taste of success, bringing home a silver in the Under-six category.
He finished fifth in the Short Weapons Under-10 category, leaving his father not only beaming with pride, but placing high hopes on the shoulders of his son.
"I am beaming with pride right now," said the older Mashaya.
"He exceeded my expectations as he not only won in his category, but came fifth in the Under-10 boys category.
"It excites me to see him follow in my footsteps and I think he actually has a leg up on me.
"I only started training when I was eight-years-old, took some time before my first tournament, but he is only five and has started training and competing.
"The main purpose of this tournament was to see how he does competitively, and he exceeded my expectations with his bronze medal and a fifth place finish in the older category".
Born May 13, 2015, Wilfred Jnr is still relatively new to the game, and lists his father's success and the need to stay fit as his main influences.
"I started training when I was young and I like fighting because it helps me gain in strength and speed," he said.
"I like running (athletics) and soccer apart from martial arts, all of which I do with my friends in the streets and at school.
"In martial arts, I want to follow in my father's footsteps and exceed all his achievements".
The younger Mashaya's hobbies and aspirations aside, the father went deeper into his son's story.
It all began with the purchase of a simple rubber chuckle stick, two years ago, when Wilfred Jnr was three years.
"When I would work out and train at home, Junior was always by my side and would watch and sometimes copy me," said the Zim ninja. "I then decided to buy him a rubber chuckle stick, and we started training together. It became a routine, or hobby of sorts, and this is where his passion emanates from. We would stretch and exercise together at first, but over the years, we have become more technical as he has matured in both age and experience."
The bronze at the World Online Kata Championships is not Wilfred Jnr's first taste of success, as he remembers competing and winning at a local contest in Chitungwiza.
However, it looks to be his toughest yet, and that goes for the entire Zimbabwean contingent.
"The competition was tough as there were about 40 countries, most of which take their junior development seriously, and I was looking mostly at how he would fare.
"There were participants from seasoned countries like the United States, Russia, Italy, India, Japan and even South Africa, but I am happy and satisfied with how we all fared.
"Fambira won his first gold, on his debut at such a stage, while my son also made his first major podium finish.
"Both Fambira and Junior have got what it takes to make big strides in this sport" said Mashaya.
His son has already started intensifying his training regime.
"I have already instilled in him the need to train, and don't necessarily need to be there. Sometimes I will be at work, and he trains twice a day in the morning and evening. We have him on a programme in which he concentrates on his studies in-between sessions. He is still doing Early Childhood Development (ECD), and will be going into the first grade next year.
"He is still very young and we haven't really decided on his career path as yet. His talents may lie elsewhere, and all we want is for him to find his passion.
"Today it's martial arts, namely karate and Kobudo, but who knows what it will be tomorrow, next week, a year or two from now," Mashaya said.