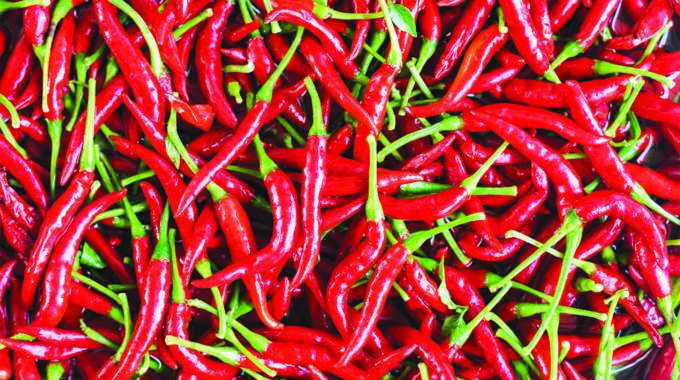 The Sunday Mail
Word From The Market with AMA
The absence of a chilli value chain or a co-ordination mechanism in Zimbabwe has for a long time constrained the growth potential of the crop. Without structure, the value chain has struggled to contribute significantly to the economy.
As such, farmers risk missing out on a rise in global demand particularly in the Chinese market and boost their cashflows.
The high demand for exotic and spicy oriental cuisines in Europe is creating supply opportunities.
The absence of a well-coordinated value chain has the potential to scupper effort for Zimbabwe to expand its chilli export.
There is a consensus from the market that the existence of a co-ordination platform is an important launchpad towards eliciting the participation of chilli value chain industry players.
Findings from the SCOPE4IVC (A European Union-funded project) Chilli Value Chain Assessment point to the fact that the absence of a value chain multi-stakeholder platform has created conditions for malpractices to thrive.
Worryingly, the sector has been characterised by an increase in cases of non-adherence to contractual terms, perceived actions of exploitation, rivalry among contractors over producers and side marketing.
The panacea to this plethora of challenges would be the establishment of an inclusive dialogue platform for the co-ordination of value chain functions. A platform bringing together all the relevant stakeholders would facilitate smooth value chain coordination.
The stakeholder includes farmer group representatives, input suppliers, off-takers/buyers, line ministries, financial service providers including micro-finance institutions as well as representatives from other development projects.
Market
Any farmer intending to get into chilli production needs to first assess the availability of a market for the produce.
The bilateral trade relations between Zimbabwe and Rwanda have enabled market establishment critical for the chilli value chain development.
The setting up of an out-grower scheme by Rwandan agribusiness company, Gashora Farm, which has an agreement to supply dried chillies to China, is a low-hanging opportunity that local smallholder farmers can exploit.
Financing
Commercial contract farming is a sustainable way of capacitating local farmers to venture into production.
The private sector has a role to play in committing to support the production of chilli locally. This will enable firms that use spice as a raw material to ring-fence their production requirements.
By entering a fixed price contract farmers can curb the impact of price fluctuations on farm margins.
Recently the Authority hosted the inaugural chilli stakeholder forum to discuss constraints being encountered along the chain.
These were noted among others to be the time-consuming regulatory process, particularly when one needs to obtain export permits/documentation, side marketing possibly due to delays in cash payments which often results in contractual disputes.
In addition, the need for internationally acclaimed certification has made it difficult for local produce to penetrate foreign markets.
It was indicated that the transport costs incurred during exporting are high and this would refute all the export marketing benefits.
The establishment of terms of reference for the co-ordination platform would ensure that there is a multi-stakeholder response to challenges that are hampering local chilli production.
Some of the leading nations in chilli production include India, China, Thailand, Ethiopia and Indonesia.
◆ Word from the market is a column produced by the Agricultural Marketing Authority (AMA). This article was written using material from submissions made by different stakeholders during the chilli co-ordination platform hosted by the AMA recently in Harare. Feedback [email protected] or [email protected]