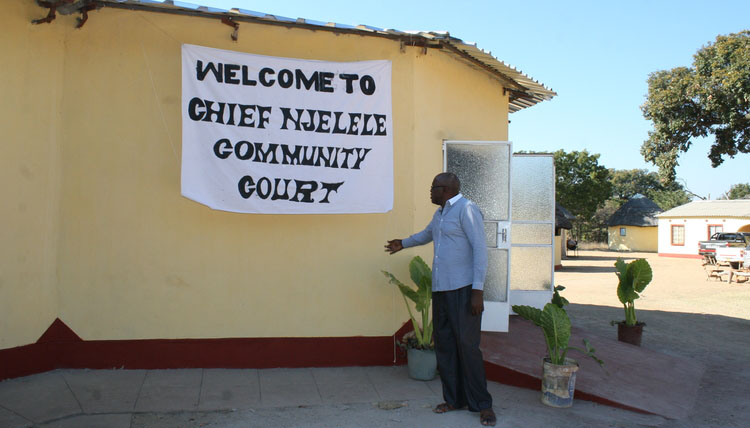 The Sunday Mail
IN a move that is expected to improve justice delivery in Gokwe South, Chief Njelele recently opened the country's first ever community courtroom at his homestead.
The development will see the popular traditional leader move his typically hot court sessions from a tree shade to the state-of-the art facility.
Chief Njelele is famous for presiding over stranger-than-fiction cases involving witchcraft and adultery, and he believes the court is a symbol of social justice.
"It is the first in the country, we have not heard of any chief who has such a facility," he said.
"And it is a positive development for justice and cultural conservation, we hope it will inspire other communities too."
The facility, which drew a budget of over $52 000, consist of a hall, a courtroom and two administration offices.
Up to 30 people can be sheltered in the courtroom while the hall has the capacity to accommodate 400 people.
The hall is open to community activities such as workshops, church meetings and other social events free of charge.
Chief Njelele, who on average presides over 14 cases each week, said before the court was built, business was sometimes disturbed by the weather.
On the type of cases he handles, he said there is no difference between Gokwe and other areas, except the fact that he decided to be open about the cases.
"Those issues are all over the country but we are just open about them, it then appears as if there is too much witchcraft here in Gokwe but it happens everywhere. We handle different cases from adultery to land disputes.
"We have established constitutions for villagers to govern their conduct. So villagers come up with their own constitution which comes here for rubber-stamping and therefore becomes a guiding law.
"We hope to get electricity connected soon and as for the hall, villagers can use it at no cost."
After initial delays, the facility was completed in four months.
"We started this year around 9 February after a sponsor came forward. The response we got from the people was just amazing, everyone wanted to contribute something. We could get up to 150 people assisting the builders," says Chief Njelele.
Speaking during the commissioning of the courtroom, Minister of State for Midlands Provincial Affairs Owen Ncube said it is time to provide traditional leaders with tools to enable them to conduct their duties efficiently.
"Since the colonial era, most of the primary and community courts have continued to operate from places that are not conducive to the proper administration of justice," he said.
"In the majority of cases, the court sessions are being conducted under trees and this has resulted in some people looking down upon these very vital arms of the judiciary."
But how was it possible to construct such an expensive building in such a short space of time?
"There was a sponsor, only one dedicated sponsor named Tawanda Karikoga," revealed Chief Njelele.
"The young man is from this area and he paid for everything that was done here and I would be lying if I say I paid a cent. And this is not the only project he has done here, there are already 10 more projects on schools, clinics and road construction. He indeed showed that he is a true son of the soil."
Mr Karikoga, who is also the Zanu -PF candidate for Gokwe South Constituency in the upcoming harmonised elections, also built a community court for Chief Chisina.
He said he was merely giving back to the community.
"I was born and bred in Mapfungautsi here in Gokwe and when I do something, whether big or small, I am simply giving back to the community that contributed to the man that I am today," he said.
"I grew up facing challenges such as travelling long distances to schools and clinics, there was also the inaccessibility of our area. lt has always been my desire to contribute to the development of my area."
Mr Karikoga said chiefs are an integral part of the rural community as they are custodians of the culture as well as law and order.
"The construction of Chief Njelele and Chief Chisina's community courts was just my demonstration to the people of my community and the generality of Zimbabweans that this integral part of our history and our identity has to be upheld and maintained for our own and for future generations."